You can use a lot of different art materials on your Shrinky Dinks. Plenty of markers work great, but many people wonder if they can get the same results with gel pens. Gel pens and markers have vastly different consistencies. 
So, can you use gel pens on Shrinky Dinks? Gel pens don't work well on shrink plastic. The ink doesn't stick well and looks very light, so it won't show well in your final design. However, they work fine for making an outline that you color over with a marker or colored pencil.
Gel pen ink also tends to bubble or look streaky on Shrinky Dinks, but there are many other art tools that you can use with them. While gel pens aren't the best choice, you still have plenty of options through markers. Let's keep reading to learn more about what you can use on your Shrinky Dinks!
What Pens Can You Use on Shrinky Dinks?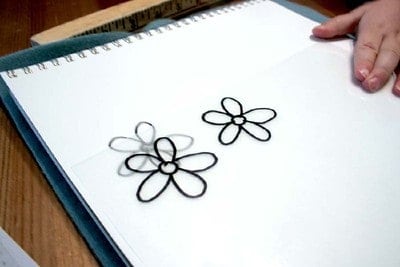 You can use paint pens, colored pencils, markers, and Sharpies with excellent final results. The best pens for Shrinky Dinks would have to be Sharpies. The color shows up vibrantly after the plastic bakes.
You'll want to use Sharpies on the smoother side of the plastic, which is the top. The color won't look as nice if you use the markers to color the bottom of the shrinking plastic. On the other hand, colored pencil is better suited for the rough bottom of the plastic.
Colored pencils work better on surfaces with more texture for the pigment to "grip" on to, so you'll want to use them on the bottom.
I highly recommend using Prismacolor Colored Pencils for your Shrinky Dinks. They are professional quality, and will make your project turn out great!
You can also use colored pencils or standard pens to create an outline, then flip the shrink plastic over. You can use your permanent markers to color in the design with ease! 
Overall, Sharpies are the best pens that you can use with Shrinky Dinks. They're vibrant and long-lasting. They look even more colorful when the plastic shrinks down to size.
Can You Use Ink Pen on Shrinky Dinks?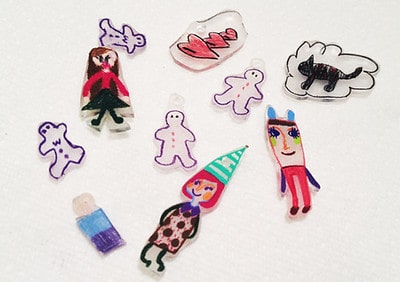 You can use any ink pen on your Shrinky Dinks, as long as they're oil-based. Ink pens are usually oil-based, so most that you have already should work fine. Depending on the brand and ink consistency, you might discover that they work better on certain sides of the shrink plastic.
Acrylics don't work as well because they can become runny on the plastic. Although, if you can control them, you can still get them to look nice.
In short, ink pens are another great option for designing your Shrinky Dinks! Many people use them to create outlines, then fill in the design with Sharpie, but you can also use them to make the entire Shrinky Dinks.
Can You Use Any Marker on Shrinky Dinks?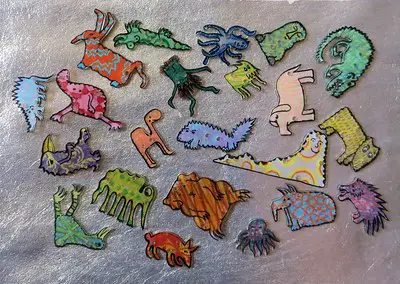 You can use just about any marker on your Shrinky Dinks. However, you'll have better results with certain ones. Sharpies are the best, but after them would be paint pens. Crayola markers also work very well on Shrinky Dinks and are safe for kids to use.
Copic markers also work wonderfully- you can use them to create stunning designs. These markers use a brush tip and smooth ink, which shrinks along with the plastic. You'll want to be careful you don't smear your designs as you color them in since these pens are usually water-based.
They are also easy to control, and beginner and skilled artists can use them effectively. Overall, you can use just about any marker on your Shrinky Dinks. Most people use Sharpies or Crayola washable markers, but you can also try out Copic markers.
So, you can use any marker on your Shrinky Dinks, although you'll have better results with some. If you already have many different markers, you can test them out before making your final designs. You might find that you like the way certain brands work over others.
Can You Use Posca Pens on Shrinky Dink Paper?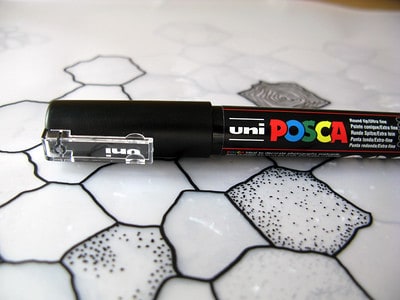 Posca pens contain paint instead of ink. The paint is usually high-quality, opaque, quick to dry, and blendable. You can create many effects when you use them on your Shrinky Dinks. The tips even allow you to make thin or broad lines! Luckily, these pens work well on plastic- so you can use them on Shrinky Dinks.
The paint also shouldn't run or fade after you bake the designs. If you want to use Posca pens on your Shrinky Dinks, you should try a test first. Draw a few lines of color onto a small swatch of shrinking plastic, then bake them as you usually would.
You'll get an accurate idea of how the Shrinky Dinks will turn out before you put effort into making the designs with the pens. Many artists prefer to run a test first because you wouldn't want to waste expensive paint on a project that won't turn out.
Can You Put Glitter on Shrinky Dinks?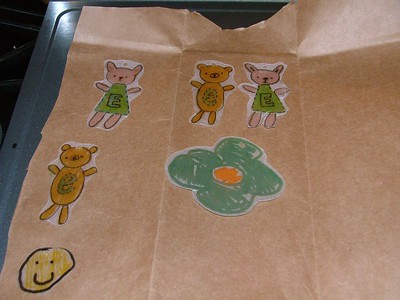 You can add glitter to your Shrinky Dink creations, although you shouldn't use gel pens. Instead, you can add glitter and a clear seal to get the sparkly effect you want.
Glitter Mod Podge is usually the best choice. You can find it in different colors, and the Mod Podge creates a durable seal around your charm. 
Another great option is the Mod Podge 3D Magic formula. This product creates a dome over the design, giving it a unique 3D effect. You can always add some glitter to the sealant before applying it to your Shrinky Dinks.
You won't want to apply the glitter before putting the Shrinky Dinks in the oven. You can't be too sure how the seal or the glitter will react when heated. Plus, it could cause the Shrinky Dinks not to form or set correctly.
Overall, you can add glitter to Shrinky Dinks but only do this after taking them out of the oven. Most glitter consists of plastic, so it can even be flammable! It's best to keep it out of the oven.
Do Alcohol Markers Work on Shrinky Dinks?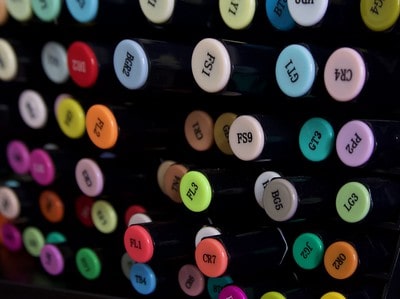 Alcohol markers do work well on Shrinky Dinks! Shrink plastic doesn't have any pores on its surface, allowing the alcohol ink to stick to it well. Alcohol markers also have vibrant pigments, and you can use them to create beautiful plastic charms.
Sharpies are an example of alcohol markers, although any permanent marker technically uses alcohol-based inks. You can use them to create stunning and colorful designs. Most alcohol markers will dry quickly, so you won't have to worry about smudging them and can get them into the oven fairly quickly.
Final Thoughts
To summarize, while you can use gel pens on your Shrinky Dinks, there are plenty of other options that will work better. For example, Copic markers or colored pencils will give you more consistent results than a gel pen can. You likely already have some art materials at home that will work well for coloring in your Shrinky Dinks. 
Overall, coloring your Shrinky Dinks is fun and lets you be creative! You're sure to enjoy making the small plastic designs. You can even get started with simple washable children's markers. The possibilities are endless with what you can create!
Make sure to follow all my tips and recommended products to ensure your Shrinky Dink project turns out great! Also, don't forget to check out my other articles for all your painting Q&A's. Happy painting!