Mod Podge and PVA glue are two products that many people believe are the same thing. They are so similar that it can be hard to tell what the difference is between the two. While they are similar to each other, they aren't identical in makeup.
So, is Mod Podge the same as PVA glue? Not exactly. Mod Podge and PVA glue are not the same as each other. Mod Podge contains PVA glue in its formula, but there is more to it than just PVA glue. PVA is thicker than Mod Podge and also has a lower moisture content.
There isn't a huge difference between the products. You can use them interchangeably but be careful when doing so. PVA glue doesn't hold up as well to moisture, so if this is important to you, make sure you choose Mod Podge. In this article we go over everything you need to know on using Mod Podge and PVA glue. Let's read on!
Is Mod Podge Better than PVA?
It is believed that Mod Podge is better to use than PVA glue. This is because Mod Podge is stronger and can also be used as a sealant. Mod Podge protects your art from peeling, cracking, and yellowing over time.
It's also available in multiple different finishes and formulas. There is a dishwasher safe Mod Podge, matte finish, gloss finish, and you can even get a glitter Mod Podge. PVA glue only has two options: white and yellow. 
If you need to waterproof your painting or project, I recommend Dishwasher Safe Mod Podge. For cute kid crafts and activities, you can also choose their Glitter Mod Podge.
Mod Podge is also better than PVA glue because it is thinner. You don't need to use as much of the product to get your desired result, meaning the container of Mod Podge will last longer. PVA glue dries at a slower rate than Mod Podge, so keep this in mind when planning the timeline of your project.
How Do You Make Mod Podge with PVA Glue?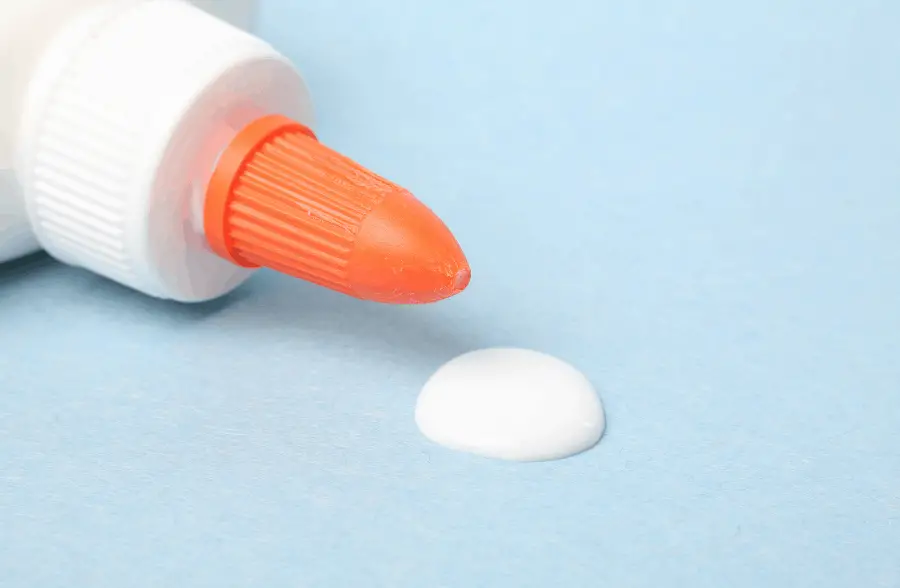 You can easily make your own Mod Podge with two simple ingredients: PVA glue and water. First, you are going to empty the container of glue into a bowl. You can use any amount of glue you want, as long as you use the same amount of water.
As soon as you have the glue emptied into a bowl, you can fill the glue container with water. This will ensure that you are using the right ratio and using just as much water as you are glue. Add the water to the bowl with the glue.
With a spoon, mix together the PVA glue and water. Mix until it is well combined, and then you are finished. To store your homemade Mod Podge, you will need a jar with a lid. A recycled jelly jar or mason jar will be the best option. 
If you don't want to use the entire container of glue at one time, you can make a smaller batch. You will just need to remember how much glue you use so you can use the same amount of water. For example, if you add in one ounce of glue, you will also need to add one ounce of water.
Can I Use Elmer's Glue Instead of Mod Podge?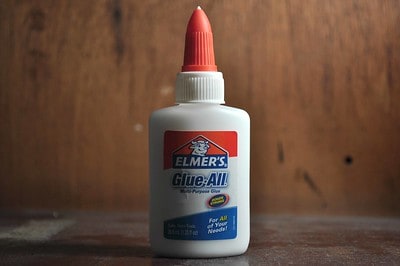 This is a very common question that is asked. The short answer is no, you shouldn't use Elmer's Glue instead of Mod Podge. Mod Podge usually contains more ingredients than Elmer's Glue will, making Mod Podge superior.
Elmer's Glue is designed to be used by children for arts and craft projects. This means it won't be as strong as you need it to for it to replace Mod Podge. While Elmer's Glue will also dry clear, there is a higher chance that it will look cloudy if you tried to use it as a sealer.
While it is not recommended, you can use Elmer's Glue in place of Mod Podge if you are in a pinch. The best thing to do is mix the Elmer's Glue with a little bit of water, preferably three parts glue to one part water.
The finish with Elmer's Glue will be less shiny than what you would get with Mod Podge. If you have a clear varnish handy, you can add that on top of the finished product to add some more shine. This isn't necessary, but it can help your project look better.
Can I Use Clear Nail Polish Instead of Mod Podge?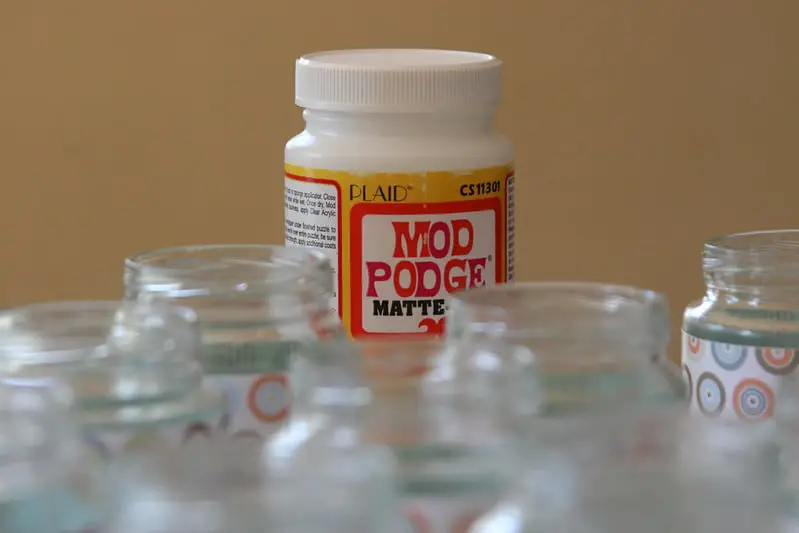 While clear nail polish does have some adhesive properties, you shouldn't use it in place of Mod Podge. If you are in the middle of a project and need to glue something quickly, nail polish can come in handy. However, it shouldn't be a long-term solution.
Nail polish isn't meant to last forever and will start to lose adhesion within a couple of weeks. This means it should hold you over long enough until you can get some Mod Podge to use, but it shouldn't act as a replacement for Mod Podge.
How to Use Mod Podge
Using Mod Podge is extremely easy. If you want to do it the right way, you need to follow a set of steps that walks you through the process. There are only a few steps that you need to follow, so it won't take long to get the hang of it.
The first step is choosing your surface. The best surfaces for Mod Podge include wood, ceramic, cardboard, glass, and paper. You might be able to use the Mod Podge on plastic, but it won't work on all plastics. It will be best to test out a small portion of the plastic before applying the Mod Podge to a larger area.
You will also need to choose the formula of Mod Podge that you are going to use. There are so many different formulas available that it can be hard to decide. The classic Mod Podge comes in a satin, gloss, and matte finish.
I typically use this Mod Podge in satin finish, but I have also used a matte finish for certain wood projects. They're both amazing!
There is also dishwasher safe Mod Podge, extreme glitter, fabric, furniture, glow in the dark, hard coat, and outdoor formulas. Choose what is best for your project based on what your goals are. When you have your Mod Podge chosen, you will need to prepare and apply the Mod Podge to the surface.
You will need to clean the surface before applying anything to it. Use soap and warm water to prepare surfaces like wood, ceramic, and glass. Let the surface dry completely before you continue. If you want, you can apply a layer of paint as a base coat.
If you are gluing with the Mod Podge, put some on the surface and on the back of what you are gluing. Wait for this glue to dry, then go back over the entire surface with another coat of Mod Podge. If you aren't gluing, you just need to wait for the surface to dry and cover the whole thing with a few coats of the Mod Podge.
Final Thoughts
Mod Podge and PVA glue are so similar that people often think they are the same thing. They are similar, but they aren't identical. Mod Podge is going to be superior to PVA glue because of the added ingredients that make it stronger and more durable.
If you don't have Mod Podge and you need it, you can try to make your own with PVA glue or Elmer's Glue and water. This will water down the product and make it easier to apply as a sealant. You won't get the same results, but it will do the job.
Make sure to follow all my tips and recommended products to ensure your Mod Podge painted project turns out great! Also, don't forget to check out my other articles for all your painting Q&A's. Happy painting!