When it comes to interior wall paint, the most common type is latex-based paint, because of the ability to dry quickly, and they have very low toxicity levels. However, there are still several reasons why one might prefer to use oil paint on their walls instead of latex.
So can you use oil paint on walls? Yes, you definitely can! Oil paints are highly durable and provide a smoother surface than latex-based paints do. The only downside to using an oil-based paint is the amount of time it takes for the paint to dry. Oil paints are known for being slow to dry, but it is possible to help the paint dry at a faster rate.
If you are going to use an oil-based paint on your inside walls, it is important to make sure the space is very well ventilated during the painting and drying process. It will also help to keep the space warm, as this will help the drying process speed up a little. In this article we go over everything you need to know about using oil paint on walls. Let's read on!
How Do You Apply Oil Paint to a Wall?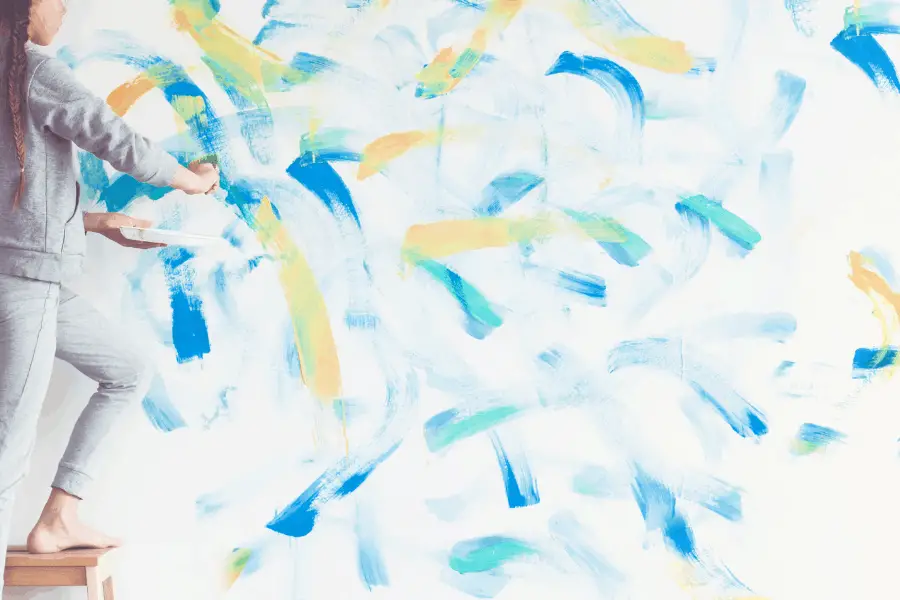 When you are working with oil paint it is necessary to have a paint thinner or mineral spirit on hand. I highly recommend U.S. Art Supply Paint Thinner. I use this paint thinner when I'm painting with oils, and it's super effective and odorless!
You also need to make sure you have a paintbrush that is designed for being used with oil-based paint. The brush needs to be clean when you use it, as well as the walls.
Clean walls are extremely important for a smooth application. Most walls can be cleaned with just a sponge and some soapy water. If you are painting on a wall that has been exposed to grime or oil, like your kitchen wall, you will need to clean it with a grease-cutting cleaner, followed by clean water.
My favorite and top pick is always Arteza Oil Paints. They have so many different colors, and the quality is amazing! I usually use Arteza Paints for all my projects.
By far, the most important part of cleaning your walls is making sure they are completely dry before you start painting. After you clean your walls, it is important to make sure you give them plenty of time to dry before you add any primer or paint to the wall. 
After the walls are clean, you might want to sand the walls. This part is not required but can help with the overall surface of the wall you are going to paint on. Use a sanding block or sandpaper to smooth the surface and wipe away any dust with a damp cloth. Let the surface dry completely.
Next, you will want to apply the oil-based primer to the wall. It is important to pour the primer into a separate container, such as a plastic cup to protect the primer can from dried pieces falling in. During the priming and painting process, you should wear gloves, a face mask, and eye protection.
I used this KILZ Primer when I painted a small wall mural, and it worked great, and was also odorless which was helpful.
You will need to prepare your primer if it is not the right consistency. If you notice that the primer is a little too thick and it is difficult to smooth, add a very tiny amount of mineral spirits or paint thinner. Make sure you don't add too much, because a primer that is too thin will drip and create unwanted texture. Let the primer dry completely.
After the oil-based primer has completely dried, you can prepare your paint. The paint will greatly benefit from an oil paint additive. Additives are an important step to achieve the smooth finish you want, especially on large areas such as a wall. Make sure the paint isn't too thin by adding a small amount at a time. 
Another great oil paint brand is Windsor & Newton. I have used this brand several times, and it gives you an artists grade quality finish. They also have tons of colors to choose from.
If you are using a larger amount of paint, I recommend using a foam roller brush. This is important for maximum smoothness of the paint on the wall. You will need at least two layers. The first layer will be for the coverage of the wall, and the second layer will be for smoothing the surface.
This Foam Roller Brush Kit is great for starters, and even comes with a paint tray and re-fills.
You should try to wait about 24 hours between paint coats. This will give you time to sand the walls between the coats if necessary, but it will also give the paint some time to dry before adding another layer on top. By doing this, the paint will dry more evenly and will shorten the amount of drying time needed.
Will Oil Paint Dry on Walls?
Oil paint is incredibly slow to dry. It can take as little as six hours for one coat to dry, but it is possible for it to take as long as 24 hours to dry. The drying process is really slow, but don't get discouraged if your paint isn't dry in just a few hours. Oil paint will dry on walls, it will just take it a while longer than latex paint.
Should I Use Oil-Based Paint in Bathroom?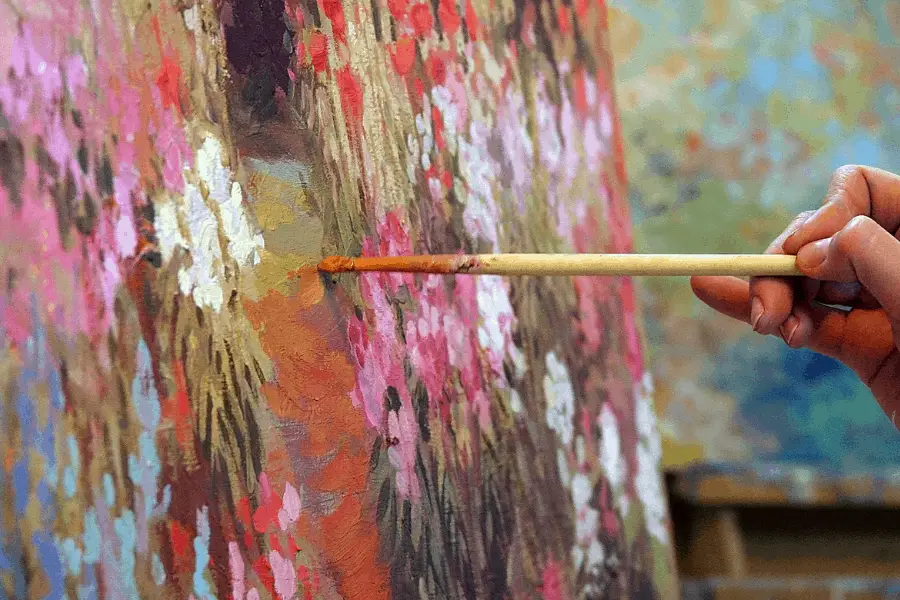 Oil-based paint is known to be extremely durable and can withstand some scrubbing, which are both necessary qualities for a bathroom paint. However, it might not be the best option for painting your bathroom, especially if there is little ventilation. 
When using oil-based paints, it is important to remember the need for mineral spirits and paint thinners. Both of these ingredients have horrible fumes that can be dangerous to inhale. If your bathroom doesn't have windows, you might want to reconsider the type of paint you are using.
Oil paint also has the tendency to yellow over time, especially in areas that don't get much light. This is another problem you will face if your bathroom doesn't have windows. This can be frustrating because you might have to repaint sooner than you expected.
While it is possible to use an oil-based paint in your bathroom, there are options that would work better. You will want to choose a paint that dries quickly, allowing you to use your bathroom again as quickly as possible.
What is the Fastest Way to Cure Oil Paint?
First, make sure the room is well-ventilated and has proper air circulation. You can improve air circulation with the help from some fans. The room should also be kept warm, as oil paint dries slower in cold environments. However, do not use a hair dryer to speed up the process, as it does not help at all.
Make sure you paint in thin layers. Using thin layers will help each layer dry more quickly and efficiently, speeding up the drying process significantly. If the layers are too thick, the top layer might dry and leave the under layers wet, causing paint bubbles.
It will also help to paint one wall at a time. Start by painting one wall, then work your way around the room. This will give each wall plenty of time to dry properly before adding the next layer of paint. You will still need to wait a couple hours between coats but using this method will shorten the time needed.
Final Thoughts
When you are painting your interior walls, it is going to be much easier to find latex paint than oil paint, but there are still benefits to using oil-based paint instead of latex paints. For example, oil paint is much more durable and leaves a smoother surface than other paints.
The only downside to using an oil-based paint on your wall is the length of time it takes to dry and cure properly. Luckily, there are some precautions you can take to help your walls dry a little faster. You can paint in thin layers and make sure the room is well ventilated. 
Don't forget to check out my other articles for all your painting Q&A's. Happy painting!