Rock painting is a fun and easy craft that you can do to express your creativity, and it's also fun for kids to take part in. When it comes to painting the rocks, one of the questions you may have is what is the best paint for the project.
Oil paints can be used on many surfaces, not just a canvas. So, can you use oil paint to paint rocks? Yes, definitely! Oil paints are generally non-toxic, and can be safely used to paint rocks and stones. It does take a long time to dry, so in this article we go over everything you need to know on using oil paints for rock and stone painting, as well as other paint options.
The best way to paint rocks is with the right kind of paint and the right process, but what exactly is the right way? Let's take a look at which paint is the best to use for rock painting, what the right process is, and how to get your painting to last. 
Choosing the Rocks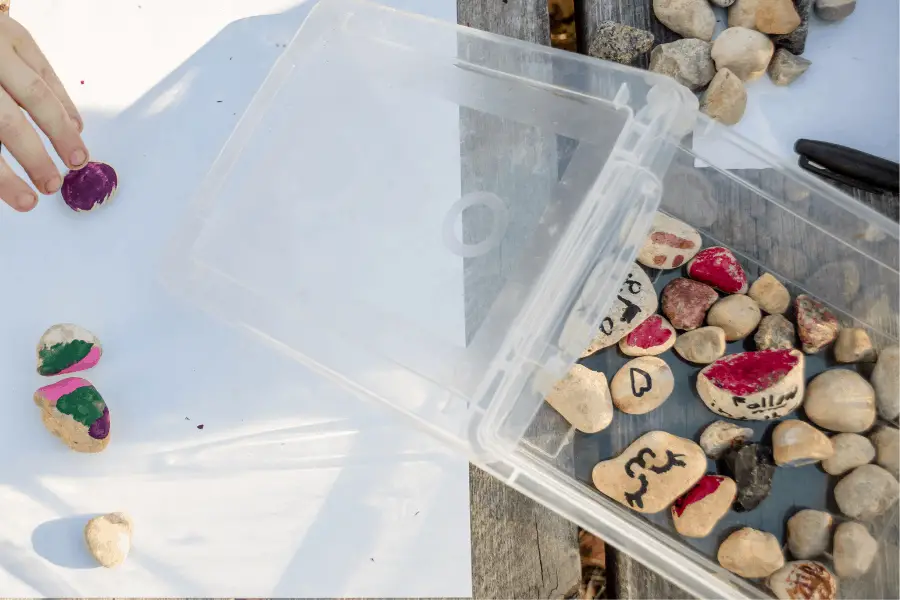 When you are looking for the perfect rock to paint, you don't need to keep your eye out for one perfect type of rock. Imagine what you want to paint, and how you want the rock to look when it is finished. This will help you pick out and find the perfect rock for your project.
There are a few different kind of stones and rocks you may want to paint. I like smooth stones that make it easy to paint on. I always use these Natural Smooth Surface Rocks for my painting projects. This set comes with 10 stones that are between 2-3 inches. They are super smooth and perfect to paint on!
If you are just starting out, you might want to keep your eyes open for some smooth rocks because they are easier to paint. It's also important that you buy natural rocks, not polished ones because paint won't adhere to polished rocks.
Another important part in choosing your rocks, is to pick the right type of paint for your project. Oil paints can be safely used on stones and rocks.
My favorite and top pick is always Arteza Oil Paints. They have so many different colors, and the quality is amazing! I usually use Arteza Paints for all my projects.
How Do You Prepare Rocks for Painting?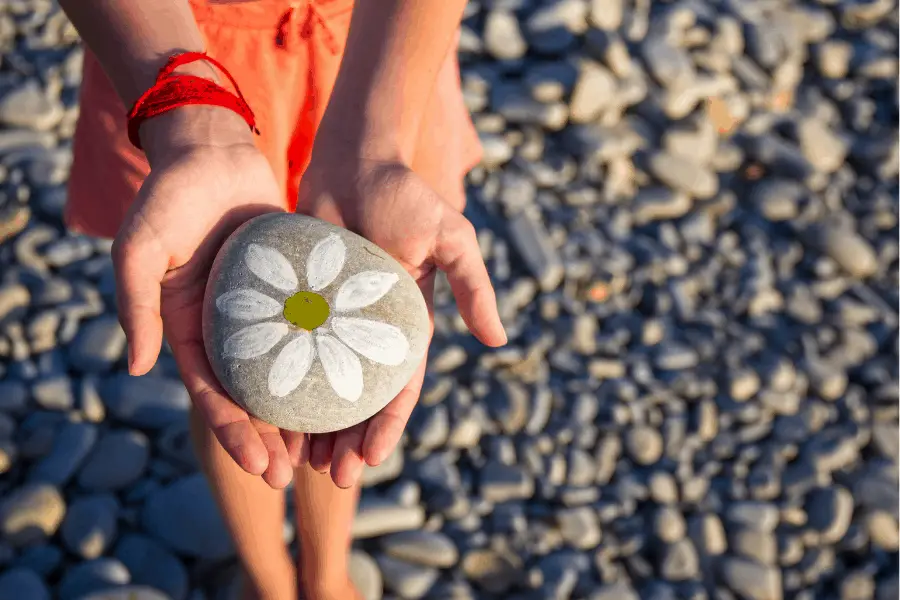 After you have your rocks picked out, you will need to prepare them. The first thing you will need to do is wash the rocks. Get a bucket with some soap and water, a toothbrush or scrub brush, and a towel. Put your rocks in the bucket and let them sit for a few minutes.
When the rocks have been in the bucket for about five minutes, you can start scrubbing them with the toothbrush or scrub brush. This will get rid of any dirt particles that didn't soak off in the soapy water. Dry the rocks after you scrub them with the towel and lay them in the sun to air dry until they are completely dry. This step is only necessary if you are using rocks from the outdoors, and not purchased ones.
Next, you will want to smooth down your rock. You can do this with some sandpaper. It doesn't need much, just enough to get rid of any gritty parts that don't match the rest of the rock. If the rock has any holes, cracks, or dimples, you can fill them with a wood filler.
Once the rocks are clean and dry, you will want to apply a coat or two of primer. I highly recommend using Sargent Art Gesso Primer. This primer works really good with oil paints, and also acrylics. Sargent Art is typically my go to for primers.
A primer will ensure that the paint sticks to the rock, prevents bleeding of the colors while you are painting, and makes colors appear brighter on dark rocks. Always let the primer dry completely before you start painting.
How to Paint Rocks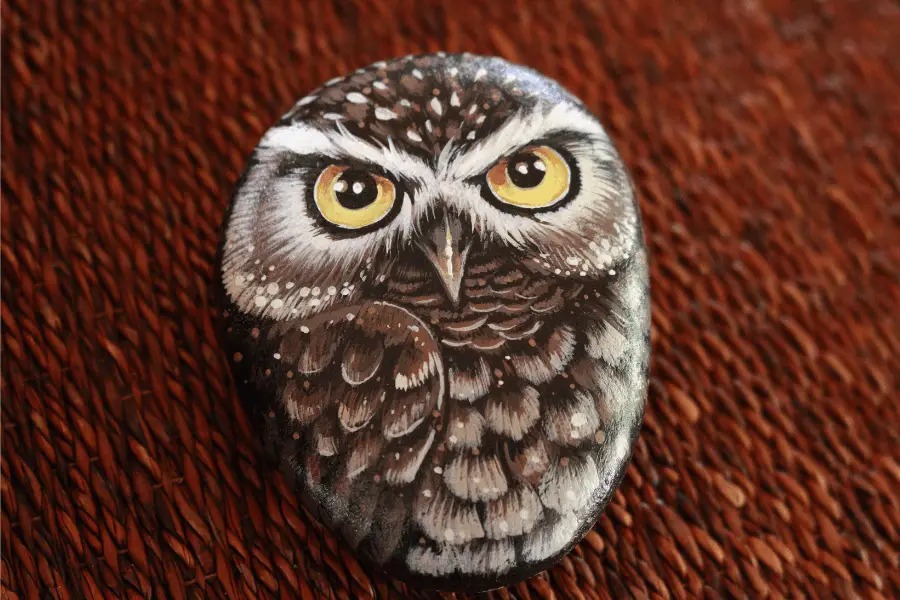 You will need to choose a design for your rocks before you can start painting it. Do you want the rock to look like an animal, a scenery, or your name? Choose your design and sketch it onto the rock to act as a guide when you are painting. This will ensure that your design turns out how you imagined it.
Next, you will need to get your paints ready. You can set them up on a palette so you can have easy access to them. This will also allow you to mix the colors if you want a color that you don't have. Don't pour out too much paint at one time because paint usually dries quickly.
Another great oil paint brand is MagicFly. They have artist grade paints, and their colors are super vivid.
Start by painting the larger parts of the design first. One of the most common mistakes when painting is focusing on the details first, then trying to paint around them. Make sure you paint any background first and let it dry before moving on to the details. 
If you are going to be painting on both sides of the rock, paint one side at a time. After you finish the first side, let it dry for a few hours before moving on to the other side. After your design is completely finished, give it plenty of time to dry before sealing it.
What Kind of Paint Do You Use to Paint Rocks?
You can use oil pants to paint stones and rocks, but you can also use acrylic paint. They are water-based paints and completely non-toxic while also having the ability to dry quickly. There are also acrylic paint pens that you can use for extremely fine details.
Arteza Acrylic Paints are my go to for acrylics. I have used them before on smooth stones, and the colors came out amazing. If you want a faster drying option, I would go with acrylic paint.
You can also use Oil Paint Makers on your stones and rocks. This is a great option if you are painting fine detail, or simply don't want to sue paint. I like paint markers because you have more control over the detail and design, and it's a much easier cleanup than painting.
My favorite oil paint markers are these Arteza Oil Based Markers. This set comes with 20 permanent oil paint markers, and they can be used on rocks, canvas, and even pottery. It's a must have if you like painting with makers.
What Do You Seal Painted Rocks With?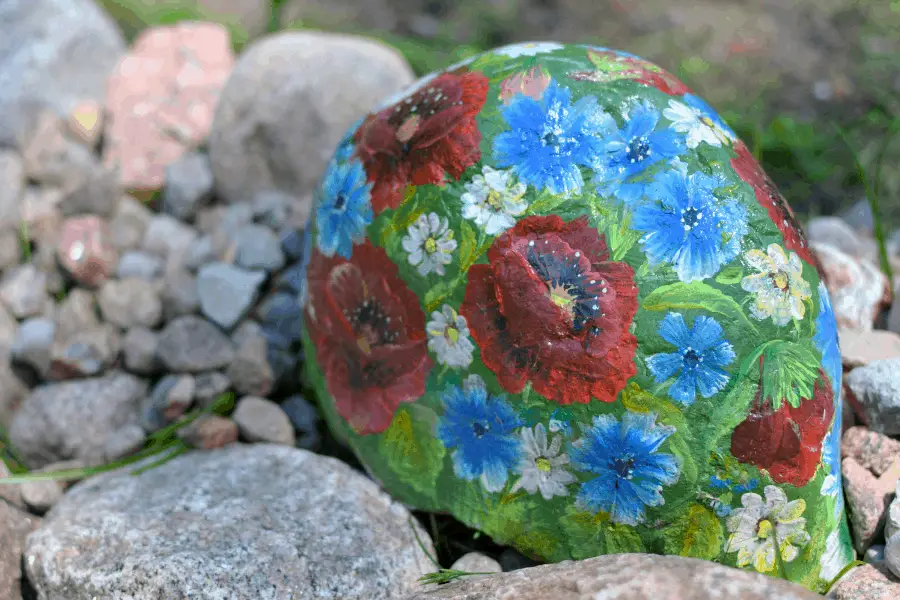 Sealing your painted rocks is incredibly important for the longevity and durability of your design. The right sealant will protect your painted rock from rain and snow while providing a matte or glossy finish to your rock. There are several different types of sealants, so how do you pick the right one?
Before deciding which sealant, you will need to determine what kind of finish you want. Do you want your rock to be shiny and glossy or smooth and matte? There are spray sealants and brush-on sealants. Spray sealants will have more of an odor while brush-on sealants tend to be odorless.
I recommend Grumbacher Gloss Varnish Spray for sealing your stones and rocks. This sealer not only works for oil paint, but also acrylics. I like this brand because it dries in a high gloss finish that really makes the color pop.
How Do You Paint Large Rocks in With Oil paint?
In addition to painting small stones and rocks, you might also decide to decorate larger rocks that can help your lawn or garden be more unique. Just as with smaller stones, you will want to prep your rock, prime it, and then paint it. After it's fully dry, don't forget to seal it.
I have seen so many backyards and gardens with handprinted rocks. The colors can really make the scenery pop, and it gives it a touch of uniqueness since it's one of a kind.
Final Thoughts
Painting on rocks is a great activity to express creativity for adults and children. It can be a fun craft to do together or by yourself. When you are painting rocks, you will want to make sure that you prepare them properly for the paint to stick and your design to turn out.
Preparing rocks is easy, you just need to clean them, sand them a little bit, and prime them. After that you are ready to paint. You can use oil paints, but just remember it'll take a bit longer to dry than if you were to sue acrylics. Just make sure to follow my tips and recommended products, and your rocks should come out amazing.
Don't forget to check out my other articles for all your painting Q&A's. Happy painting!