There are several reasons you might want to put something you've painted into a cage with your hamster. As a pet owner, you are probably wondering if something painted with acrylic paint is safe to be around your pet hamster.
So, is acrylic paint safe for hamsters? Although acrylic paint is non-toxic and considered safe, it's not recommended to put anything painted with it into a hamster cage. Hamsters can be excessive chewers and the paint can be dangerous for the hamster to ingest. However, it is safe to paint a hamster cage with acrylic paint.
If you want to paint the hamster cage, or paint decorations to put in with your hamster, there is a solution that will be safer. Using a homemade paint or soy paint is an awesome way to incorporate color while keeping your hamster safe. In this article we go over everything you need to know to safely paint your hamster cage. Let's read on!
Can I Paint My Hamster Cage?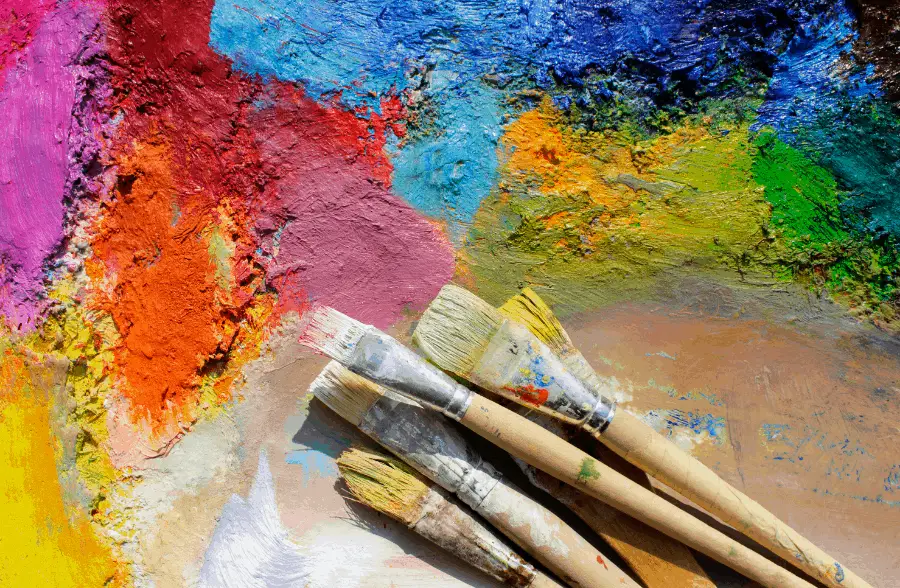 It is completely fine to paint your hamster cage as long as you use the right products. If you are considering painting a part of the cage that your hamster won't be able to chew on, it would be okay to use acrylic paint if that is all you have. 
My favorite and top pick is always Arteza Acrylic Paints. They have so many different colors, and the quality is amazing! I usually use Arteza Paints for all my projects.
If you are going to use acrylic paint for the outside of the cage, make sure your hamster is somewhere safe and away from the fumes while the paint is wet and drying. The fumes can be harmful to their little respiratory system.
Painting a part of the cage that your hamster has access to chew on is a little more difficult. It is not recommended to use acrylic paint in these areas. It would be much better to use food grade paint, soy paint, or a homemade paint. 
Is Dried Acrylic Paint Safe for Hamsters?
Hamsters are rodents, so they are known to enjoy chewing on things. This includes their cage bars as well as toys that they have in their cage. If something is painted with acrylic paint and your hamster chews on it, it can be harmful to their digestive system.
Even though acrylic paint is non-toxic and water-based, there are still ingredients in the paint that can be dangerous when moving through the digestive system. Hamsters are very small, so it is much easier for them to be harmed by whatever enters their body. 
Dried acrylic paint is not considered to be safe for hamsters. The hamster should not be exposed to acrylic paint inside their cage or on any toys. If the hamster is just going to be near the dried paint, such as a painting on the wall near their cage, this is completely fine as they can't chew on the painting.
Kid's Tempera Non-toxic Paint is also another great option to use around your hamsters. It's made for kids, so it's non-toxic and shouldn't do much harm if chewed on a few times. I would still keep your hamsters away from any other type of paint that can be easily access by them.
How Do I Make My Hamster Paint Safe?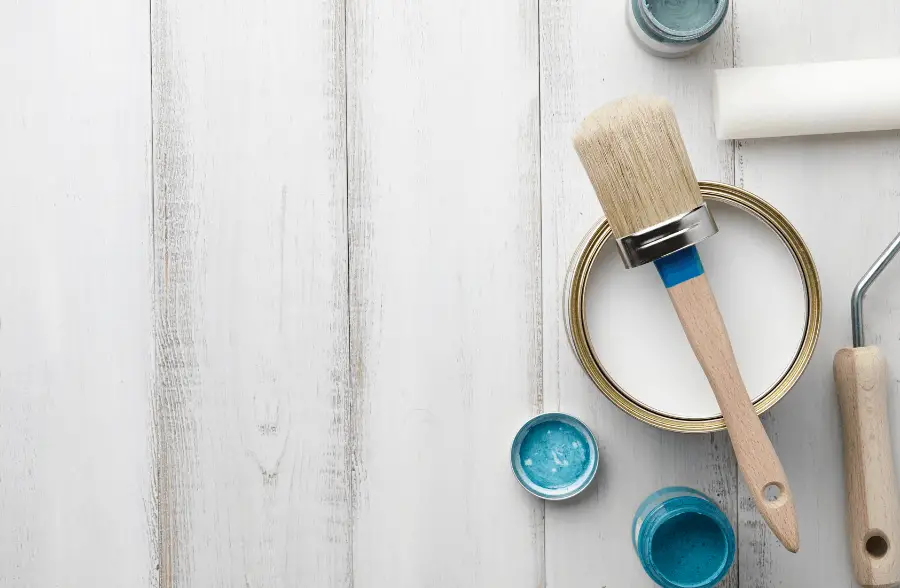 Making sure you have a hamster safe paint is extremely important if you are going to be putting in the cage. The best thing you can do is make your own paint with ingredients that you know are safe for the hamster to chew on.
The safest thing you can use as a paint for your hamster is pet-safe friendly food coloring. This will be natural or vegetable-based food coloring that you can find in most grocery stores. For a long time, it was only recommended to use vegetable-based food coloring, as there wasn't much experimentation with other types.
I recommend this Nomeca Food Coloring Kit. It comes with 12 colors, and it's definitely safe for your hamster to digest.
If you can't find a natural or vegetable-based food coloring, it is completely fine to use others. It is recommended to dilute these other types of food coloring, such as gel, before painting with it. Even if you don't dilute with water, it will still be completely safe for your hamster to be around and consume if they chew.
To make food coloring "paint", you only need three ingredients. All you need to have is cornstarch, water, and the food coloring of your choice. You will first mix the cornstarch and water. It is best to use two parts of water for one part of cornstarch. 
After you have your mixture, add the food coloring. It is recommended to add three drops of food coloring. You can adjust the amount of food coloring to get the exact color you want. Stir the mixture to completely incorporate the food coloring.
Another way you can make hamster safe paint is with the use of vegetables or fruits. Choose a fruit or vegetable in the color that you want. For example, use things like a carrot for orange, strawberries for red, and lettuce for green.
First, you will need to chop up the fruit or vegetable into small pieces. This will make it easier for the color to come out. If you are using a hard vegetable, you will want to use a blender for the best results. Add some water to the blender, as this will help create the right consistency and color that you are looking for.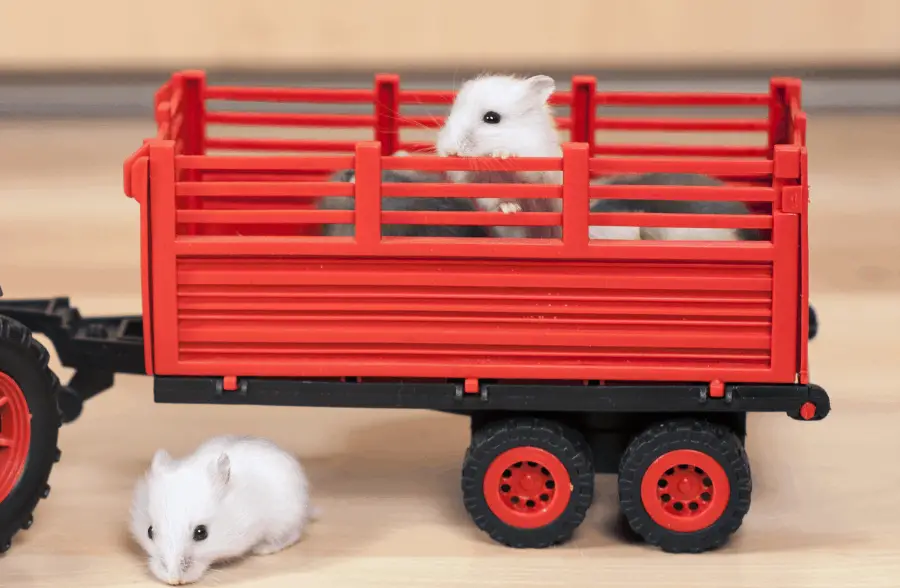 The more water you put in, the lighter the color will be. For a darker, more vibrant color, add less water. Blend until you have a smooth mixture. After the blending is finished, you will need to strain the color to remove any potential pul from the vegetable.
Since berries are soft, so you won't need to enlist the help of your blender. Instead, you will pour some water into a pot, add the fruits, and bring the pot to a boil. It is important to stir constantly, if you stop the water will evaporate and you will lose the color. After the water changes color, strain the mixture to keep the pulp out of the paint.
If you aren't interested in making your own paint, another great option for hamster paint is tempera paint. This paint is made from eggs and is one of the most popular paints for crafting with little kids.
Is Primer Safe for Hamsters?
When it comes to painting objects that are going to be in your hamster's cage, it is highly recommended to avoid using any primer. Most primers with mildew-resistant technology uses toxic chemicals that can be very harmful, potentially fatal to your hamsters if they happen to eat any.
If you are going to be painting the outside of the cage or an area that the hamster won't be able to chew on, you can use a water-based primer. As long as it is completely dry before you put your hamster back in the cage and there is no potential way the hamster can chew on it, primer will be safe.
Is Mod Podge Safe for Hamsters?
It's important to seal your painted project, as it protects the paint from chipping, and even washing off. Mod Podge is water-based, non-toxic, and said to be safe for use by children. In theory, it should be safe for your hamster to be around.
Mod Podge is also waterproof, so if you need to clean or hose down the painted cage, you'll be able to do so. I highly recommend Mod Podge Sealers.
Final Thoughts
It can be tempting to paint something with acrylic paint and put it in your hamster cage. This is not likely to be the best option. If you want to paint a toy that is completely safe for your hamster, you should make your own. This allows you to be positive that it is safe if your hamster does chew on it.
If you are interested in painting the outside of your hamster cage or a spot that your hamster won't be able to chew on, acrylic paint will be fine. You will just need to make sure your hamster is somewhere else during the painting and drying process.
Make sure to follow all my tips and recommended products to ensure your painted cage is hamster friendly. Also, don't forget to check out my other articles for all your painting Q&A's. Happy painting!