As pet owners, we want to do everything we can to love and appreciate our pets while they are still with us. This might include trying to make paw prints with paint as they grow, so you can always remember how much they grew. Maybe you just want their paw print to remember them by in general. Either way, it is important to use paint products that are safe for pets.
So, can you use acrylic paint on dog paws? Yes, acrylic paint is one of the easiest paints to work with, and while it isn't toxic to your pup's skin, they can have an allergic reaction to it and experience some irritation. You can use it on their paw, but it is best to do so with extreme caution. You can also use tempera paint as an alternative.
If you want to use something that you know for sure will be safe for your pet and their paws, you should try to find a paint that is made specifically for use with animals. These types of paints will usually have natural ingredients and pigments that are safer for your pet. Let's read on to learn more!
How to Paint Dog Paws With Acrylic Paint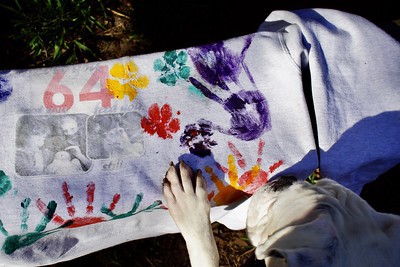 The very first thing you need to consider before painting your dog's paw with acrylic paint is make sure they are comfortable with it. If they don't like to have their paws touched, it might not be a good idea to try to paint their paw. This can cause stress, so only try this if you know your dog doesn't mind their paw being held and messed with.
After you are sure that your dog will remain calm during the painting, you will need to clean their paws. You can either do this with a damp towel or by dipping their paws in warm water with soap and wiping them off after.
You are then going to choose the color you want your dog's paw print to be. Have your dog sit in a position that is comfortable for them and easy for you to access the paw you want to use. Take a paintbrush and dip it into the acrylic paint. It is best to apply a layer that is thick enough to capture the whole paw print. 
As soon as the paw is painted and ready to go, press it firmly onto the surface you want the paw print on. When you get a perfect paw print, you will need to wash the dog's paw off immediately. You need to wash it off before it dries while it is easier to clean.
How Do You Get Acrylic Paint Off a Dog's Paws?
If you wash the dog's paw off as soon as you are finished and before the paint dries, you should have no problem getting the paint off with soap and water. If the paint dried before you were able to wash it off, you can still try soap and water, but you might have a harder time.
The best soap to use to get acrylic paint of your dog's paw is dish soap. Work the dish soap into the paw with a cloth if it needs some extra help. If that doesn't work, you can also try rubbing some olive oil into the paint to help loosen it. If you do this, wash the olive oil off then wash again with dish soap.
Acrylic paint might not always come off easily, but don't worry. Get as much off as you can, and the rest will come off gradually over the course of about a week from walking around. 
Does Acrylic Paint Wash Off Dogs?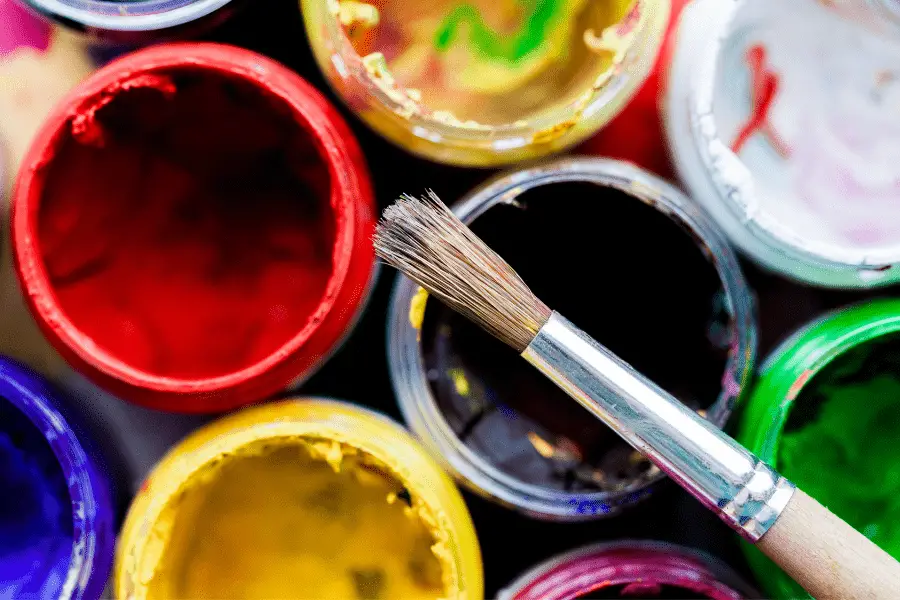 The ability to wash acrylic paint off a dog, especially their fur, depends on a few things. The first thing you need to do is check the fur to see exactly how much paint is on it. Make sure you check how deep the paint goes in the fur. If the dog's fur is longer, you might be able to cut the spot off if it is small.
To make sure you don't accidentally cut your dog's skin, use a comb as a guide and only cut the fur that is above the comb. If you aren't comfortable doing this, or your pup doesn't have long hair, you can try giving them a bath first. 
Give your dog a bath with warm water and dish soap. Rub the painted fur with a cloth or shower puff. Make sure you get the fur completely saturated to increase the chances of the paint lifting off the fur. You might need to rub for a while before the paint starts to come off. This should wash the paint off your dog, but there is always the option of taking them to a groomer that has experienced this issue before.
Is Acrylic Paint Safe for Dogs?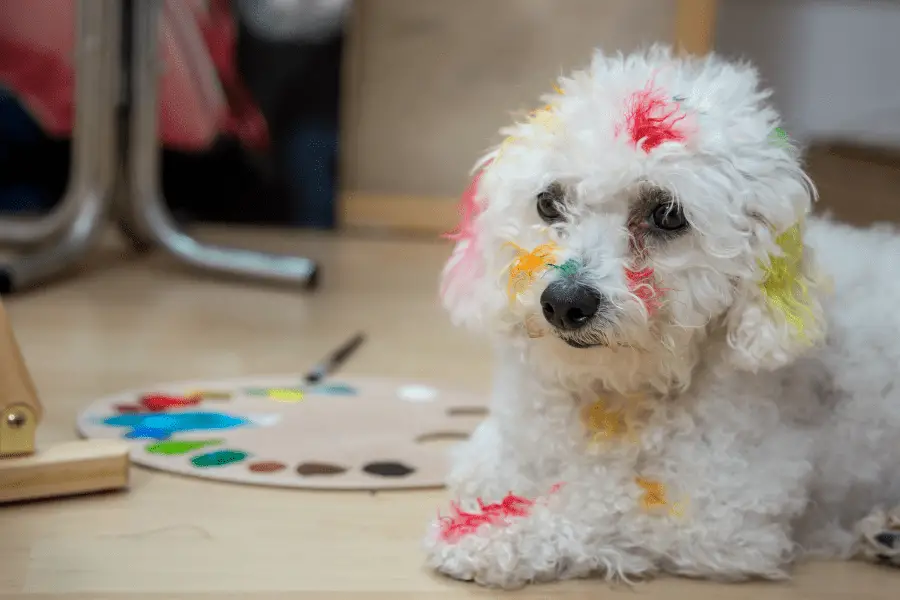 Acrylic paint is considered to be safe for dogs. It isn't toxic, so you don't have to worry about your dog passing away if they come in contact with it. It is even okay, though not recommended, for dogs to ingest a tiny bit of acrylic paint. That means if it happens, your dog will be fine, but they shouldn't be intentionally eating acrylic paint.
Best Paint for Dog Paws
There are so many different options out there for paints that you can use on your dog's paws, but you want to make sure you are using the best brands possible. 
Crayola has been making art supplies and paints for kids for more than 100 years now. All of their paints are completely safe, non-toxic, and affordable. This is by far the best paint that you can use when making a dog paw print. These are tempera paints and are available in red, orange, yellow, green, blue, and purple. The best part about this paint is they wash off so easily.
These paints are the cute little bottles you will see walking down the paint aisle at the grocery store or browsing online. It is extremely affordable, non-toxic, and easy to use. This paint is available in such a wide variety of colors that you will have a hard time choosing one.
While this paint is washable, you might have a little bit of a harder time getting it off your dog's paw. The durability of the finished product will be worth every second you spend washing off your dog's paw when you are finished.
Another brand of tempera paint, U.S Art Supply also offers a washable paint that is available in vibrant colors with outstanding quality. They are non-toxic and easy to wash off paws, making them a great choice for this project. These paints aren't going to be as permanent on a surface as acrylic, but they are still a fantastic option. 
Arteza is an amazing brand that offers acrylic, oils, watercolor and even gouache paint. All of their paint in non-toxic, so it's safe to use around kids and pets. I recommend using this Arteza Craft Paint, for your dogs paw project. It's wash off easily, and you don't need to worry about it being toxic.
My favorite and top pick is always Arteza Acrylic Paints. They have so many different colors, and the quality is amazing! I usually use Arteza Paints for all my projects.
Final Thoughts
If you want to create a painted paw print of your furry best friend, you are going to want to choose a paint that is safe for use with your dog. Acrylic paints are a great option because they are non-toxic and durable, so the paw print will last for a long time on any surface.
Another great type of paint for this project is tempera paint. This paint is what you will commonly see used in a preschool or kindergarten class. They are completely safe and easy to use, but they aren't as permanent as acrylics.
Make sure to follow all my tips and recommended products to ensure your furry friend's paw project turns out great! Also, don't forget to check out my other articles for all your painting Q&A's. Happy painting!