Watercolor is an amazing type of paint because it is easy to use, and doesn't lead to stains. You can create gorgeous sceneries with it, and some one of a kind paintings. Because of how versatile watercolor paint is, you may wonder what surfaces you can use watercolor paint on.
So, can you use watercolor paint on plastic? Unfortunately, you cannot use watercolor paint on plastic. Since plastic is nonporous, the paint will not stick to the surface, causing it to bead up and roll off the plastic. Instead, you should opt for a different type of paint like acrylic paint or oils.
Watercolor works whenever the water carries the paint pigment into and onto the paper's surface. Then, the pigment practically embeds into the paper with the water, whereas the rest sits on top of the surface. In some paints, the pigment stains the paper fibers.
Plastic, however, is hydrophobic. This means it does not absorb water. Instead, it repels water. Being hydrophobic, plastic prevents the water, and therefore the watercolor pigment, from seeping into the material, causing the paint to bead up on the plastic surface.
In this article we go over what paints will work on plastic, and everything you need to know about watercolor paints. Let's get to it!
What Paint Works on plastic?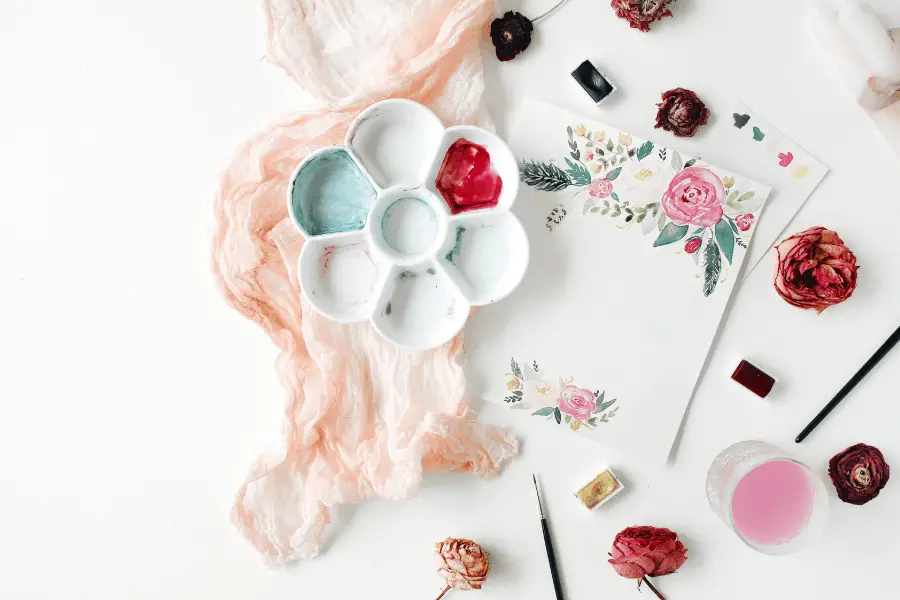 Although you cannot use watercolor paint on plastic, there are other painting materials you can use. For example, acrylic paint and paint specifically formulated for plastic are suitable to use on plastic. You will need to prep the plastic beforehand, though.
My favorite and top pick is always Arteza Acrylic Paints. They have so many different colors, and the quality is amazing! I usually use Arteza paints for all my projects.
Before getting started, you will need to use a fine grit sandpaper to remove any shiny surface from the plastic. This shiny surface will prevent the paint from adhering to the plastic material. At the same time, be gentle when you are sanding the plastic so as not to damage that surface.
After sanding the plastic, wipe down the entire surface with a wet cloth. This will pick up any fine dust particles that were made during the sanding process. You don't want these particles to get stuck into the paint.
Once it's dry, you can start painting the plastic. Acrylic paints sometimes need a primer on most surfaces, so I recommend applying a layer of primer as well. Liquitex is the brand I use on all my painting projects. This really helps the paint adhere to the surface.
Another option is spray paint. Most sprays paints are specifically designed to work on plastic surfaces. Apply as many coats as the instructions call for.
Lastly, oil paints are also great to use on plastic. I actually have an another article that talks all about using oil paint on plastic. Check it out here.
Can You Use Watercolor Paint Tubes on Plastic?
While some people use watercolor trays, a lot of people use watercolor paint straight form the tube. This type of watercolor paint has a thicker consistency that you usually add water to before you start your painting.
Although this painting material will not bead up and roll off the plastic, it still will not properly absorb into the surface. As a result, the paint will eventually dry and peel or fall off the plastic.
Should Watercolor Paintings Be Sealed?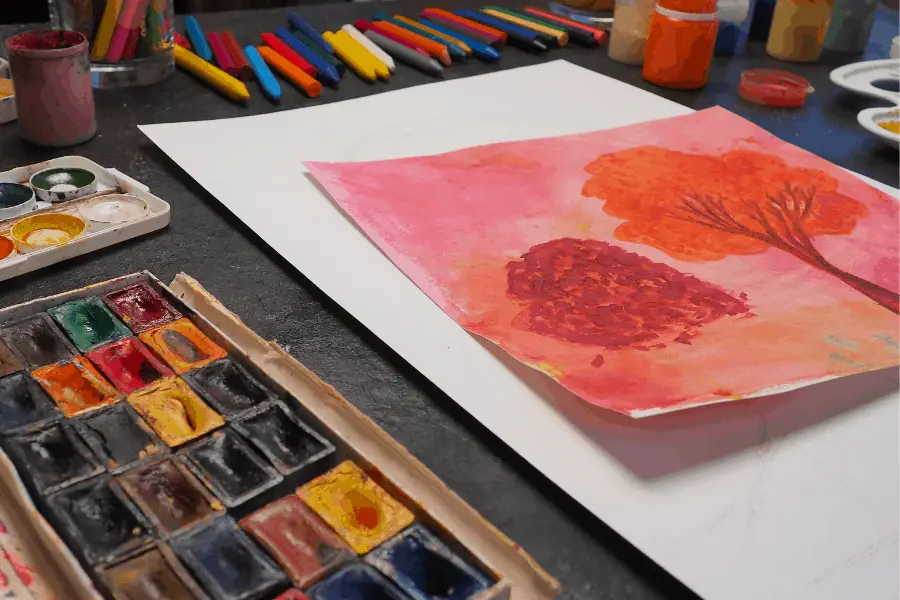 Since watercolor paintings are made from water-based paint, sealing the painting is absolutely necessary. Unlike other paints, watercolor painting can easily become damaged from water, a liquid spill, or moisture in the air.
As with all painting projects, I always recommend sealing your paint with varnish. This protects it from flaking and chipping, as well as certain weather. I use Krylon Sealant Spray for all my projects. They even protect your paint against UV rays!
Originally, watercolor paints were sealed using a special glass frame and protection. The glass frame prevents water from entering the painting space. Even though this technique is effective, it is incredibly expensive, making it a less than ideal sealing option for many painters.
Luckily, modern devices and tools have made watercolor sealing much easier. Thanks to these modern varnish sprays, it now makes it easier to waterproof your watercolor painting, and prevent water from damaging the surface.
How to Seal Watercolor Paintings With Wax Varnish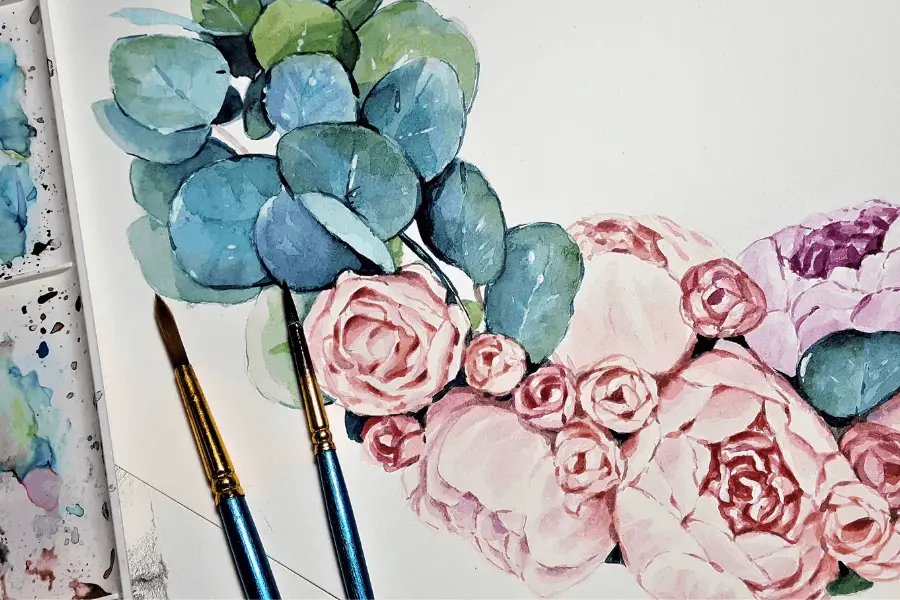 One of the easiest ways to seal watercolor paintings involves using wax varnish. There are a variety of wax varnish brands available at many home improvement stores. I recommend using Jacquard Wax Varnish. They're top quality, and really protect your work.
You will need a tub of varnish and a cloth free of lint.
Simply drop the cloth into the wax varnish and spread it across the painting once it has been mounted. Be liberal with the varnish so as to cover the entire surface.
You should apply two to three coats of wax varnish. Between each coat, let the prior coat dry completely. After the final wax varnish coat has dried, you can also spray two extra coats of the Krylon spray I mentioned above, over the entire material.
You can also use a resin to seal the watercolor painting, but we will discuss this more at the bottom of this article.
How Do You Seal Watercolor on Plastic?
Since plastic is hydrophobic, there is no way to use watercolor paint on plastic materials. Henceforth, you cannot seal watercolor on plastic either. Trying to seal watercolor on plastic would be a waste of time and money since the watercolor won't stick to the plastic material in the first place.
If you use a lot of watercolor paint straight from the tube on plastic, the paint may initially stick to the plastic. Once the paint dries, it may continue to stick for a short amount of time. Unfortunately, the paint will eventually peel and flake off the plastic.
This is especially true if you try to apply varnish or another sealing material to the outside of the paint. If you decide to go this route, I recommend trying to spray a few layers of Krylon varnish once the paint has dried, and see if that works.
Can You Pour Resin Over Watercolor?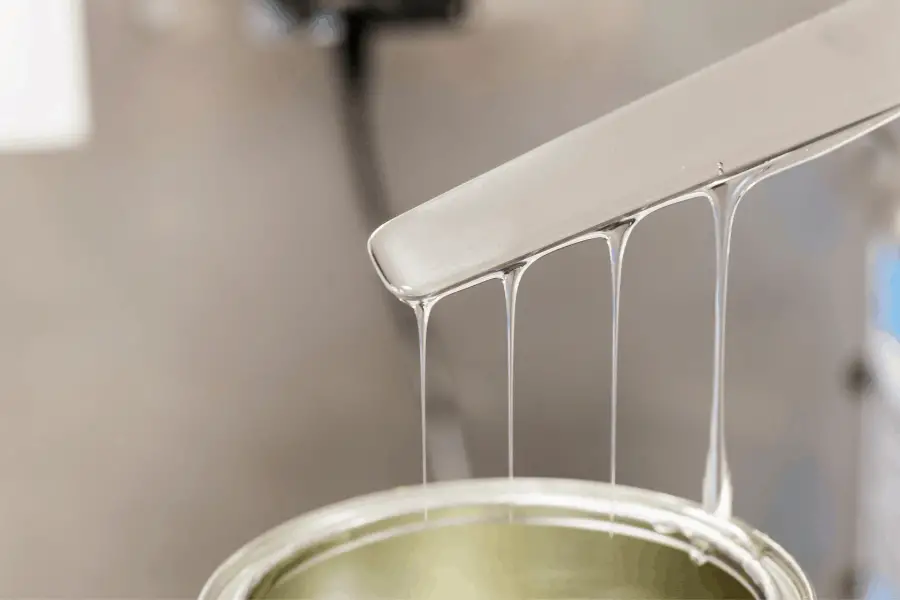 Epoxy resin can make your watercolor painting look more professional, as well as protect it for years to come. Because of how thick epoxy can be poured, many papers cannot handle this material. Watercolor paper, however, is much thicker, making it suitable for epoxy resin.
I use Dr Crafty for my epoxy resin and hardener. I highly recommend this brand because they're reputable and have great products to protect your artwork. Another good resin I have used in the past, is this Pro Marine Supplies Epoxy Resin Kit.
How to Seal Watercolor Paintings with Resin
To use your watercolor painting using epoxy, begin by mixing the epoxy resin as the brand's instructions tell you to do so. This will involve measuring the ingredients and mixing them together. Usually, you will need equal parts of the two ingredients.
Then, pour the mixture over your painting. You can mount the artwork beforehand, allowing you to pour the resin over the panel directly. For a cleaner and more professional look, you can select a panel with raised lips, creating a raised final product.
To help the resin dry more evenly, use an artist torch, such as this Sondiko Torch. Hold the flame two to three inches above the surface. This will pop the air bubbles. Move the torch continually from side to side. If you see any hairs or dust in the resin, use a toothpick to fish it out.
Finally, cover the top of the painting with a plastic tote or a cardboard box. Make sure the cover does not touch the painting.
Instead, it is supposed to prevent other items from touching the resin prematurely. Let it sit covered for 24 hours until it is completely dry.
After it has fully dried, you will end up with a gorgeous watercolor painting, whether it's on canvas, paper or even other surfaces.
Final Thoughts
Even though you cannot use watercolors on plastic, watercolors are still one of the best painting materials. Use watercolor paints on paper and other porous material that allows the pigment to seep in.
You can either use wax varnish or resin to seal your final product. Remember to follow all my steps and tips to ensure your painting comes out amazing.
If you really need to paint a plastic material, opt for acrylic paints or paint specifically designed for plastic materials like the ones I recommend above. These paints will actually stick to the plastic, leading to long-term results.
Don't forget to check out my other articles for all you painting Q&A's. Happy painting!