Felt has plenty of uses when it comes to arts and crafts! If you're planning a project with felt, you may be wondering what types of paint to use on it. One of the most common options for felt is fabric paint.
So, can you use fabric paint on felt? Yes! You can easily use fabric paints on felt. These paints bind with the fibers in the felt, preventing the color from wearing out over time. Plus, the paint shouldn't crack or peel after setting it properly. There are plenty of ways to use fabric paints on your felt!
Fabric paints, also known as textile mediums, have plenty of uses. They work wonderfully on felt, as well as many other materials you have at home. Painting feels fun and allows you to add your touch to many different projects. Let's keep reading!
How To Use Fabric Paint on Felt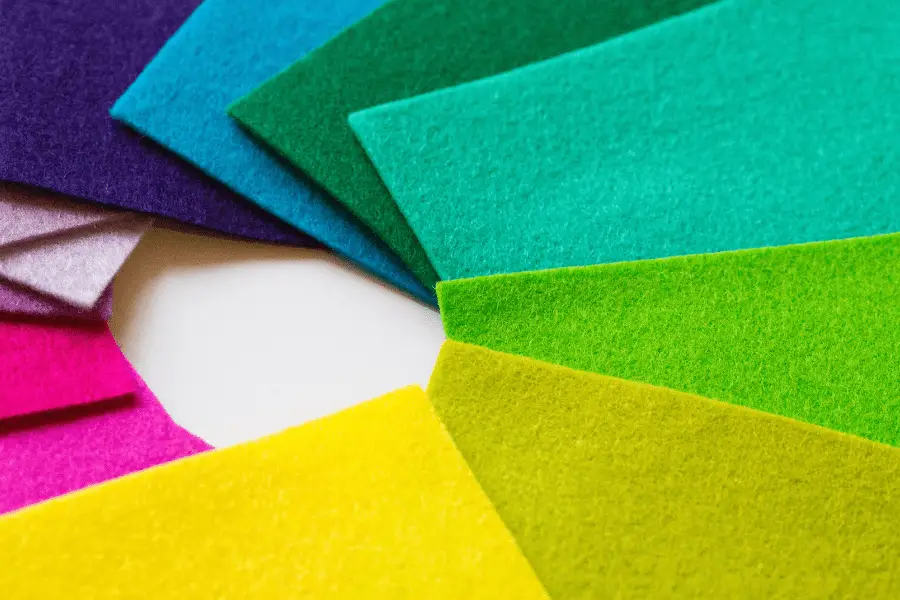 Felt is an easy-to-use fabric with plenty of functions. You can find I felt in so many types of DIY crafts and decorations. Since it's a common material, knowing how to work with it can come in handy! This material is very absorbent, so you need to be careful when painting. Adding thick layers of fabric paint could cause the color to bleed through.
When using fabric paint on felt, you'll need a few simple items. These include:
White chalk pencil or marker
Ruler
Scissors
My favorite and top pick is always Arteza Fabric Paints. They have so many different colors, and the quality is amazing! I usually use Arteza Paints for all my projects.
Once you have the painting materials listed above, you're ready to paint! Here's how you can easily use fabric paint on felt:
Measure the felt with a ruler and cut it to size for your project. Then, lay it on a flat surface.
Draw your image with a marker or chalk pencil. You can also try using stencils! You want your lines to show up well, so choose a marker or chalk pencil that you can see easily on the felt.
Set up your fabric paints on a palette. You can also apply the paint directly from the bottle in most cases.
Use scrap felt to practice your designs.
Trace your sketch that you made in step two. If squeezing from the bottle, make sure to hold it vertically. 
Allow the paint ample time to dry! You don't want to touch the felt in the meantime. If you do, you could accidentally smudge or create lumps in the paint.
Heat set the paint in the dryer or by using an iron- if the paint's instructions tell you to do so. Some brands have different methods to set the color.
What's the Difference Between Fabric Paint and Acrylic Paint?
Many people also wonder what the differences between fabric and acrylic paints are. These two paints seem similar when in their containers, but they're very different.
The most noticeable difference is the consistency of the paints. Fabric paints tend to be runnier and thinner than acrylics, which are very thick in comparison. If you use acrylics on your felt, you'll also notice that they dry and make the material stiffer.
Fabric paints tend to move with the felt and won't stiffen it up quite as much as acrylics will. Additionally, fabric paint contains binding ingredients, which acrylics don't. These ingredients allow the fabric paint to bind with natural materials and fibers, making it the better option for painting on felt.
Finally, fabric paints only work well on materials that have fibers. You wouldn't have much luck using this kind of paint on paper. If you want to paint on synthetic or non-porous surfaces, I suggest choosing high-quality acrylic paint instead.
Overall, you'll need to consider these differences when choosing what paints you want to use on your felt. You can use acrylics on felt, too, as long as you take additional steps to ensure the paint sticks. However, fabric paints are more straightforward to use- with less prep!
Can You Mix Acrylic Paint With Fabric Paint?
Good news! You can mix acrylic and fabric paints. Fabric paint contains a textile medium (the binding ingredients) and acrylic paints. However, if you combine the two, you may get a much higher acrylic to fabric paint ratio. If that happens, the paint won't stick as well.
If you want to mix your colors, you still have a few different options. You can combine fabric paints to get a new color blend or create your paints with a textile medium. To do this, mix a clear textile medium with acrylic paints. You have even more control over the colors you create with this method!
In short, while you can combine these two types of paints, you may not get the best results. I recommend experimenting with textile mediums and creating your own colors that way.
Is Fabric Paint Washable?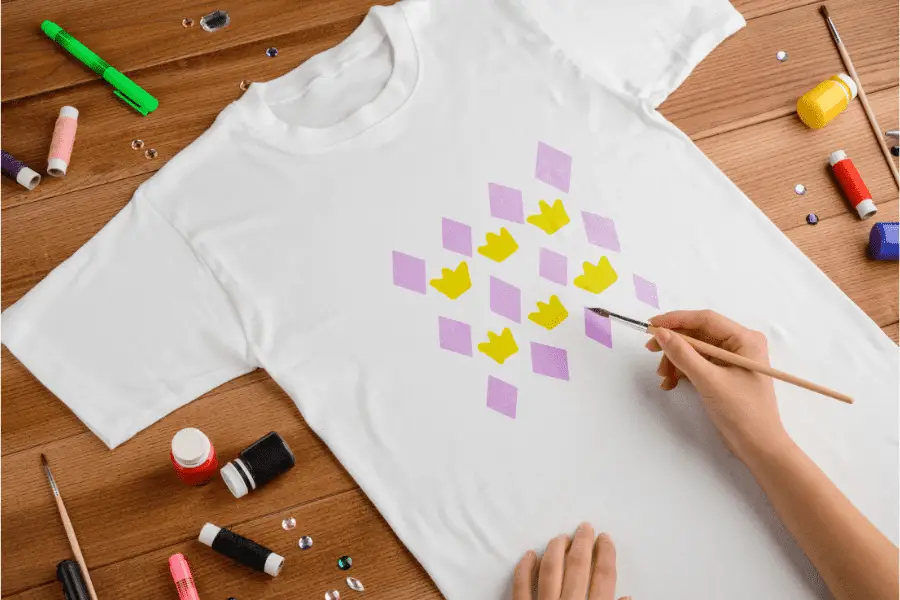 Fabric paint is washable and shouldn't come off after it dries. You may want to give it more time to dry than what you think it needs and set the color using heat. That way, you won't need to worry about the paint running out in the washer.
You should never wash fabric paint until you've had the time to heat set it! This final step is what firmly binds the color with the fabric. Washing your fabrics too soon could mean disaster for your designs!
How Do You Seal Fabric Paint?
The best way to seal fabric paint is to practice heat setting. You can do this in a few different ways:
Drying the material in the dryer.
Using an iron.
Using a hairdryer.
Some paint brands do have specific methods they want you to use during the setting process. You should always check the included instructions that come with the paint to make sure you're not skipping an important step!
If you want to dry the material using your dryer, you need to put the project in the machine. You don't want to wash it first! Set the clothing dryer to 30 minutes on a high heat setting. Once done, lay the design out flat so it doesn't crease as it cools down.
For those who want to use an iron, make sure to have the steam setting turned off first. Set a piece of fabric over the design, then iron for about five minutes. You should use a medium-high heat setting and shake the iron over the material often to avoid burns.
Finally, you can even use a hairdryer to heat set your painting. Set the hairdryer to low and allow the heat to wash over the work for five minutes while you move it back and forth. You also want to hold it a few feet away from the material to avoid the image.
Final Thoughts
To summarize, you can use fabric paints on felt! These paints work great on felt and have long-lasting results. The color sticks to the surface extremely well, and you won't have to worry about it lifting or cracking. Plus, you have plenty of options for varying shades on the market.
Overall, fabric paints are one of the best mediums to use on felt! No matter what you're working on, you're sure to benefit from using them. I love adding vibrant colors to my textiles- I'm sure that you will too!
Make sure to follow all my tips and recommended products to ensure your fabric painted project turns out great! Also, don't forget to check out my other articles for all your painting Q&A's. Happy painting!