Chalk markers are a versatile art tool to have at home. You can use them on various surfaces without leaving behind any residue. Today, most chalk markers consist of non-toxic, water-based ink that you can easily erase.
So, can you use chalk markers on dry erase boards? Yes! Chalk markers are perfect for use on dry-erase boards. Liquid chalk is erasable on any non-porous surface. That means you can use the marker on a dry erase board then remove it when finished.
In short, chalk markers are great to use on dry-erase boards! People have all kinds of uses for these special makers and their unique, dry finish. There's a lot to know about these liquid chalk markers, so make sure to stick around. Let's keep reading!
What Are Chalk Paint Markers?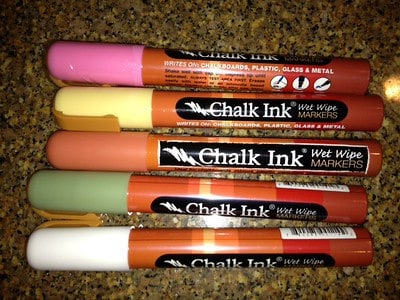 Chalk markers are a marker that contains ink that produces lines that look like chalk. Even though we call them chalk paint markers, the liquid inside the pen doesn't have real chalk! The ink that comes out of the marker simply resembles chalk.
The ink from these markers is usually very bright, colorful, and dries with a dusty finish, much like real chalk does. If you use these markers on a dry erase board, you can also easily wipe the ink off with a dry eraser when finished with them.
Chalk markers are fun to use! The ink usually comes out very smoothly and dries quickly. Plus, it's easy to erase from certain surfaces, so you don't have to worry about it being permanent on your dry erase board.
Overall, chalk paint markers are another type of marker. The main difference between them and other markers is the finish. Chalk markers dry with a powdery finish, unlike typical makers that look smooth and ink-like.
How To Use Chalk Paint Markers on a Dry Erase Board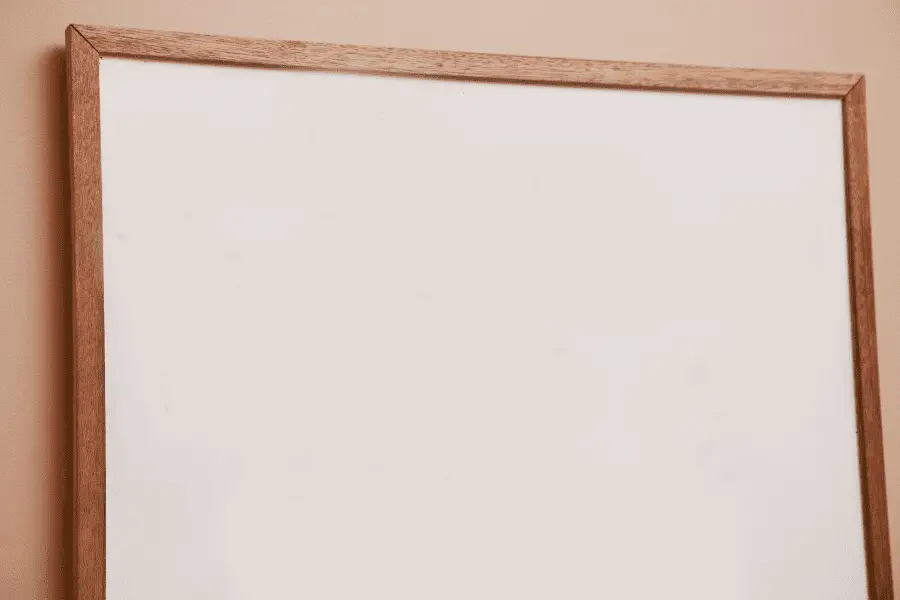 You can use chalk paint markers just like you'd use other markers on your dry erase board. Write on the board, then wipe it off with a dry eraser or cloth when you want to remove the writing. The chalk paint will look a little dusty, like chalk.
When you want to give the dry erase board a deeper clean, start by gently scrubbing it with warm, soapy water and a washcloth. It's best to use a microfiber cloth so that you don't accidentally scratch the board's surface.
You should also stay away from paper towels! Paper towels are very rough and can easily scratch the acrylic off the surface of your dry erase board. 
In short, you can use the chalk markers on the board like usual. The ink should wipe off just as quickly as it would if you used dry erase markers. 
What Surfaces Can You Use Chalk Markers On?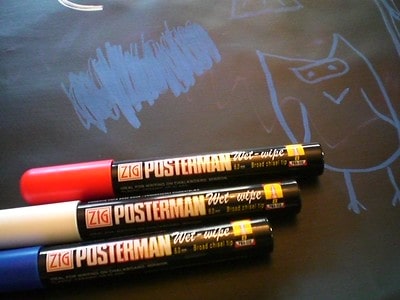 You can use chalk markers on any surface. Non-porous surfaces are best when you want to erase the liquid chalk later. These surfaces include materials that consist of metal, acrylic, or glass. Many people write on mirrors and bistro boards too!
When you write on non-porous surfaces, the ink isn't permanent. You can erase mistakes or erase everything quickly for a blank slate to write on. You'll have complete freedom to draw as you please.
However, the chalk marker ink won't come off if you use the markers on a porous surface, such as paper, cardboard, fabric, or wood. You can use them to draw and decorate these surfaces! The final results will be permanent or will fade slowly over time.
Overall, chalk ink markers are very versatile. You have plenty of options for using them! Because of this benefit, they're great to have on hand. You're sure to have many uses for them. You don't need to be an artist to enjoy working with chalk markers, either.
How Do You Remove Chalkboard Marker From a Whiteboard?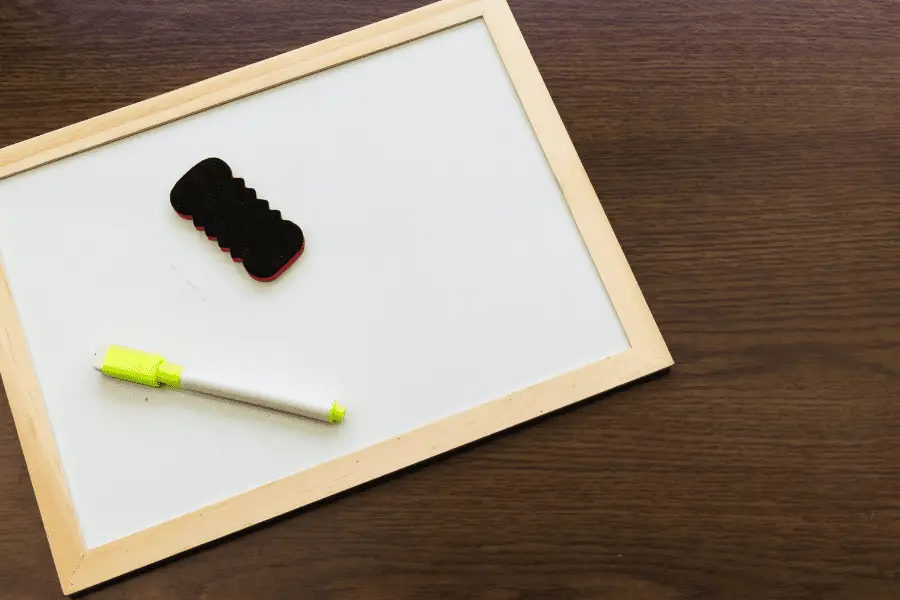 You should easily wipe the chalk marker off the whiteboard with a cloth. However, you can dampen it with soap and water when you're having trouble removing the ink from the board.
You can also try using a damp cloth with a small amount of white vinegar for stubborn ink. You want to use a mixture of 70% water with only 30% vinegar. You don't need a lot of liquid either- a tiny amount works well. 
You can then move on to using a Mr. Clean Magic Eraser with some water as a last resort. Carefully wipe down the surface of the board. The magic eraser should easily cut through chalk marker ink, giving you a clean slate to work with.
Are Liquid Chalk Markers Erasable?
As an added benefit, liquid chalk markers are very erasable! All you need is to wet a cloth and then wipe the board in circles to remove the ink. If you're writing on a dry erase board, you also don't need to add water. It should come off if you rub the chalk ink in circles.
Since they're erasable, the markers have a lot of purposes. Many people use them on chalkboards, for school activities, for menu specials, practicing handwriting or drawing, and more! If you want to write but don't want to leave a permanent mark, they're great!
However, chalk liquid is only erasable on non-porous surfaces. If you use it on a porous surface, the chalk ink will dry and be much harder to remove. That means you should use them on glass, acrylic, whiteboards, or dry erase boards for the ink to erase.
Liquid Chalk Markers Vs. Dry Erase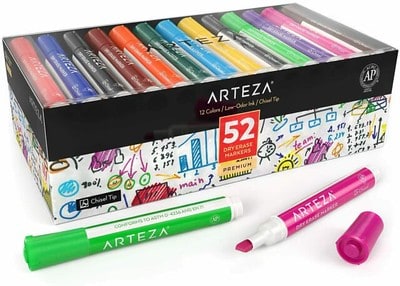 Both of these markers can work well on dry erase boards. However, there are still several differences that you'll want to know about.
Liquid chalk markers work on most surfaces. They also have a chalk-like finish that many people love. Dry erase markers have that familiar smooth and inky appearance. The ink won't dry on the board, making it easy to clean up.
You'll want to think about which of these options is better for you. If you want something simple to work with, then easily erase, choose typical dry erase markers. They're very straightforward, making them popular in schools.
However, liquid chalk markers look a lot nicer. The final result looks like chalk without being too dusty. This option is better when you want many people to see the design you put on the dry erase board—for example, a menu at a restaurant. 
Still, you can use either option for a variety of projects! Chalk markers are a lot of fun to use, and you can buy many colors in a single pack at a fair price. If you're interested, you should look into quality chalk markers!
Final Thoughts
To summarize, you can use chalk marks on dry-erase boards! They also work well on metal, glass, whiteboards, bistro boards, mirrors, and other non-porous surfaces. You can also use them on porous surfaces if you don't mind that the ink won't erase.
Overall, chalk markers are a lot of fun to use! Their ink is bright yet looks very similar to chalk- giving it a unique effect. You're sure to find a set that you love, so make sure to check them out when you have a chance.
Make sure to follow all my tips and recommended products to ensure your chalk marker project turns out great! Also, don't forget to check out my other articles for all your painting Q&A's. Happy painting! 
To view my personal artwork collection click here.  All of my artwork is one of a kind and comes ready to hang.