Acrylic paint is a very popular medium that can be used on most surfaces. You can choose to buy student grade acrylic paints, which are more targeted for kids or beginners, as well as artists quality for more experienced painters. There are a few options for buying acrylic paint and all the tools that go with it.
So, where do you buy acrylic paint? The best place to buy acrylic paint in stores is Michaels Craft Store. If you prefer to buy acrylic paint online, the best place is on Amazon. Both in store and online options are great for buying student grade, as well as artist quality paints.
In this article I go over all the top places to buy acrylic paint, both in store and online. I also recommend the best acrylic paint brands, so let's read on!
Best Places to Buy Acrylic Paint
The best places to buy acrylic paint in store will always be a craft store. This is because they actually carry tons of brands and paint accessories that go hand in hand with the paint. Buying online and in stores is basically the same thing, but if you are need the paint right away, you could benefit from purchasing in store. When you buy online, you benefit from extra discounts and savings too.
Here are my top recommend places to purchase your acrylic paint from:

Amazon is a great choice to buy not only acrylic paint, but all the tools that you need to go with it. I personally buy my Arteza Acrylic Paint from Amazon, and it gets here in just two days! It's very easy to shop for all your needs on Amazon, since you most likely will also need brushes, a palette or a canvas.
Amazon also carries student grade and artists quality acrylic paints, while some stores may only carry one or the other.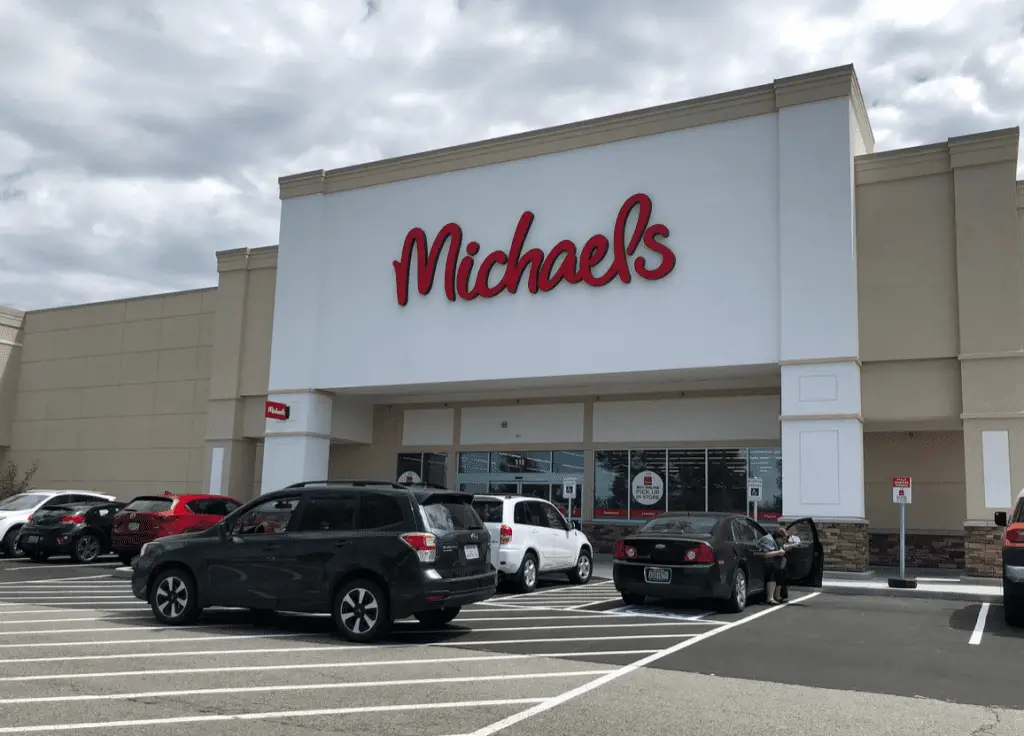 Michaels is a craft store that has tons of options for paint. This store is my go to favorite for in-store shopping. They carry artists quality paints like Golden, Liquitex and even Winsor & Newton. You can also find student grade acrylic paints at Michaels like Apple Barrel and Folk Art.
You may need other supplies while shopping for paints, so you can easily pick up paint brushes, a paint palette and much more at this store.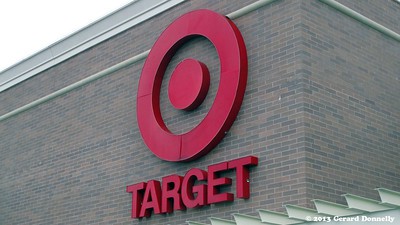 Target has a small section of paints in their stores, but you can expect to find basic grade acrylic paints. You won't find artists quality brands such as Winsor & Newton or Golden at Target. If you need to do a kid project, or paint a small home decor, then they do have small acrylic paint bottles to buy in person.
Target does have a great children's area of art supplies that include paint markers, and tempera paint for all those fun projects. You can also pick up mixed media paper in their arts and crafts section.
Walmart is just like Target, in which there won't be a huge selection of artists grade acrylic paints, but you will find student grade and kids tempera paints. They have a nice selection in stores and online to choose from.
Hobby Lobby is an excellent choice for in person shopping. Their stores carry artists quality paints, paint brushes and other tools to get you started. This store is just like Michaels, and you can expect to find the paint brand you are looking for.
Best Acrylic Paint Brands
To find the best acrylic paint brand, you need to make sure they are of premium quality, non-toxic, artists grade, and of course reputation matters. I have compiled the best acrylic paint brands on the market by personally testing them out, as well as doing extensive customer research on each brand.
I have used all these brands and can speak by experience which brand is the best. Let's begin!
Arteza is my go-to acrylic paint brand. They were created by artists and have over 1,000 products to choose from. The overall quality of Arteza is nothing but amazing! They are professional artists quality, and I have several pieces that I am exhibiting, painted with this brand.
Arteza has artists quality paints, student grade, and even kids acrylic paint. They are non-toxic, and super safe for kids, pets and even sensitive people. Arteza is definitely my top pick for acrylic paint.
Winsor & Newton is a top quality brand that offers professional artists quality paints. They have been around for over 100 years, and was founded in London. They have acrylics, oils, watercolors and even gouache paints that artists use to create masterpieces. Their paints are ideal for professional artists, and are of premium quality.
Their acrylic paint set is wonderful, and the colors are bold and vibrant. When I tried this set, the colors didn't darken or change, and the painting turned out amazing.
Liquitex is another top notch acrylic paint brand, that not only sells acrylic paints, but also my favorite paint primer. They have two amazing gesso primers, one for regular use, and another for professional quality results. Liquitex's acrylic paints consists of heavy body acrylic paints and soft body acrylics.
The heavy body acrylic paints are thick, high viscosity, pigment-rich professional acrylic color, and are ideal for impasto and texture. Their soft body acrylic paints are low viscosity professional acrylic paints, that give excellent coverage, a satin finish and high levels of artist-quality pigment for archival brilliance.
They also make acrylic gouache, primers, tools and tons of other products!
Golden Acrylic paints are another long time company that was founded in the 1930's. They are very reputable and offer amazing artists quality acrylic paints. They have a heavy body acrylic paint set, which was their very first product available to the public.
Their acrylic paints are known for their exceptionally smooth, buttery consistency. The Heavy Body Palette includes the largest assortment of unique pure pigments in a 100% acrylic emulsion available to professional artists.
Golden Paints also offers other products like primers, varnish, fluids and much more!
How Much Does Acrylic Paint Cost?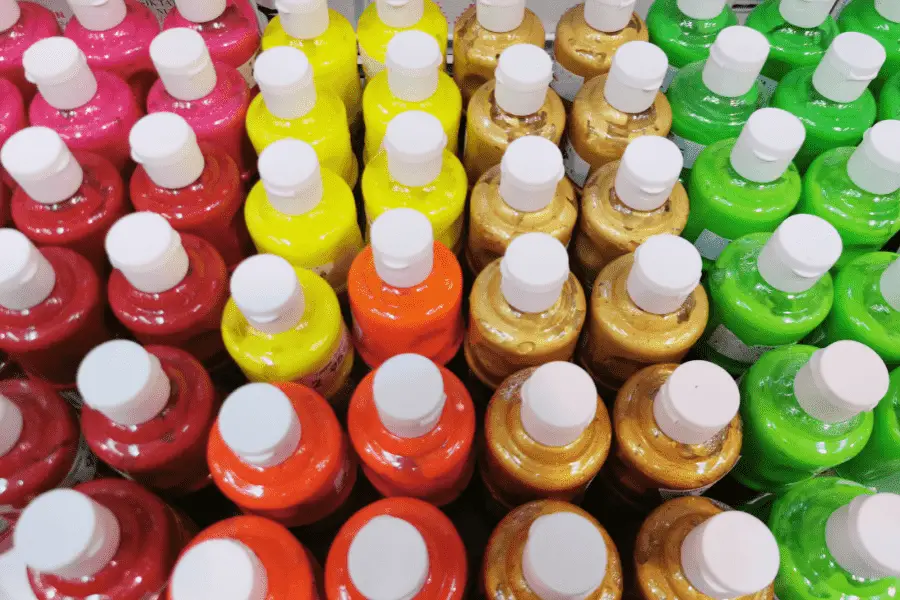 Acrylic paint can cost anywhere from $1.00 to $60.00 for a set. Typically the lower the price, the lower the grade the paint will be.
For example, Folk Art or Apple Barrel acrylic paints have 2 oz bottles that start at $1-2. These are student grade acrylic paints and most professionals don't use these. Folk Art is a great brand for student projects or even for kids.
Arteza or Winsor & Newton acrylic paints usually cost about $30.00 per set. This is because these brands are of higher quality and a lot of artists use them. The quality of Winsor & Newton paints are top premium artists quality, so you can expect them to be more expensive than a student grade brand.
Arteza has acrylic paint sets that start at $40.00, and they sell individual 12 oz tubes as well for about $10.00. Winsor & Newton sell individual acrylic tubes that can be anywhere from $10 and up. They also have paint sets that run about $40.00 per kit.
Are Acrylics Cheaper Than Oils?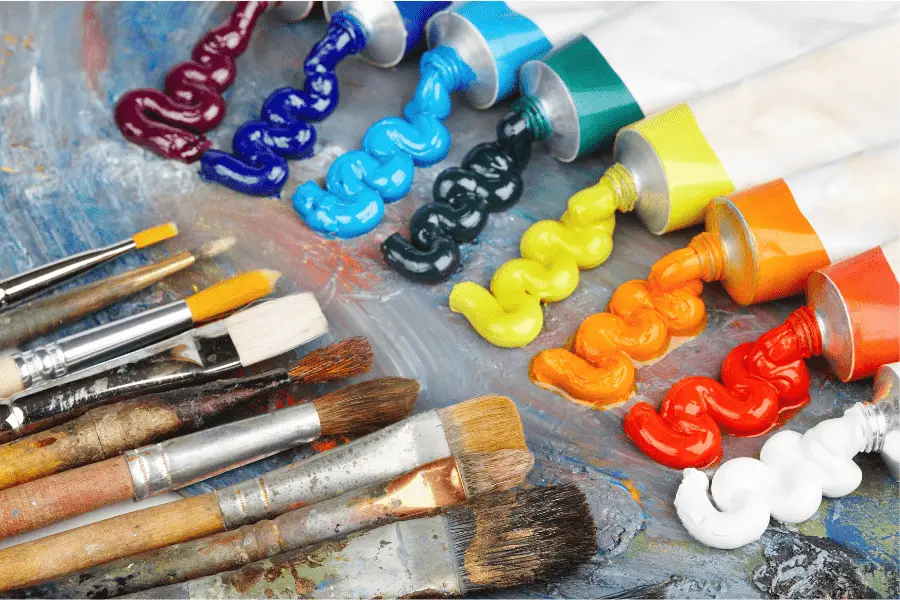 Acrylic paints tend to be cheaper than oil paints, which makes them a great option for artists who have a budget. If you purchase student grade acrylic paints, you will notice how much lower the price is, compared to oil paints.
But keep in mind that artists grade acrylic paints can also be expensive. You may even find a deal and end up paying less for oil paints at times. Like I mentioned above, Winsor & Newton and Golden Paints tend to be the higher up acrylic paint brand which are not cheap.
Another reason why acrylic paints are cheaper than profession oil paints, is because if you wanted to dilute the paint you only need water to do so. But, for oil paints you need extra tools to help achieve that technique. You need paint thinner, mineral spirits or even linseed oil at times to be able to thin your paint.
Apart from that, to clean the oil paint brushes, you also need paint thinner since they can't be washed with water like acrylic paint brushes can. So, depending on which brand you choose, then yes acrylic paints can be cheaper than oil paints, but that's not to say you won't find a cheaper oil paint kit.
What Is Required for Acrylic Painting?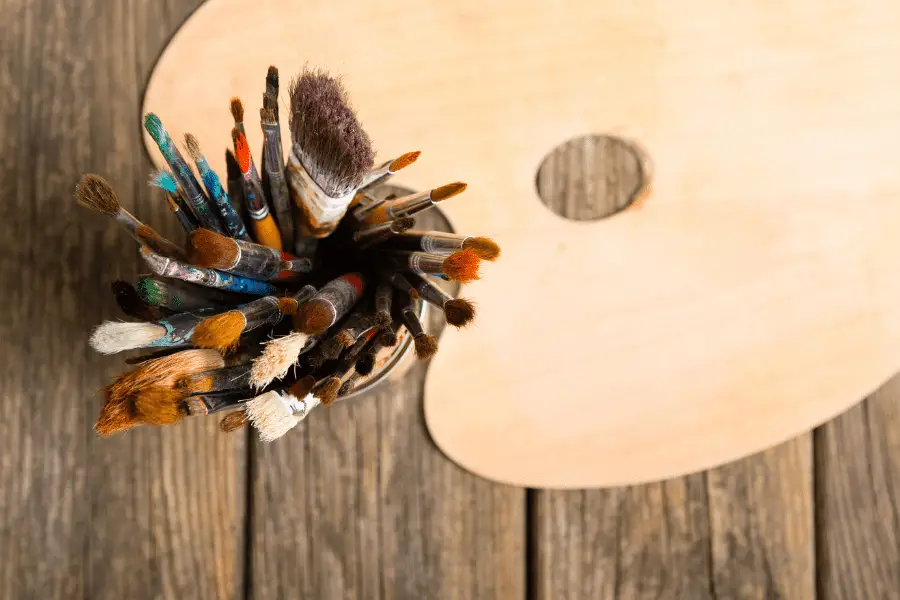 There are a few things that you need apart from acrylic paint, in order to get started. Most artists paint is a designated area or studio, but you can also even paint in your kitchen. Other than having ventilated space to work in, you will need the following:
You can also get a jar to store your paint brushes and other tools, and of course towels or rags! You may also want to have a cup of water if you plan on diluting your acrylic paint, but this isn't necessary.
Depending on your project, you may only need paint and brushes in order to quickly paint over something, or you may need a lot of supplies if you are creating a bigger canvas piece. I do always recommend an easel if you are painting a canvas.
Is Acrylic Paint Good for Beginners?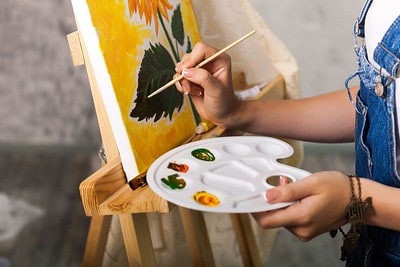 Acrylic paint is an excellent choice for beginners. Many students and beginners use acrylic paints as their first medium, before moving on to oil paints. Some artists only prefer acrylic paints and never even try oils.
Acrylic paint is non-toxic, washable and safe for kids, students and other people who are just getting into painting. Many professional artists use high quality acrylic paints, but most likely started with student grade.
If you are just starting out, or painting as a hobby then I highly recommend starting with acrylic paints. They are a bold and vibrant medium to work with, that produce high quality results!
Final Thoughts
To conclude, you can purchase acrylic paint online or in stores in the options above. My favorite place to buy acrylic paint in stores is Michaels Craft Store, and Amazon for online purchases. You will find every brand you are looking for at either of these two stores.
We also went over the best acrylic paint brands, and I would highly recommend Arteza and Winsor & Newton as my top picks. They are both amazing and high quality paints that will help you turn your project into something memorable!
Make sure to follow all my tips and recommended products to ensure your acrylic painted project turns out great! Also, don't forget to check out my other articles for all your painting Q&A's. Happy painting!