Acrylic paint is an extremely popular type of medium, because it can be used on practically every surface. Since acrylic paint is a water-based type of paint, it's non-toxic, sometimes washable, and is preferred by many artists.
So, can you use acrylic paint on a chalkboard? Yes! You can definitely use acrylic paint on a chalkboard, whether it be on a regular chalkboard, or painted with chalkboard paint. If you don't plan on washing the paint off, you will need to seal it in order to make it permanent.
Acrylic paint is perfect to use on chalkboard surfaces because it can be easily washed off, or made permanent with an acrylic varnish. To find out everything you need to know about using acrylic paint on a chalkboard, let's read on!
How to Use Acrylic Paint on a Chalkboard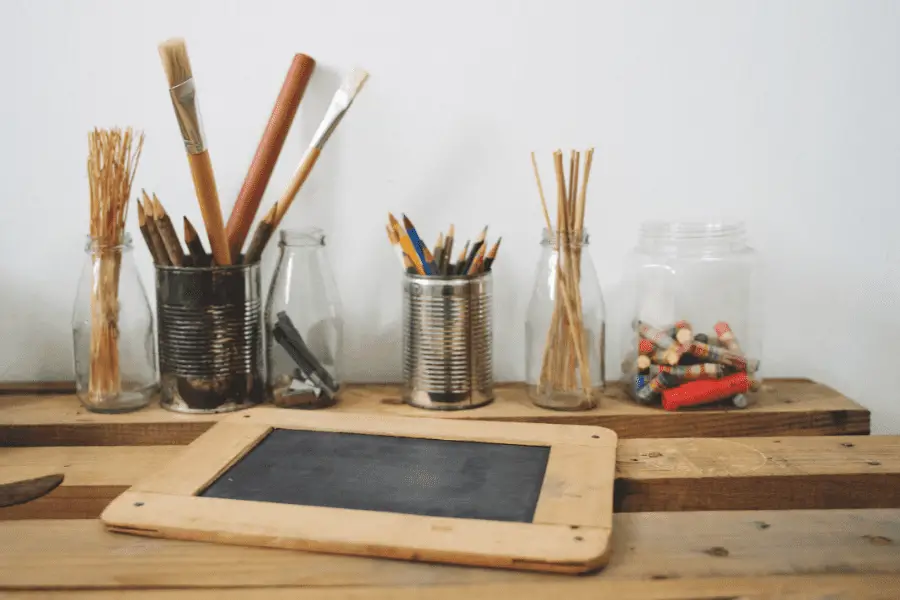 If you are applying acrylic paint on an already painted chalkboard, then you can just simply start painting. Make sure the surface is dry and dust free before you start. However, if you are making or painting your surface with chalkboard paint, you will need to make sure it's fully dry before using acrylic paint.
Always make sure the surface is dry and clean to ensure you don't accidentally paint over debris or dust. You can apply a few layers of acrylic paint if you need to, but two coats should do the job.
My favorite and top pick is always Arteza Acrylic Paints. They have so many different colors, and the quality is amazing! I usually use Arteza Paints for all my projects.
For special offers and discounts, with my link you can also go to the Arteza website and shop their amazing products.
Some people paint designs, while others paint words on a small chalkboard for special events like a wedding, baby shower to even a party. You can seal your painted chalkboard only if you plan on making the project permanent. All you need is an acrylic spray varnish, and it'll protect your paint from flaking and chipping in the future.
Krylon has a great variety of varnishes to choose from such as, matte, glossy, satin and more! If you want to keep the chalky finish look, I recommend going with the Krylon Matte Finish.
What Can I Mix With Acrylic Paint to Make Chalk Paint?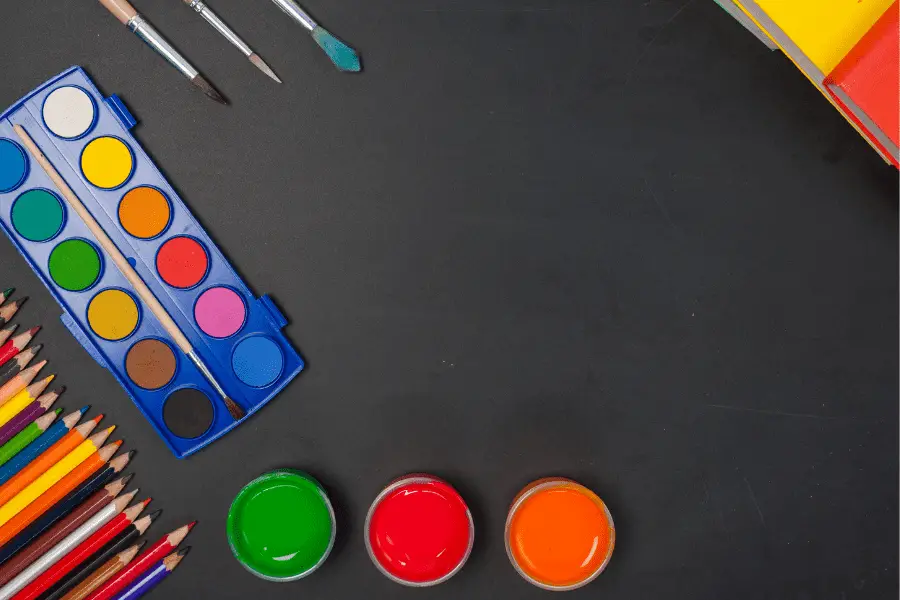 If you want to use your acrylic paint, but want a chalk paint look, well you're in luck because it's totally doable! What you will need is Plaster of Paris. This is the secret ingredient that will hold and make your acrylic paint look chalky.
Some people also use baby powder, baking soda, and even calcium carbonate, but Plaster of Paris is great because it also has many other uses in the art world.
You will need 1/3 cup of Plaster of Paris, 1/3 cup of water, and some acrylic paint. Mix it until you get a nice consistency and a chalky look.
What's the Difference Between Acrylic Paint and Chalk Paint?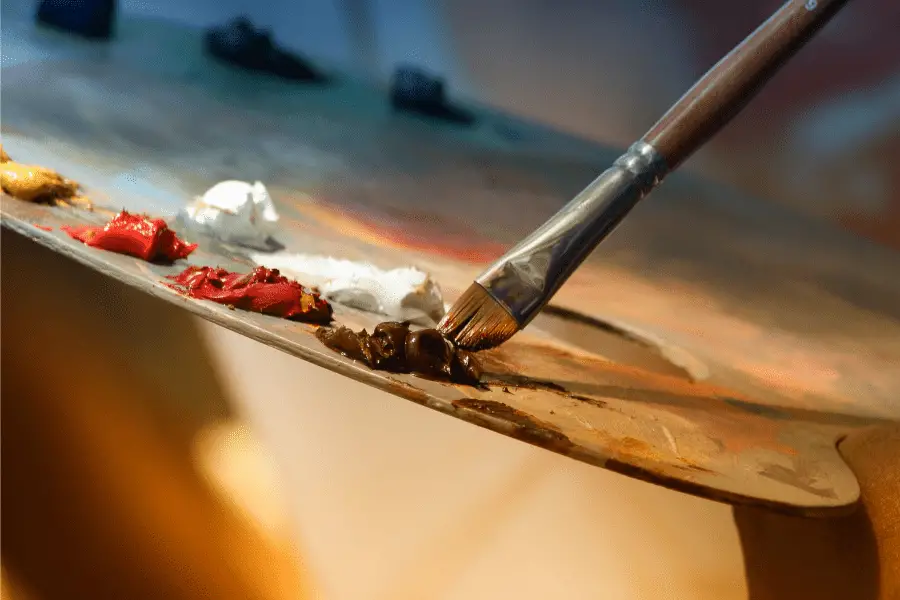 Acrylic paint is water-based, and generally non-toxic. It's newer than oil paints, which need toxic and harsh chemicals at times. Acrylic paint dries very quickly, sometimes while still on your palette! There are two types of acrylic paint- student grade, and artists quality paints.
Student or craft grade acrylic paints tend to be inexpensive and even marketed towards kids. Artists quality acrylic paints are usually for artists, or even people who prefer the more premium quality. At an art gallery, you will typically find an acrylic painting done in professional or artists quality paints.
Chalk paint is also a water-based type of paint, but it leaves you with a more rustic and vintage type of look. It's become super popular recently since people love to epicycle old furniture. I personally love chalk paint because you can do tons of fun projects with it, like re-painting an old table, painting your fireplace, and even smaller projects.
You can use acrylic paint to decorate a chalkboard as well as chalk paint. If you use chalk paint, you will end up with a complete matte look. If you decide to use acrylic paint, your paint may pop out more depending on the colors you choose from.
You can seal the painted chalkboard if you want to make it permanent, but keep in mind that it may remove the vintage chalky look, and you may end up with a glossy chalkboard. There is an option to seal with a matte varnish, which I highly recommend if you want to seal your paint.
If you plan on wiping the paint off, or painting something over it later on then you don't need to seal the chalkboard. Below I go over more on sealing your painted chalkboard.
How Do You Seal Acrylic Paint on a Chalkboard?
Once the paint has fully dried, you can use a spray-on varnish to seal your chalkboard. I always use Krylon Acrylic Sealer with all my projects because it offers great protection, such as prevents peeling or flaking. They also have different finishes you can choose from like matte, glossy, outdoor and more!
When you're ready to spray, keep the chalkboard at least 6 inches away and starting spraying side to side in even layers. You can wait until the first layer has dried and then add a second coat if you need to. The varnish should be dry to the touch in about 30 minutes, but I always recommend waiting a full day before handling and moving any painted item.
Final Thoughts
To summarize, you can definitely use acrylic paint on a chalkboard. Customizing and decoration a chalkboard with paint will give your project a unique one of a kind look.
A lot of people like to paint designs and words on small chalkboard for events like baby showers, weddings, and birthday table decor, which always looks great! If you want to make your painted project permanent, make sure to seal it with an acrylic spray varnish. This will protect the paint fro chipping and fading.
Make sure to follow all my tips and recommended products to ensure your chalkboard project turns out great! Also, don't forget to check out my other articles for all your painting Q&A's. Happy painting!