Acrylic paint is amazing medium that can be used on tons of different surfaces. Since it's water-based, a lot of people prefer using acrylic paint as opposed to oil paint. Acrylic paint is also non-toxic, making it the perfect paint to use on clothes, canvas, furniture, and even pet habitats.
So, can you use acrylic paint on canvas bags? Yes! Acrylic paint is the best type of medium to use on fabric and canvas bags. You can also use acrylic fabric paint, and both will work wonderfully. Since it's water-based paint, it dries fast and gives you super vibrant results.
Acrylic fabric paint is highly recommended to use on canvas bags, clothes, and even shoes. In this article we go over everything you need to know for using acrylic paint on canvas bags. Let's read on!
How Do You Use Acrylic Paint on a Canvas Bag?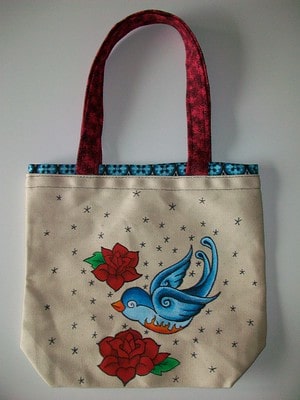 To apply acrylic paint on a canvas bag, you will need Acrylic Paint, primer, stencils, if you have a design in mind, and an acrylic paint sealer.
Painting a canvas bag is super fun because it lets you customize and create a one of a kind bag. You can personalize it any way you want, and acrylic paint is great due to its vibrant and bold colors. It's also non-toxic so you don't have to worry about toxicity while handling your bag.
First you will want to create a design, or you may freehand if you want a certain look. You should always prime the surface of anything you are applying acrylic paint to. This guarantees that the paint adheres to the surface, and it also gives the colors a more vibrant look.
I like to use Mont Marte Primer with my acrylic paint projects. Apply 1-2 coats of primer and wait for it to fully dry. Once it's dry you can apply the paint. Below I recommend some of the best types of paint to use on canvas bags, and Arteza Fabric Paint is my top pick.
Paint your canvas bag as you have designed or freehand, and it should dry in less than an hour. If you applied multiple layers, you should wait 2 more hours.
Once the paint has dried, you will want to seal it with an Acrylic Sealer Spray. This ensures that your paint doesn't fade, flake or get damaged once you start using the bag. Later on in the article we go over to how properly seal your painted canvas bag.
What Is the Best Paint for Canvas Bags?
Acrylic paint and acrylic fabric paint are going to be your best choices to use on canvas bags. People typically use fabric paint on shoes, shirts and even jackets. If you plan on using acrylic paint and fabric paint for your canvas bag, I highly recommend using Arteza.
My favorite and top pick is always Arteza Fabric Paints. They have so many different colors, and the quality is amazing! I usually use Arteza Paints for all my projects.
Another great option is Fabric Paint Markers. I recommend using markers if you want to add fine detail to your canvas bag painting. You can use fabric paint with a detail paintbrush, but some people also like using markers because it offers similar results, and tends to be less messy.
Canvas bags are made out of fabric, so it's very important to use paint that is compatible with your surface. While watercolor, oil paint, and even tempera paint do work on fabric, it's always recommended to use acrylic fabric paint to get the best results.
Since fabric paint is specially formulated to work with fabric surfaces, using fabric paint markers and fabric paint will ensure that your painted canvas bag lasts a while. Other types of paint can fade, chip and even ruin your canvas bag.
Does Acrylic Paint Work on Backpacks?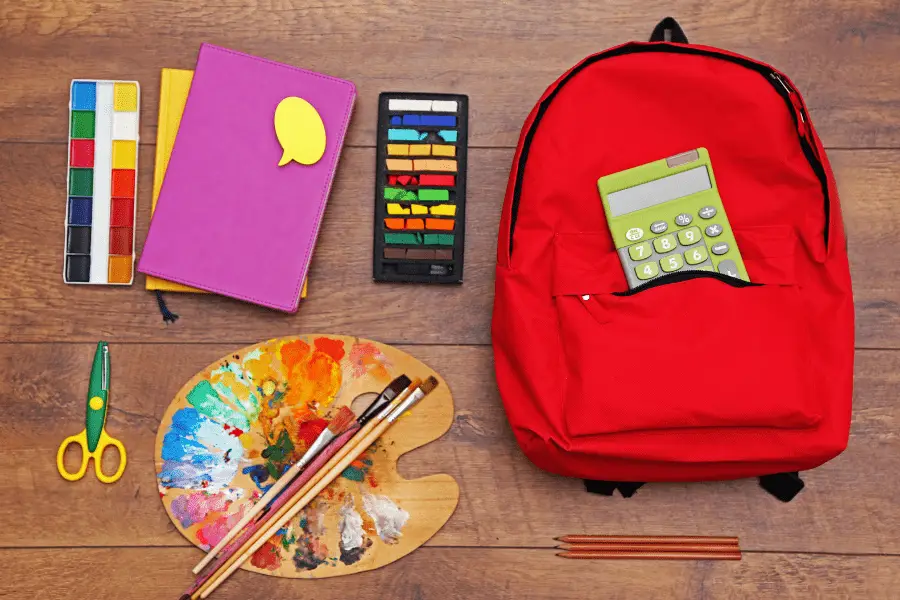 Yes, you can use acrylic paint or acrylic fabric paint on backpacks. keep in mind that some backpacks are made out of nylon while others are cotton. It's important to know which types of paint will adhere to the surface properly.
Acrylic paint is a great option to use on nylon, vinyl and cotton backpacks. It can practically be used on a y surface as long as it's properly primed.
To prime the surface area that you will be painting, I highly recommend using Mont Marte Primer. This primer works great with acrylic paint, and also oil paint.
Once you let the primer fully dry, you can then move on to painting the backpack. You can use Arteza Fabric Paint for best results, or also Acrylic Paint Markers.
After your paint has fully dry, it's always recommended to seal your work. Applying a varnish protects your painted projects from chipping, flaking and fading over time. Below we go over how to properly seal acrylic paint.
I like to use Krylon Acrylic Sealer on most of my acrylic paint projects. What's neat about Krylon is that it also protects against UV rays, which is perfect if you plan on wearing your painted backpack outdoors.
How Do You Seal Acrylic Paint on Canvas?
Once your painted canvas bag has fully dried, you will want to protect it with an acrylic sealer. Sealing your painted project is always recommend because paint tends to chip, flake or fade after some time.
Since canvas bags are an item that you will be moving, touching and wearing, I highly recommend an acrylic sealer to protect your work. There are a few different options for sealing your paint.
First, you can apply an acrylic sealer such as Krylon Spray. This works well for protecting against flaking, discoloring and even UV rays. It's super easy to apply and will not wash off.
Simply spray the varnish about 6 inches away from your painted canvas, and apply one to two layers at most. Most people will only spray the area that is painted, in order to avoid hardening of the canvas material.
Then we have Mod Podge. You can purchase this in a brush-on finish, or spray as well. Mod Podge is cool because it comes in tons of different finishes, form matte to satin, and even glitter.
Mod Podge also has a Waterproof finish which is important to note if you plan on taking your painted canvas nag outside in the rain. I like to use the spray-on sealers, but if you want the brush-on one, just make sure to get the Mod Podge Applicator Brush to apply it properly.
After you seal your painted canvas, let it dry for bout 12-24 hours depending on how many layers you used. If you are using the waterproof sealer, wait at least 72 hours before getting the bag wet.
Final Thoughts
Acrylic paint is a super popular paint due to the fact that it can be used on practically any surface. It's water-based and non-toxic, so you can be sure to use it on your canvas bags without any issues.
You will want to make sure to prime your canvas bag surface before applying the paint. Once the primer has dried, you can go ahead and apply the acrylic paint. You can use regular acrylic paint, acrylic fabric paint, and even fabric paint markers. All work amazing on canvas bags, but I recommend using acrylic fabric paint. Don't forget to seal your bag to protect it from flaking and getting damaged once in use.
Make sure to follow all my tips and recommended products to ensure your acrylic painted canvas bag turns out great! Also, don't forget to check out my other articles for all your painting Q&A's. Happy painting!