Painting is one of life's great joys. It is theraputic as well as interesting, and a great form of expression. However, one of the most fascinating mysteries about painting is which types of paint can mix. You may find yourself wondering questions like: Can you mix angelus paint with acrylic paint?
Angelus paint is made with an acrylic base, making it strong without losing flexibility. It is often used to recolor leather materials; however, its acrylic base means it can, indeed, be mixed with plain acrylics. Mix acrylics with angelus paint equally for the best results.
In this article, we will cover how to mix acrylic paints with angelus' leather paints, and we will also make sure you know the answer to whether or not you can mix these paints with other mediums, too! Let's get started.
How to Mix Acrylic Paint With Angelus Leather Paints
The biggest question when embarking on any new artistic technique adventure is: how? What is the best way to get started? Checking out a guide like the one we've prepared below can help you limit your mistakes and any related stress by coming better prepared!
For the beginners Angelus Paint Set, click here to get started.
Select Your Paints – Nothing can get started until you have your materials ready! Gather your acrylic colors and your Angelus leather paints together. Choose which colors you'll need to have prepared. Make sure you have enough of each for the correct mixing ratio.
Select Mixing materials – Angelus leather paint and acrylic paint can be mixed together with any stirring implement, but you will find yourself with less of a mess and more success if you use a palette knife. This flat-bladed scooper will be your best friend during this mixing mission!
Use Wax Paper – You can use a palette to mix your leather and acrylic paints, but sometimes simply using a sheet of wax paper is the best method. It makes cleanup easier, and allows you to start over if you make a mistake.
Mix Paints – The most important thing to remember when mixing Angelus leather paints and acrylic paints is ratio. You want almost exactly one part acrylic and one part Angelus leather paint on your wax paper. This means about half of each! Then, scoop and stir the two together until fully blended.
By following these steps, you should have a nice blend of Angelus Leather diluted with more acrylic!
Can You Mix Acrylic Paint with Leather Paint?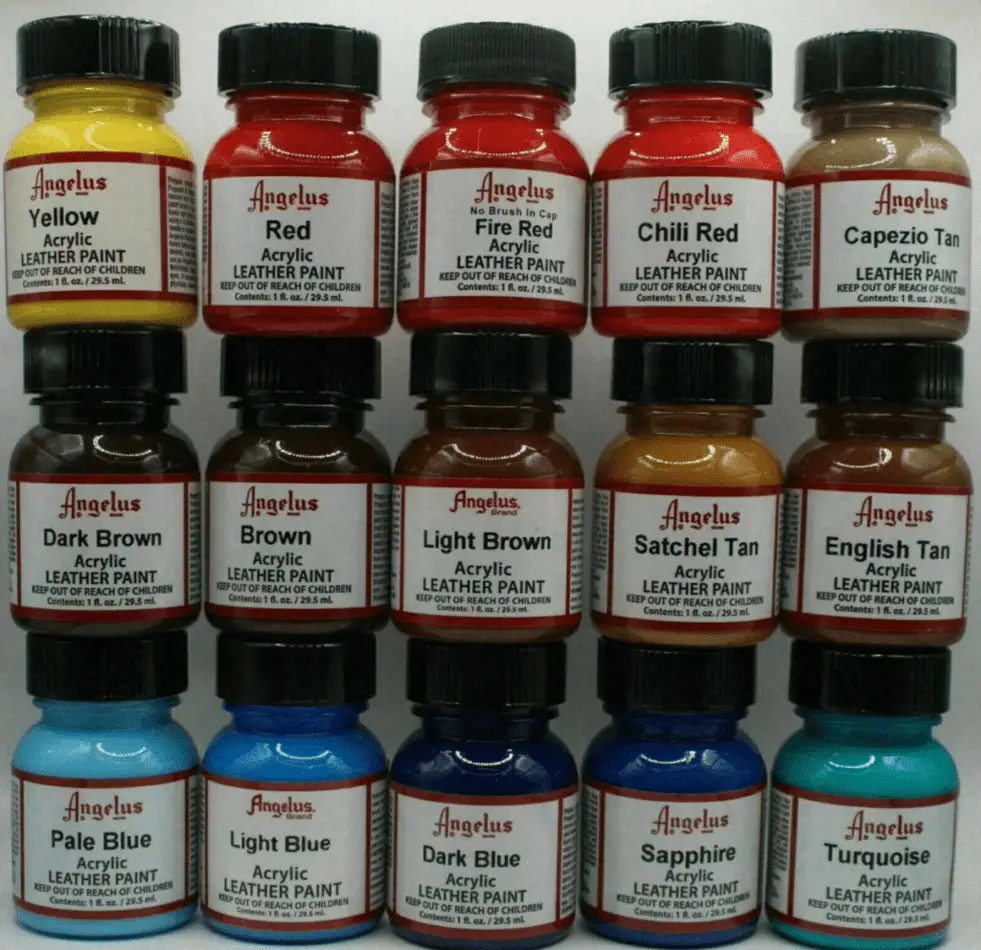 As previously discussed, it is absolutely possible to mix acrylic paint with leather paints. This is because leather paints are already treated to seal onto leather, but their base is still composed of actual acrylic.
This means that while you are adding acrylic paint to your leather paint mixture, you are not taking any of the leather paint's useful qualities away! 
The most important thing to remember about using leather paints, however, is that even though they will be less prone to the natural risk of chipping and cracking during movement, they will still probably need an extra coat of fabric sealant. This is something that simply adding more acrylic cannot provide!
Angelus Leather Paints has an amazing leather finisher, which is perfect for your leather/acrylic paints.
Can You Mix Angelus Leather Paints With Matte Acrylic Paint?
What about matte acrylic paint? Well, matte acrylic paint is a little different than it's predecessor: instead of shining, it actually reduces the reflective quality of applied acrylic colors and can be applied with more fluidity. 
This means you can spread more paint around with less  resistance, and more color application! When it comes to mixing Angelus Leather paints with matte acrylic, it is a great idea. Be aware, however, that you may wind up with a less shiny, firmer texture. It is also necessary to apply that sealant coat, preventing cracking and the ruining of your leather paint designs.
You can still follow the equal-halves ratio when mixing Angelus leather paints with matte acrylic paints.
Can You Mix Angelus Leather Paints With Glossy Acrylic Paint?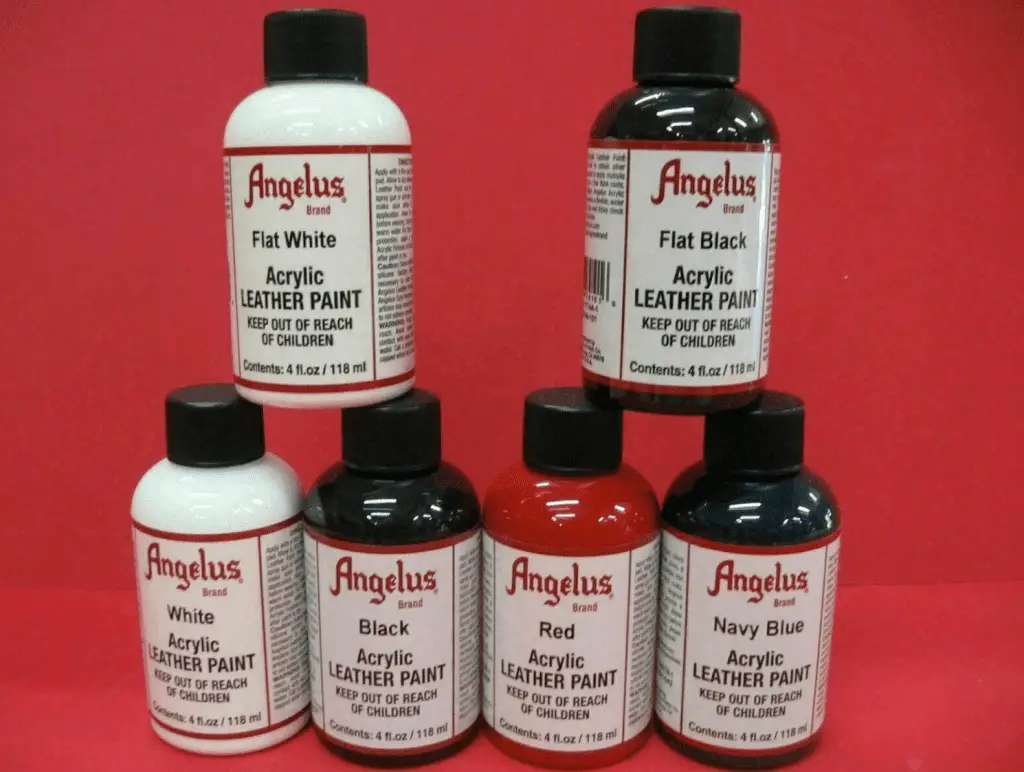 If you are able to mix Angelus leather paints with the matte variation of Acrylic paints, it is no wonder you may be asking yourself, "what about glossy acrylic paint?' Gloss Acrylic serves almost the exact opposite function to matte acrylic.
Rather than diminishing the luminosity of your painting, it will actually boost the shine of the colors. With that in mind, it will tend to thin your paint out. This is great for creating glazes, but not necessarily for packing on thick paint texture.
If this is your goal when painting leather, feel free to mix with Angelus leather paints, because this is in fact possible! Again, simply stick to the equal parts Angelus leather paint and glossy acrylic paint for the best results.
Can You Mix Angelus Paint Together?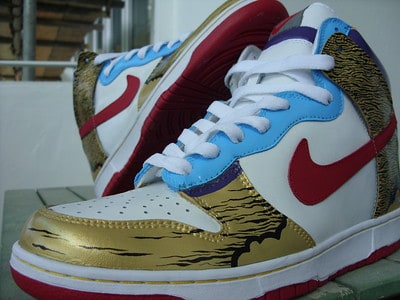 Finally, now that we have covered the ease with which it is possible to mix acrylic paints in all their various styles with Angelus paints, we can move on to Angelus paints all by themselves. You can, indeed, mix different Angelus paints together!
Angelus paints are made of an acrylic base, along with water, and is designed to paint all different kinds of leather. However, if you are not seeing the exact shade you want, don't worry; Angelus paint mixes together just as efficiently as regular acrylics across colors!
Some examples include merging one part blue Angelus paint with one part yellow to make green, as an obvious choice. However, you can also gain rich browns by mixing a bit of the Red Orange brand of Angelus paint with a hint of black and red-violet. The possibilities are endless, and Angelus even sells a pocket color wheel that doubles as a mixing guide!
Make sure you always apply a paint Preparer & Deglazer before applying your paint. Once your paint is dry, don't forget the Leather Paint Finisher, to ensure your leather paint doesn't crack and remains protected.
Final Thoughts
To sum everything that has been covered up, it is absolutely possible to mix the Angelus Leather paint brand with regular acrylic paint. This is made possible because Angelus paints are already acrylic-based, along with water. 
To mix them, simply use a palette knife and wax paper to mix your desired colors, the same way you would any other paint type. Just make sure that you have equal parts acrylic and Angelus leather paint, and you'll be creating works of art in no time!
Make sure to follow all my tips and recommended products to ensure your Angelus Leather Paint project turns out great! Also, don't forget to check out my other articles for all your painting Q&A's. Happy painting!