Chalk paint is an easy way to get an antique finish on projects that use wood. It is popular because it doesn't require much prep to stick to wood. However, there are some surfaces that you will need to prep first if you want the chalk paint to properly stick to the surface.
So, will chalk paint stick to a glossy finish? Yes, it will. If you want to use chalk paint on a glossy surface, you will need to apply a primer first. This isn't usually necessary, but chalk paint has a hard time sticking to smooth surfaces otherwise. Applying a primer will enhance the adhesion to the glossy surface and keep your paint sticking to the surface longer.
In addition to using a primer, you will have an easier time getting the paint to stick with the help of a little bit of sanding. It is best to use a fine-grit sandpaper or steel wool to lightly rough up the surface.
How to Apply Chalk Paint to Glossy Surface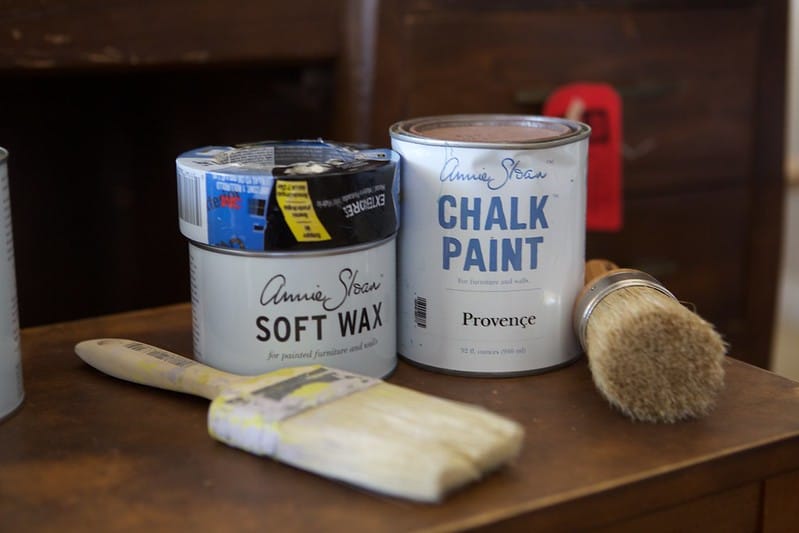 The first thing you will do before applying anything to the glossy surface is make sure you clean it. You can use soap and warm water, a degreaser, or some rubbing alcohol to remove dust, debris, and oils from the surface. After cleaning, dry the surface with a clean cloth. Wait for it to dry completely before you proceed.
If you want to slightly sand the surface before you apply a primer, you will do it now. You can use a 150-grit sandpaper or steel wool. Very lightly rub the surface to add some texture and make it easier for the primer and paint to adhere.
After you sand the surface, you can apply a chalk paint primer. Read and follow the instructions as written by the manufacturer. Paint the primer onto the surface in thin layers. Let each layer dry for about fifteen or thirty minutes before you apply the next layer.
I recommend using this Clear Bonding Primer. It offers great coverage and is super affordable!
It is recommended to add at least two layers of primer to the surface before applying paint. It is also important to make sure you let the primer dry completely before you begin painting. For the best results, you should wait about 24 hours before you paint the surface.
One of my favorite brands of chalk paint is FolkArt Chalk Paint. They have tons of colors and styles to choose from, and they always give a professional finish look.
After 24 hours, you can begin painting with the chalk paint. You can choose to apply the paint with a brush or roller depending on the size of your project. If you decide to use a brush, the best is going to be one with a natural bristle. 
Load the brush with chalk paint and apply your first layer. Keep the layers thin and even to allow for the quickest drying. After about fifteen minutes of finishing the first layer, you can add your next layer. 
The second layer will fill in and cover any spots that you might be concerned about on the first layer. The second layer should also be applied in a thin, even layer. If you feel like two layers offers enough coverage, you can stop there. If you would like more coverage, you can add another layer.
If you want to use a roller to apply the chalk paint, pour the paint into a paint pain. Using a high-density foam roller, dip into the paint and load it up. Roll the paint in long, thin layers for the best results. Allow each layer to dry for about fifteen minutes before moving on to the next.
Will Chalk Paint Adhere to Polyurethane?
Chalk paint is advertised as being usable on any surface. If you have a polyurethane item that you would like to paint with chalk paint, you will be able to. Just like other glossy surfaces, it is best to prepare the surface before applying the paint.
If you do not sand through most of the shine on your polyurethane item, the paint has a high risk of peeling off. In addition to sanding through the shine, you will also want to use a primer to ensure the paint will adhere the best it can to the surface.
How Do You Make Chalk Paint Shiny?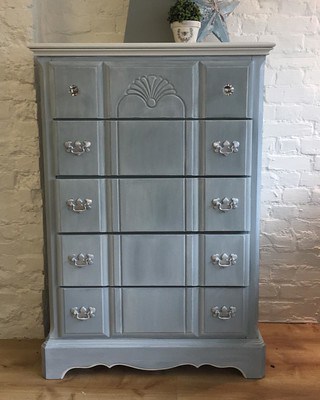 First, you are going to wait for the chalk paint to completely dry. For the best results, you should wait a few days for the chalk paint to cure before adding any kind of finish to make it shiny. The best way to add shine is by using a sealant that is designed to be shiny.
The first option you have for a sealant is wax. Wax over chalk paint will give you a sheen like nothing else. The surface will feel incredibly smooth and will also protect the chalk paint from chips and cracks.
Polyacrylic is another durable option for adding shine to your chalk paint. With several finish options available, including shiny, polyacrylic is a great way to protect your paint and make it look however you want.
If you are just wanting a soft shine, you can consider just buffing the chalk paint. This is a great way to make your chalk paint appear shiny without having to add a finish that might have an impact on the color of your paint. 
What Happens If You Don't Wax Chalk Paint?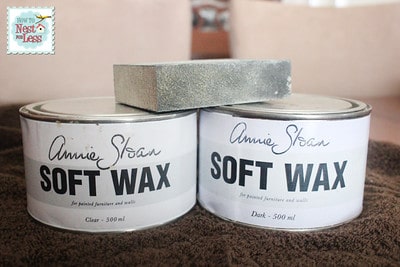 It is not at all required to wax your chalk paint when you are finished with your product. Several artists opt out of using wax on chalk paint for several reasons. You can pass on using wax on chalk paint because it can be difficult to apply, it's not a permanent option, and it has very low durability. You also can't paint over wax if you decide you don't like the color you used. 
If you don't apply wax to your chalk paint, the only thing that you need to worry about is chips on the surface if you use it frequently. On products that you use frequently, it is really important to add some kind of sealant, not necessarily wax, to the surface to protect it from normal wear. If you don't use the item much at all, you don't need to worry about waxing it.
Final Thoughts 
Chalk paint is popular because it is said to be an extremely versatile paint. While chalk paint is usually used on wood surfaces, you can use it on other surfaces as well. You can even use chalk paint on glossy surfaces as long as you prepare the surface properly. You can do this with a fine grit sandpaper and a chalk paint primer.
Although chalk paint is known for its matte, antique finish, there might be some instances that you want to have a shiny finish. Luckily, there are a few different ways you can make chalk paint shiny. Add a sealant such as wax or buff the surface until it starts to shine. Adding shine to your chalk paint can add extra protection from normal wear.
You shouldn't feel like you have to use wax on chalk paint, because you don't. If you aren't going to use the item often, you don't need to apply any kind of finish on top unless you want to. Finishes like wax are known for slightly distorting the color of your paint, so if you want to avoid this, don't apply any wax.
Make sure to follow all my tips and recommended products to ensure your chalk painted project turns out great! Also, don't forget to check out my other articles for all your painting Q&A's. Happy painting!