Spray glues are especially handy when you're looking for a soft and accurate stream of glue that dries clear and doesn't bubble up. Mod Podge Spray-On Adhesive and Aleene's Spray Acrylic Sealer can both be used to secure items together and provide a sealing coat, but is one better than the other?
Mod Podge Spray-On Adhesive and Aleene's Spray Acrylic Sealer are two trusty spray adhesives that also do a fine job at sealing what's underneath in place without damaging the original work. Whether you want to glue something together without any glue being detected or want to keep a painting in pristine condition, a spray glue and sealer is what you want to use. 
Both of these glues have their intended uses and a couple of drawbacks each. As you get to know about what each product is capable of, you may just end up discovering a new favorite spray glue. 
What's Mod Podge?
Mod Podge creates a collection of different products including a Mod Podge spray. Mod Podge is a popular PVA polymer glue that is known for being a strong adhesive that dries without any kind of color or tint. The extensive line of adhesives offers a few options for acrylic sealer sprays that each perform similarly but with different types of finishes when they dry. 
Mod Podge formulas tend to be fairly thin which helps it both dry quickly and dry as a singular layer. Their spray ensures that anything underneath that protective layer stays in place without fading and without being muddied by a non-transparent coating. Sprays come in a range that spans from matte to high gloss. 
What Is Aleene's Spray?
Aleene's Spray Acrylic Sealer works as both a glue and sealant that holds its own with a translucent and even finished product or craft. This particular product can be used on a wealth of surfaces such as wood, paper, metal, and painted or printed pieces. The spray dries quickly regardless of what it's applied to and provides both subtle waterproofing and a solid layer of protection. 
It's recommended that when you use Aleene's, you spray it away from you in a ventilated area or while wearing a protective mask. The spray will dry evenly without a detectable difference to your surface other than your chosen finish. You're still able to dust and clean the surface easily and can use it for indoor and outdoor crafts. 
Mod Podge vs. Aleene Comparison
The Mod Podge spray sealer dries translucently with a little bit of gloss, and Aleene's formula also dries clearly. However, Aleene's Acrylic Sealer can be found in both a glossy or matte finish. The two sprays have pretty different ingredients that make up their formulas, with Mod Podge being water-based while Aleene's is not. 
Aleene's products are also less expensive than Mod Podge Spray and other Mod Podge products. Even though you are able to use both of these spray glues in multiple ways, you get more versatility with Aleene's spray glue than you do with its counterpart. 
Pros And Cons Of Mod Podge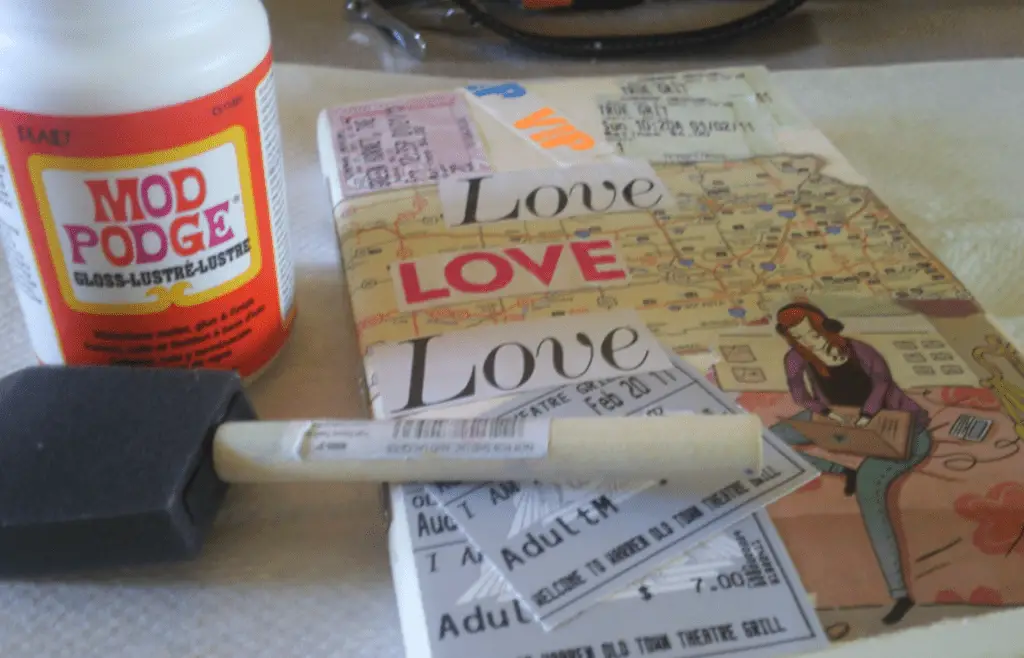 Mod Podge's spray-on formula is non-toxic, which can be hard to find with spray glues. When applied to the many surfaces it is compatible with, it leaves an even coat of a see-through finish with a slightly glossy effect. The formula can also be used on outdoor projects without allowing sun damage, as it can protect against harmful UV rays and resists water and light scratches. 
Mod Podge's spray can be used to glue and seal many different items, but it isn't as effective when used on plastics, metals, or glass. The spray does have the ability to hold in small particles like glitters and texture, but will seep into anything that's too porous. 
Pros And Cons Of Aleene's Acrylic Spray
Aleene's line of glues, sealants, and adhesives are known for their strong hold, making them a bargain product to have in a crafter's arsenal given their price points. This spray dries pretty quickly without bubbling or smearing, and the seal stays intact whether used for indoor or outdoor items. Over time, the spray sealant doesn't get muddy or yellow. 
One potential downside of Aleene's spray products is that the scent can be pretty strong and the vapors aren't meant to be inhaled. As such, using it in a room with some windows open or fans blowing is ideal, as is wearing a mask and gloves just to be safe. 
Which One Is Best?
Both Mod Podge spray and Aleene's have their place in your crafting creation collection; which one you should reach for truly depends on each individual project. Even though Mod Podge is more of a household name than Aleene's, Aleene's is a brand that has also been around for a long time and has just as much of a solid reputation. 
The Aleene's sealing spray comes in fewer varieties than Mod Podge, meaning you have less of a range of finishes for your final product. However, the Aleene's sprays are more versatile in terms of the surface types they are compatible with, and as mentioned, the spray holds up whether exposed to the outdoors or indoors. 
You're not likely to be disappointed by either of these sprays in terms of performance and lasting effect. Based on what kind of craft you're envisioning, one of the sprays might be better than the other. 
Final Thoughts 
Mod Podge Spray-on Adhesive and Aleene's Acrylic Sealer Spray are both excellent spray glues. While Aleene's appears to be the most favored of the two, each product is better suited for working with specific materials. 
Since both spray glues yield good results, your best bet is to have both on hand and pick one depending on the kind of project you're inspired to create that day. After you've finished painting, sketching, or building your next scrapbook and you want to seal in your new piece of art, an acrylic sealer is the easiest way to lock in your work and make it last. 
Make sure to follow all my tips and recommended products to ensure your project turns out great! Also, don't forget to check out my other articles for all your painting Q&A's. Happy painting!