Apple Barrel is a beloved paint brand for its affordability, its ease of use, and its non-toxic formula that's made in the United States. When creatives find a paint they love, they want to stick with it. If you're someone who loves Apple Barrel paints, you might wonder if Apple Barrel paint is good for fabric. 
Apple Barrel paint can be used on fabric under certain conditions. Even though it is an acrylic paint, and that's what's recommended for fabric, using this paint on its own may not yield desired results in the long-term. You will need some additional tools to use Apple Barrel paint on fabric and make sure it stays looking fresh. 
What's just as important as using the right tools to use paint on fabric is knowing how to care for the fabric after it's been painted. 
Understanding Apple Barrel Paint
Apple Barrel is a paint company that produces a variety of acrylic-based paints that can work for endless crafting, art and DIY projects. Apple Barrel produces paints in matte, glossy and satin finishes and paints that are suitable for outdoor or indoor use. Their paints are compatible with many surfaces such as canvas, wood, paper and so much more. 
Apple Barrel also has a line of paint specific for acrylic pouring. The brand also sells pouring mediums to assist with this highly enjoyable painting process. Outside of the different types of paint the brand sells, they are also recognized for their bountiful color and shade range. They also have quick drying formulas for quicker painting jobs. 
To check the current price and availability of Apple Barrel Acrylic Paint, click here to view the listing on Amazon.
Characteristics of Fabric Paint
Fabric paint is a specific type of paint that can be applied to different fabrics and can also stand up to laundry cycles. Fabric paints can be found in typical plastic bottles or jars but also come in paint pens for detailed work. This type of paint can be used to customize clothing, touch up furniture, or give a makeover to a fabric-covered item. 
Fabric paint is typically either acrylic-based or alcohol-based. Both options have their advantages and disadvantages, but acrylic-based fabric paints tend to perform better in terms of color saturation. There are fabric paints that sit flat on top of fabric or paints that will dry with a raised look, often referred to as puff paint. 
For fabric paint to set well, heat needs to be applied to it once it's dry. It's best to wait a day or so before applying heat to avoid melting the paint. Fabric paint can slightly change the texture and stiffness of fabric in the spots it's been applied. Fabric paint can also only be used on fabric whereas most types of paints can serve multiple purposes. 
To check the current price and availability of FolkArt Brush on Fabric Paint, click here to view the listing on Amazon.
Apple Barrel Paint: Suitable for Fabric?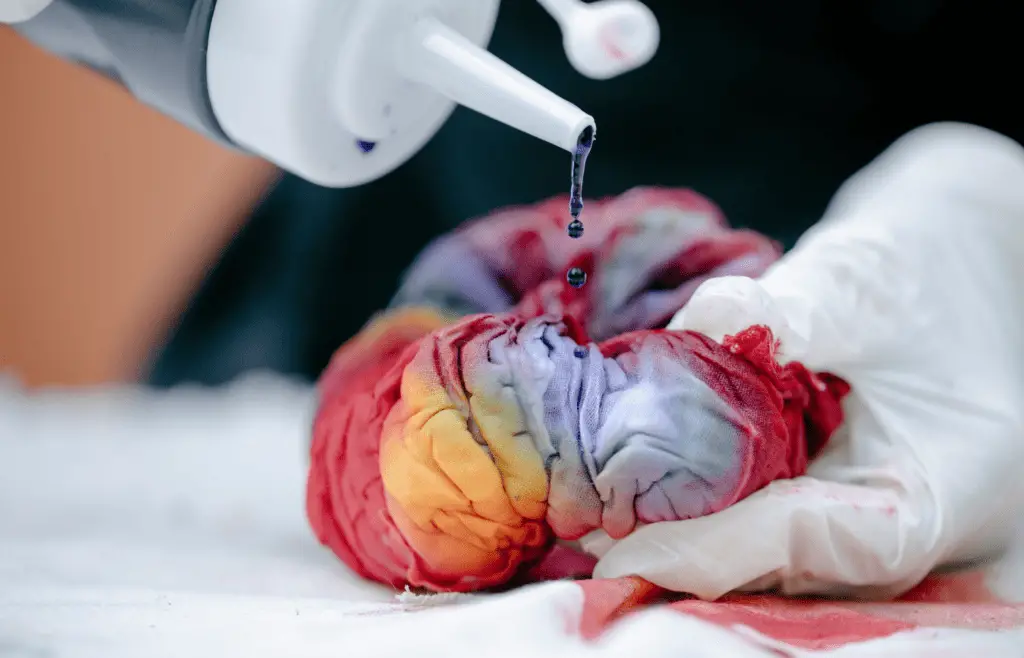 Apple Barrel paint can be used on fabric if you mix in a textile medium. Thankfully, Apple Barrel has created a FolkArt Textile Medium that can be mixed in with their FolkArt series of acrylic paints. The amount of textile medium that needs to be added to your paint depends on the type you use. 
For the majority of Apple Barrel paints, you will want to measure out two parts paint for every one part of the textile medium. For metallic paints, you'll want one extra part of paint mixed in. Because of the mixing, you'll want to pour both your paint and your medium into a separate container and mix it together thoroughly. 
Best Practices for Using Apple Barrel Paint on Fabric
It's best to paint a clean piece of fabric. If it's possible, wash the fabric before painting. If you can hand wash your fabric with plain soap and water, that's best. Otherwise, use a mild and unscented detergent and do not add any fabric softener or extras into your washing machine. Air drying is best, but you can use a dryer with no dryer sheets or additives. 
Once your fabric is ready and your Apple Barrel paint has been mixed with textile medium, apply the paint as needed to achieve your desired design. You may have to saturate your paint brush quite a bit to get enough coverage on your fabric. You also want to preplan your design as you want to be working with the paint while it's still wet. 
Give your fabric at least one day to dry before setting the paint in with heat. To do this, you'll want to place a protective barrier underneath the fabric. If the fabric opens into two parts, such as with a shirt, stick a protective barrier inside the shirt. 
A pro tip is to take a cloth or sheet soaked in white vinegar and lay it on top of the painted part and use a dry iron to set the paint. The white vinegar helps the fabric and the paint mesh together very well to help it last as long as possible. 
Other Considerations When Choosing Fabric Paint 
Fabric paints are easy to use and are versatile in that they come in different packaging, colors, and finishes. Since they can't be used in other projects, acrylic paints are an option so long as you can make them compatible with your fabric of choice. The key to making paints work for fabric, whether fabric-specific paint or not, is making sure you don't miss a step. 
Final Thoughts
Apple Barrel paints can actually work fantastically well on fabrics but only if they have a textile medium added to them. This medium helps to make sure you don't lose all of your hard work the first time you place your fabric in the washing machine. With the sheer variety of paints sold by Apple Barrel, there'll be no shortage of inspiration for using them on fabric. 
Since Apple Barrel paints work for so much more than fabric, consider them an investment that will pay you back tenfold in terms of the way you can use them. You'll be able to update your furniture or make your own clothing while also creating artwork that you can admire or treat others too.