There are several circumstances where you might want to bring your acrylic paints on an airplane with you. Before you do, you need to make sure they are allowed and also know how to pack them. There are some restrictions, so it is best to be prepared.
So, is acrylic paint allowed on planes? Yes they are! Since acrylic paint is water-based and not oil-based, it isn't flammable. This makes it completely safe to fly with, but you do need to make sure you pack them properly. If the paints are not packed properly, you can run into problems going through TSA at the airport. 
As long as you take the proper precautions, you won't have any issues flying with your acrylic paints. You do still need to follow TSA guidelines for carry-on luggage if you plan to travel with your paints that way. If you are packing the paints in your checked luggage, you have more flexibility. 
How to Travel With Acrylic Paint on Planes
The packaging of your paints is incredibly important for taking them on a plane. The very first thing you are going to want to do before packing your paints is ensuring they are closed properly. To be extra safe, you can take the lid off and cover the opening of the paint with plastic wrap and place the lid back on.
It is also recommended to wrap your paints in bubble wrap for extra protection during transport. You can then place the bubble wrapped paints in individual plastic bags. This will protect them from any potential puncturing that will cause the paint to leak all over your suitcase.
My favorite and top pick is always Arteza Acrylic Paints. They have so many different colors, and the quality is amazing! I usually use Arteza Paints for all my projects.
For special offers and discounts, with my link you can also go to the Arteza website and shop their amazing products.
If you have enough room in your suitcase, it will be extra beneficial to pack your acrylic paints in a box. This will provide the most protection for your paints and will keep them as safe as possible during your flight. If you don't have room for a box, they should be fine with bubble wrap and plastic bags.
I recommend using this Paint Carry Case to safely transport your acrylic paints. It holds a large amount of paint and supplies, and it's used by many artists.
You are also going to need to label your paints. It is important to make sure you do this, because airport security can remove paints if they aren't properly labelled. For extra precaution, you should print out the material safety data sheet from the paint manufacturer's website.
The material safety data sheet will provide a list of ingredients in the paint and makes it easy for security to see that there aren't any flammable ingredients included. In addition to this data sheet, you will also want to label your paints in large letters with a thick Sharpie saying, "artist pigments". This makes it known exactly what is in there and makes it easier for security to find the necessary information.
It is possible to travel with your acrylic paints in either your checked luggage or carry-on luggage. However, it might be easiest for you to pack them in your checked luggage. This gives you more freedom because paints in your carry-on need to meet TSA regulation sizes, which is typically a limit of 3.4 ounces.
Is Acrylic Paint Allowed in Checked Baggage?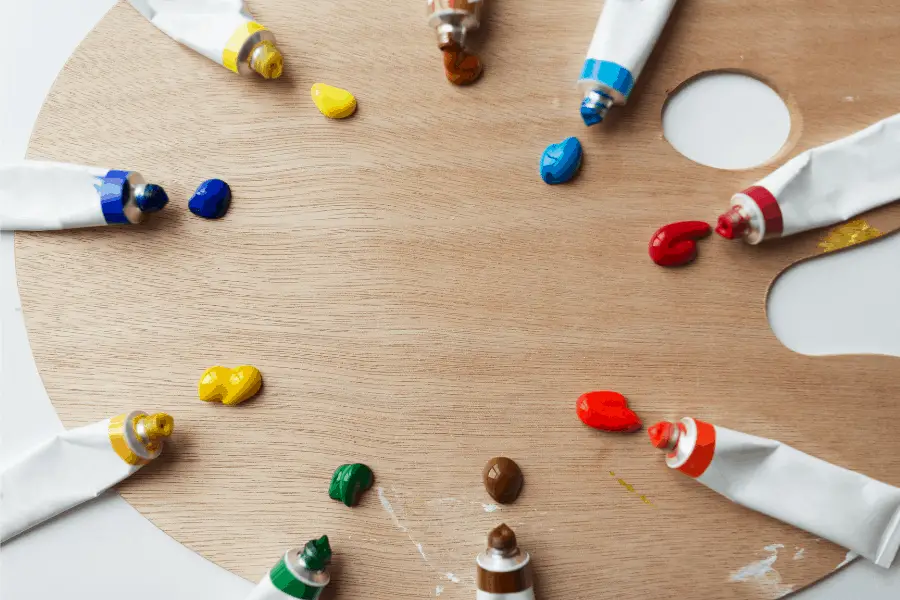 Acrylic paint is allowed in checked baggage and this might even be your best option. There is no limit to the number of acrylic paints you are allowed to have in your checked baggage, so you can bring as many colors as you want. 
The most important thing when travelling with acrylic paints in your checked luggage is making sure they are labeled properly and easy to find. Keep the paints in a clear box or plastic bags with clear labeling of what is inside. You will also want to have the material safety data sheet directly on top of your paints for easy access.
Are Acrylic Artist Paints Flammable?
Acrylic artist paints are water-based, meaning they are not flammable. These paints do not contain any solvents, like oil paints do, that have the potential to catch on fire when in liquid state. 
Although the paint isn't flammable in liquid form, it is considered to be flammable when it is dry. This means that if your dried acrylic painting catches on fire, the acrylic paint will burn. You will need to keep finished acrylic paintings away from fireplaces and burning candles for safety.
How Do You Pack a Painting for Air Travel?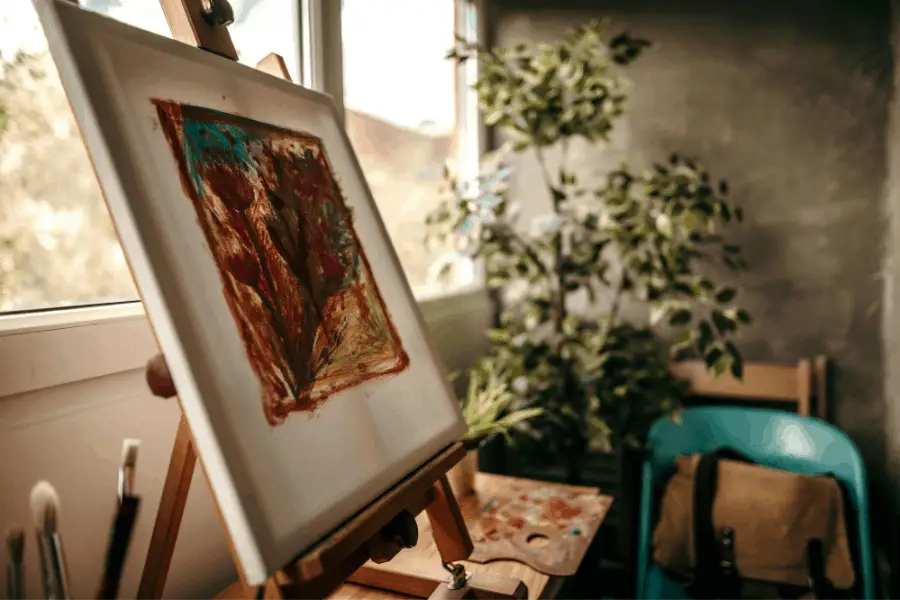 Traveling with a painting is scary because you never know how it is going to be treated. You need to make sure you are extremely cautious when you are packing your painting to make sure it has the maximum amount of protection possible. Before you fly, you will need to figure out what the safest packing method is and figure out regulations for the airline and paintings.
In some cases, an airline might not even allow you to check paintings on your flight. If they do allow you to check paintings, they will need you to sign a waiver or a release form in the event that there is damage. This can definitely be scary to deal with. 
You are going to need to check the weight limit of the airline and compare it to the weight of your packaged painting. For example, most airlines have a weight limit of 50 pounds, with extra weight incurring a hefty fee. It is best to travel with just small pieces on planes.
Most airlines will not allow you to take a cardboard box on an airplane, so this is not a way to travel with your painting. You are allowed to cover it with a cloth bag, thus technically making it a suitcase. This will get your painting on the plane without much hassle.
You will also need to keep in mind that the flatter your painting is, the easier you will be able to travel with it. For example, if you can fit all of your paintings into one portfolio, you will have a much easier time travelling on an airplane.
Are Art Supplies Allowed on a Plane?
Art supplies are allowed on planes in both checked luggage and carry-on bags. It is best to keep them in checked luggage to avoid any hassle going through security. When travelling with art supplies, it is best to keep them in their original packaging with all of the original labelling visible.
This will make it easy for security to see exactly what is in the package and what ingredients are in the mixture if you are packing paint. Things like paint brushes do not have to be in original packaging, but it will be easiest to travel with them that way if you do happen to have the packaging. 
Final Thoughts
It can be stressful trying to figure out if you are allowed to take your acrylic paints on a plane or not. Luckily, since they are water-based, they aren't flammable and are allowed to be taken on a plane in your checked luggage and carry-on bags. You will need to make sure they are properly labelled and easily visible to security to avoid any issues.
The best way to label your paints is to write "artist pigments" and store them in plastic bags or a clear container. You will also have an easier time if you print off the material safety data sheet and put it in the container with the paint. This will tell security exactly what is in the paints and that they are safe and nonflammable. 
Make sure to follow all my tips and recommended products to ensure your flight with your paints turn out great! Also, don't forget to check out my other articles for all your painting Q&A's. Happy painting!