Having tons of art and paint supplies is always great, but you want to make sure it's stored properly. If you are an artist, organizing your materials and supplies is going to be incredibly important. This will allow you to know exactly where everything is for easy access, as well as help protect your paints.
When it comes to watercolor paints, you have to organize the paints, paint brushes, paper, and palettes. This can seem overwhelming, but it doesn't have to be. The best way to organize your paint supplies is in an art cart or desk. Even if you have a tight workspace, you will be able to organize your supplies to take up the least amount of room possible.
This will not only give you more room to work, but it will also make it so you have everything in one easy to find spot. You won't have to search for minutes to find your paint, it will always be right where you left it. Int his article we go over how to organize your watercolor supplies, paints and much more! Let's read on.
How to Organize Watercolor Supplies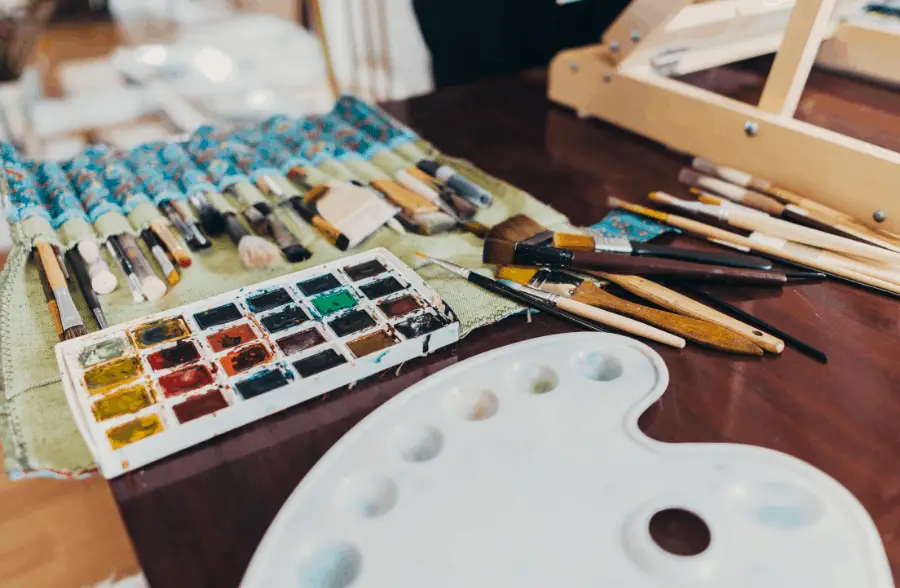 When you are organizing your watercolor supplies, one major tip that will be helpful is to keep a stock journal of what you have. You can write down all the colors you have and how much of them you have left. Each time you use the color, you can log it in the journal. This will help you know which colors you use most often.
My favorite and top pick is always Arteza Watercolor Paints. They have so many different colors, and the quality is amazing! I usually use Arteza Paints for all my projects.
Another major tip for organizing your supplies is to ask yourself how often you use something. The journal will help you with this. The supplies you use most frequently will need to be kept near the front or the top of your organization system. This will make it easier for you to grab your favorite supplies.
A rolling storage cart will be extremely beneficial for organizing your watercolor supplies. With the separate drawers, you can easily keep your most used supplies in the top and your least used supplies at the bottom. The drawers in these carts are super easy to section off, making it possible to organize multiple supplies in one drawer.
For example, you can keep all of your most-used watercolor paints in the very top drawer of the rolling cart. This drawer is usually shallow and long, so you can easily lay the colors next to each other in a row. When it comes to organizing colors, you can do so however you see fit. 
This Art Storage Cart is perfect for keeping your art supplies and paints well organized. It has 3 tiers and rolling wheels for easy transport.
It is most common to organize with the colors of the rainbow in mind. One end will start with your red colors, the other end will stop with your purple colors. You can fill in all the spaces in between with the different shades of the colors. You can keep your browns, blacks, and whites on either side of your rainbow.
If you work mostly with watercolor palettes, you will want to label the palette with what is inside, so you don't have to open every palette to see what is inside. You can do this with a marker on the top of the lid, or you can keep the contents of each palette in your stock journal.
When you get to organizing your brushes, you can also keep them in the rolling cart. You might even have space in the very top drawer for your most-used paint brushes to fit in with your most-used watercolor paints. 
For the brushes that you don't use as often, it will be beneficial to purchase a brush storage container or holder. These will protect your brush bristles from other supplies that might be in the same drawer as them. If you don't want to purchase a holder, you can wrap the paintbrushes with plastic wrap and store them in an airtight plastic bag.
When you move on to the supplies that you don't use as much, the organization will be pretty tricky. Since these supplies don't get used often, or at all, you should keep them closer to the bottom of your organization. You will still want to keep them accessible if you do need them for a project.
You should first organize your supplies by which you use the least. You would then organize within those colors, which can be confusing. Take your least used colors and line them up to see what you have. It will then be most beneficial to organize them by color, just like the top watercolor paints. 
When you organize by color, you won't have to think twice about what color it is that you are reaching for. If you are going to store your watercolor paper in the same place, you will want to make sure it has its own drawer. This will keep the paper dry and free from any potential paint spills that might ruin it.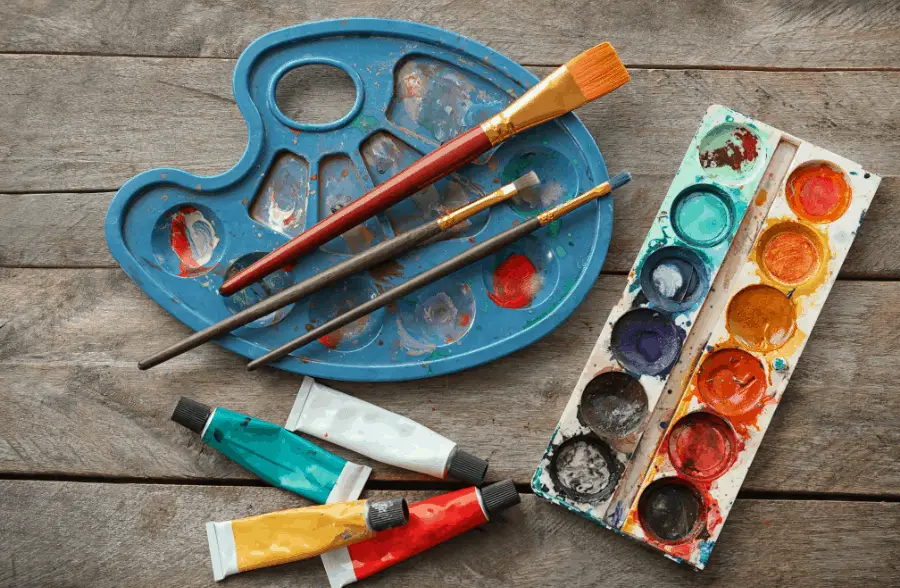 After you have everything where it will stay put, you can use the stock journal mentioned above as a table of contents. You can write down what is in each drawer and what place it is in. That way, if you need to clean the drawers, you can put everything back in the same spot it was before. 
You can also easily update your stock journal when you get new supplies or get rid of older ones. This will ensure that you always know exactly what you have and when you got it. You will easily be able to tell when it might be time to replace some supplies by looking at your stock journal.
How Do You Store Watercolor Tubes?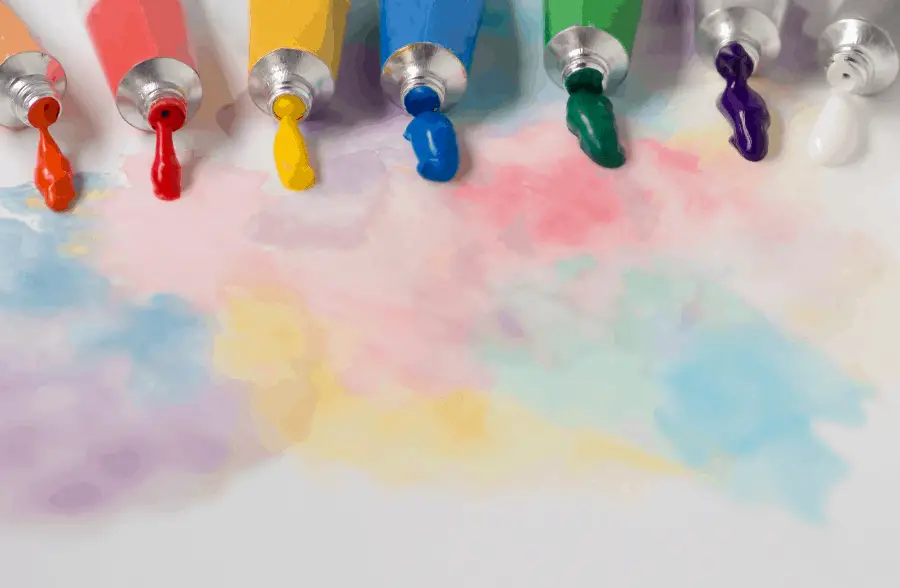 If you have a large amount of watercolor paint tubes, you will want to store them properly to prevent them from leaking or drying out. You might wonder if it is safer to store the tubes horizontally or vertically. Luckily, it shouldn't make any difference on which way your paints are sitting during storage.
The most important thing to consider when storing your watercolor paint tubes is that the lids are completely clean. Remove any paint residue from the lid before you put the paints away. This will ensure that you are getting an airtight seal, keeping your paints better for longer.
If the watercolor paint tubes aren't sealed completely, they will dry out. Any air that gets into the tube, even the smallest amount, can speed up the drying process of the paint. It is also best to keep the tubes in an area that stays between 60 and 75 degrees Fahrenheit. This will prevent them from getting either too hot or too cold.
Final Thoughts
Proper storage and organization of your watercolor supplies can make a world of difference for you when you are painting. When you know exactly where everything is, you can quickly grab it and get to work. There are several ways to organize your supplies, and not everyone will enjoy the same system.
Using a rolling storage cart is both convenient and easy for accessing your supplies. This will be extra beneficial if you like to paint in different areas of your home. You can take the rolling cart with you and have all of your supplies right there, so you don't have to walk back and forth if you forget something.