When you purchase paint, you want to make sure you have enough to finish your entire project. Chalk paint is usually pretty thin, so you can get a lot of use out of one can of paint. However, you might be wondering exactly how much paint you need to completely paint a dresser.
So, how much chalk paint do you need for a dresser? It depends on the size of the dresser, but it is estimated that one quart of chalk paint will allow you to paint two or three coats. One quart will usually cover between 60 and 150 square feet, which is plenty to cover a dresser at least once, and definitely twice if you aren't satisfied with the first coat.
Painting a dresser with chalk paint is an easy and quick process. The paint dries quickly and applies pretty evenly. If you don't plan on using the surface often, you don't need to seal it. If you plan on the dresser having items set on it, you will want to add a sealant for protection.
How Much Does 8oz Chalk Paint Cover?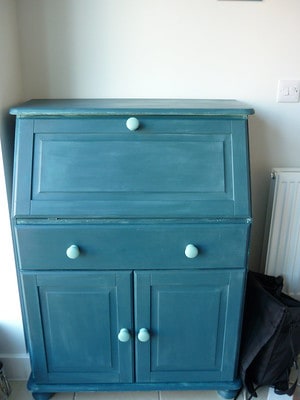 8 ounces of chalk paint will cover roughly 16 square feet. These are usually the sample size jars that you can buy at the store to test out a color before you commit to it. Even though these cans are small, they do have a large potential.
This FolkArt Chalk Paint is 8oz in size, and can cover a small to normal size dresser. I like to use FolkArt in a lot of my chalk painting projects.
8 ounces of chalk paint has the ability to paint one coat on a surface that is 3 feet by 4 feet. Chalk paint usually offers pretty solid one-coat coverage, but there are sometimes that you might not be pleased with how it turned out. It is best to make sure you have enough paint for at least two coats on your project.
How Much Does 30oz Chalk Paint Cover?
30 ounces is just under one quart of chalk paint. You should be able to cover between 110 and 150 square feet. This will cover at least one coat of a standard sized dresser, if not two coats. However, on a wall, 30 ounces would only cover 6 feet up if your wall is 8 feet long. This will vary, of course, based on the size of the room.
For my bigger projects, I like to use Rust-Oleum Chalk Paint. It comes in a 30 oz large can, and can cover many dressers.
The best way to determine if 30 ounces of chalk paint will be enough for your specific project is to take the measurements and input them into an online paint calculator. This will save you tons of time and multiple trips to the store to buy more paint.
How to Chalk Paint a Dresser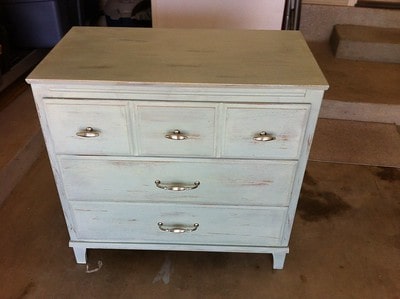 Chalk paint is extremely popular because of its ability to look antique and unique. Painting a dresser with chalk paint is incredibly simple, but you do need to prepare the surface. Get all of your materials together and take care of the surface of the dresser.
Gather all of your supplies before getting started. Make sure you have enough paint for the size of the dresser. You will also want to make sure you have a chalk paint brush for the best results. Cheap brushes will leave stroke marks on the surface that can dry like that permanently. 
You are also going to need something to cover the floor where you are working to prevent any potential spills. If you can paint the furniture outside, that will be ideal. If not, find a place in your home that is well-ventilated and open.
I highly recommend using this Chalk Paintbrush and Wax Brush Set. Chalk paint requires a special natural bristle paintbrush, and another to seal it, if you're using wax.
Using the wrong paintbrush can lead to unwanted brush strokes, thin layers, and an uneven painted project.
Once you have all of your supplies ready, you can prepare the dresser. You will want to take off any removeable hardware like shelves, drawers, and knobs. Take off any stickers or labels with the help of Goo Gone and some soapy water.
If there are any rough areas on the surface, sand it down with sandpaper. You do not need to sand the entire surface of the dresser, just the parts that will prevent a smooth finish and make the paint look patchy.
After you sand down the rough spots, you will want to deeply clean the surface of the entire dresser. If it looks like it's clean, clean it some more. Dirt, oil, and grime will need to be completely taken care of before painting because it can impact the adhesion.
When you are positive that there is no remaining oil or dirt, you can tape off the sections of the dresser that you don't want to be painted. This could be the edges of your drawers, trim, or a design that you are trying to create. It is also a good idea to label your drawers with tape, so you know which spot they belong in when you put them back in.
Next, you will start preparing your paint. Open the can and mix it together really well. Pay extra attention to mixing the paint up from the bottom. Pour some of the paint into a paint tray and add a teaspoon of water if the consistency seems too thick.
Replace the lid back on the can of paint and mix the paint you just poured into the paint tray with the water. Load your brush with paint and start applying it to the dresser. You will want to make sure you are using a light hand and avoid using too much pressure.
It is recommended to paint with the grain of the wood for a finished look that is clean and neat. After you apply the entire first coat, wait between thirty and sixty minutes before going back and applying another coat. If you are planning on sealing the dresser, wait a minimum of 24 hours for the chalk paint to completely dry.
Do You Need to Seal Chalk Paint on a Dresser?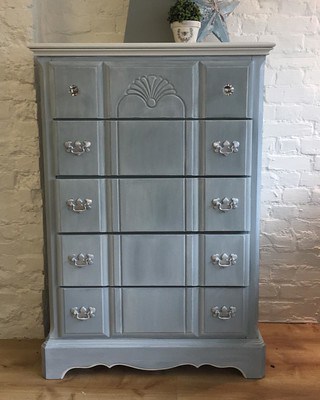 It is not required to seal chalk paint on your dresser, especially if you plan on it just being decoration and nothing will be set on top. However, you will experience multiple benefits from sealing chalk paint. 
For example, the color will be protected, and the paint will last several years. You won't experience any accidental scratches, and the paint won't naturally wear down from extended use. If you are planning on using the dresser frequently, you will want to add a sealant.
The most common sealant for chalk paint is wax. Wax will give you a smooth, flawless finish that you won't find with any other sealant. One downfall, however, is that it can take some extra effort to apply to the surface, which can take more strength and time.
Another popular sealant is a glaze. It really compliments the chalk paint and makes it look unique. There are different colors of glaze available that can make it possible to tint your color slightly if you weren't pleased with how the original paint turned out. The largest downside to glaze is that it's not very durable.
If you want to glaze your chalk painted project, I recommend this Jolie Glaze. It leaves a smooth satin finish, and won't yellow over time. For a wax sealant, I recommend Jolie Wax. You will need that special brush I mentioned above in order to apply the wax.
Final Thoughts
If you are planning on painting your dresser with chalk paint, it is important to know how much you are going to need before you start. This will help you avoid running back and forth to the store because you need more paint than you thought.
It is typical for one quart of chalk paint to cover a standard sized dresser with at least one coat, potentially two. This will vary depending on the size of the dresser, so it is best to take measurements and input them into a paint calculator to ensure you are getting the perfect amount of paint.
Make sure to follow all my tips and recommended products to ensure your chalk painted dresser turns out great! Also, don't forget to check out my other articles for all your painting Q&A's. Happy painting!