Polymer clay offers endless artistic possibilities that make imagination come to life. You can use many different types of paint on polymer clay, but watercolors are a water-based type of paint, so they sometimes won't adhere to every surface.
So, can you use watercolor paints on polymer clay? Yes, you can! Adding some watercolor to the clay makes for beautiful decorations, ashtrays, vases, coasters, knickknacks, earrings, necklace pendants, beads, buttons and so much more!
Watercolors stand out from other paints like oils or acrylic. This is because they don't often require a medium; you just add a little water and go for it! Using watercolors on polymer clay is a little difficult to do, but with a little determination and patience, it can work. In this article we go over everything you need to know to start your polymer clay project. Let's get to it!

How Do You Paint on Polymer Clay With Watercolors?
Before you begin, test your watercolor paint on an already-baked piece of the polymer clay you intend to use. This is because different brands of paint and clay formulate their products in various ways and this produces various interactions. Ensure the clay is white or a light shade so the paint is visible. 
My favorite and top pick is always Arteza Watercolor Paints. They have so many different colors, and the quality is amazing! I usually use Arteza  Paints for all my projects.
Baking
To paint on your polymer before baking, knead the clay until it becomes very soft and pliable. At this point, you can add your paint and knead that into the clay as well. Start with small amounts and work it into the clay until you think you have the desired amount.
Flatten the clay out with a rolling pin until it's even and at the desired thickness without any bubbles or bumps in the surface. If you've painted your clay already, check to make sure you like the pattern of the paint. You may have to add more clay and paint, re-kneading as necessary to get the effect you're going for.
I recommend this Sculpey White Polymer Clay to use with watercolors. I have personally done a few watercolor projects and this clay worked well with paint.
Then, you can shape and sculpt the clay followed by baking it in the oven. But, if you want to do the painting after baking, make sure the clay is cool. Although not always advisable, you might want to consider using a seal to protect the work as well.
Is Polymer Clay Water Resistant?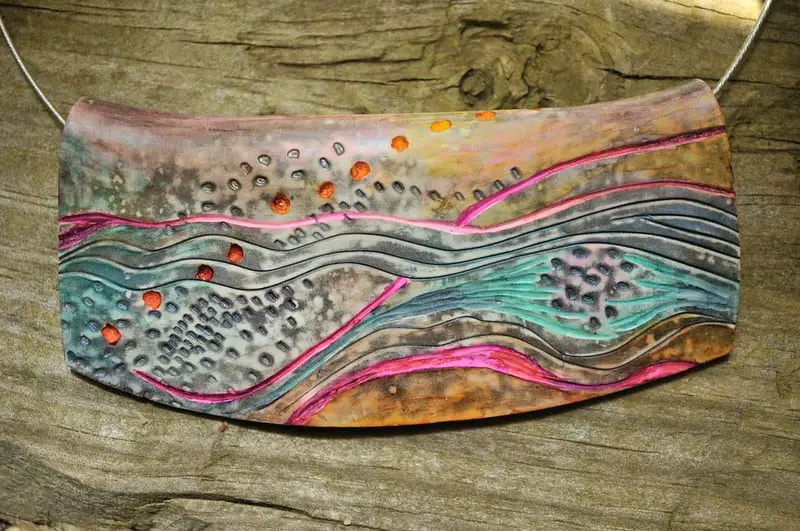 Yes, polymer clay is very resistant to water but it is not waterproof. Because plasticized vinyl and other lipid chemical compounds comprise polymer clays, watercolors tend to bead up on the surface.
Your strokes won't stay formed in the way that you intended. This is because a water-soluble binder and pigments comprise the make up of watercolors.
When painting on paper, the watercolors adhere to the surface and become permanent upon drying. When attempting to apply it to polymer clay, it doesn't have an even application. Intended forms or shapes won't hold either.
So, if you want to use watercolors on your work of art, it's best used for accenting, shading or coloring rather than trying to create a specific image. In the event that you have watercolor holding well on polymer clay, you can definitely go for more of a defined figure or shape.
Do You Bake Polymer Clay Before or After Painting?
You can use watercolor paints on polymer clay before or after baking. But both will give different effects. Because of this, you should experiment with watercolors on various types of polymer clay to see which combination gives you the best effect.

How to Seal Watercolors on Polymer Clay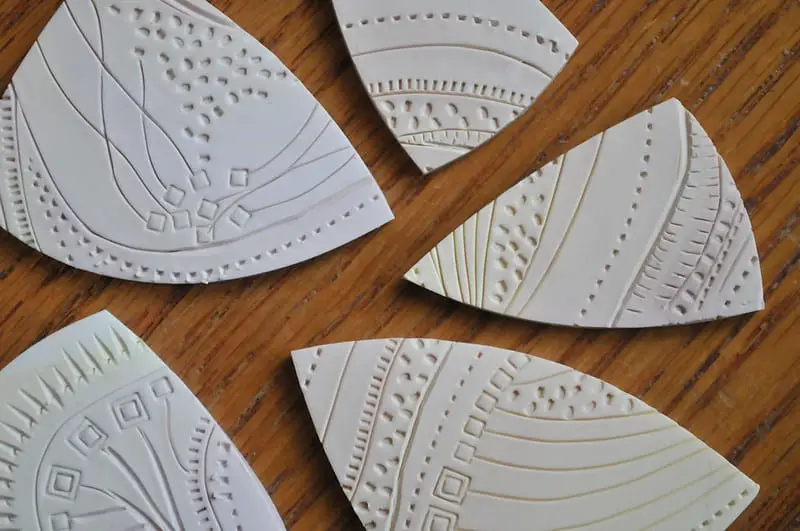 After baking your polymer clay, the next step is sealing it. This isn't a requirement; you don't have to seal your masterpiece. But, if you want to make sure the paint won't sustain damage or scrape off, using a liquid seal is ideal. It also can provide a glossy or matte finish to your creation. 
I always use Krylon Sprays to seal all my painting projects. They have a glossy or matte finish to choose from.
Sealing your paint will always protect it from flaking, chipping and even UV rays. I highly recommend sealing your watercolor paint, that wya it doesn't discolor and eventually fade off.
Types of Clay
There are different types of polymer clay out there. Below are the ones I recommend that you can paint on with watercolors, as well as acrylic paint.

Sculpey Liquid Clay gives a nice matte finish to your polymer clay sculpture. All you do is dab a bit of the product on your piece with a makeup sponge and cure it in the oven. Don't use a heat gun, the effect won't be the same.

Kato Liquid Polyclay makes for a great glossy-style sealant. Take a cosmetic sponge or a paintbrush and apply a thin coat to your sculpted piece of clay. After curing in the oven, take a heat gun to give it a shiny, crystal-clear finish.

Epoxy Resin is popular toll with polymer clay artists for a reason. It's a thick, viscous liquid that not only provides a clear coat but is also a very durable protectant. In fact, it's the strongest sealer available. But, there's a learning curve with using it and it takes a very long time to cure. 

Every brand of epoxy resin has a slightly different procedure, so you have to read the instructions and be patient with yourself. But, once you get into your own method, the results are stunning.

Renaissance Wax gives a burnished and natural finish to your sculpted piece of clay. If you like to sand and buff once cured, this is the varnish for you. But, it can be quite pricey, so you can also get shoe polish or Paste Wax to get the same effect at a much more affordable price.

Sealers to Avoid
There are varnishes and finishing products you should not use on polymer clay. Spray sealers are almost always unsuitable for polymer clay, so avoid using them. 
Also avoid things like floor polish, dimensional glazes, oil-based varnishes, modge podge and nail polish. They do not mesh well with polymer clay and can destroy your precious sculpture. 
Aside from whatever you choose as a sealer, you want to ensure that the area where you apply it has proper ventilation. The fumes from the chemicals can result in some health issues like headaches, shortness of breath and eye irritation.
Also note that many seals can give polymer clay a sticky feel that you may not want. If your polymer clay sculpture has texture, other objects protruding from it or is round in some way, be careful with the sealant. It can pool up in the most inopportune places, which can ruin beauty and functionality.

Final Thoughts
Although tricky, you can put watercolor paints on polymer clay. It's going to take some trial and error with different products, materials and sealers before you get it to look the way you want. You may find that using a sealer isn't your thing, and that's fine too.
Regardless, it's a fun way to make art that can also serve a functional purpose. You can make gifts from your heart for family and friends or make creative gadgets for use at home or work. It's durable and can provide enjoyment for many years to come.
Don't forget to check out my other articles for all your painting Q&A's. Happy painting!