Chalk paint is the new trending paint right now. There are so many different looks you can achieve from just one can. While you need a special brush for chalk paint, do you also need one to apply the wax? The brushes look the same, so many wonder if they can be used for both chalk paint as well as the wax.
So, can you use the same brush for chalk paint and wax? Yes you can. In most cases, you should be able to use a chalk paint brush with chalk paint wax. You will need to make sure you thoroughly clean the paint brush after using it for the wax so you can continue to use it for chalk paint.
Most chalk paint brushes, and chalk paint wax brushes are made with similar brushes and in similar shapes. As long as you are careful to take care of your brushes after use, you shouldn't have a problem using them for wax application.
Do You Need a Special Brush for Chalk Paint Wax?
While it is beneficial to use a special brush designed for chalk paint wax, it isn't required. You can also apply the chalk paint wax to the surface of your painting with the help of a lint-free cloth. 
For chalk paint wax, I like to use this Jolie Wax. It gives your chalk paint an amazing finish, and you can use the same brush as you did for your chalk paint.
If you do want to use a brush to apply the wax, you will need to use a special brush. Chalk paint wax brushes will usually be made from pure bristles that have naturally split ends. You will notice that they are all circular, and some might even be slightly pointed on the end for an easier application.
I highly recommend this Chalk Paint Brush & Wax Set. It comes with 2 brushes in different sizes, so you can interchanged them accordingly.
How Do You Use Chalk Paint Brushes to Wax?
Using a chalk paint brush to wax is very easy. First, apply the paint and allow it to dry completely. When the paint is dry, you will be ready to apply the wax. Scoop some of the wax out of the container with a knife and place it on a paper plate. This will prevent the brush from contaminating the wax.
Take your brush and load it up with some of the wax. The best brush is one that is round with stiff bristles, such as a chalk paint wax brush or a regular, round chalk paint brush. Load the brush by dabbing it vertically into the wax that you prepared on the paper plate. 
You will want to avoid picking up too much wax. It is important to avoid saturating the brush or scooping up a large glob of wax. Less is more, and you can always go back to apply more wax if you need to.
When you work the wax onto the surface, start by massaging just one section with the wax on the brush. Move the brush in circular motions, applying a thin layer of wax. Use even pressure and keep spreading the wax until the bristles go dry. 
Next, you will want to go over the areas that you waxed with a lint-free cloth. This will get rid of any excess wax that is on the surface. While you applied the wax in circular motions, it's not necessary to rub the excess off in a circular motion. 
If you are noticing wax build up on the cloth, switch sides or use a new cloth completely. Continue on to the next section, repeating the application process each time. This will make it easy for you to remember where you've already waxed and where you still need to apply wax.
It is recommended to slightly overlap the next section you work on with the previous section to prevent any accidental gaps in the wax. When you are finished applying wax to the surface, you will need to let it dry.
You should let the first coat of wax dry for a minimum of 24 hours before adding a second coat. The wax won't fully cure for about thirty days, but it is safe to apply additional layers after just 24 hours. You should have a total of three or four coats of wax for the best protection.
Can You Use a Roller for Chalk Paint?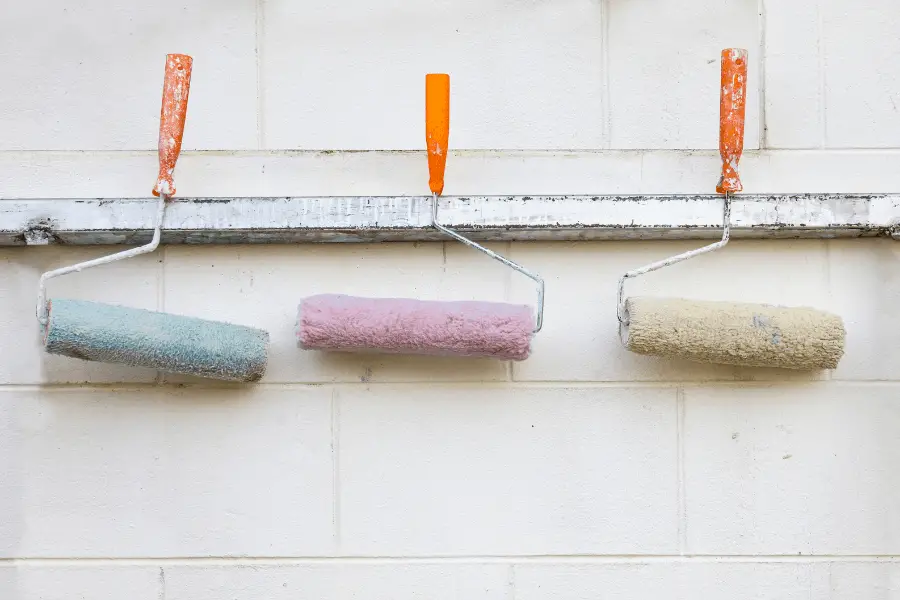 If you are painting a large, flat surface, a roller is a great way to apply chalk paint. First, make sure the surface is clean and free from dirt, dust, and other debris. Grab your chalk paint, a paint tray, and a roller.
You can dilute the chalk paint with some water if you feel like it is too thick to roll, but you shouldn't need to. If you dilute the paint, it is likely that you will need another coat for the best coverage.
This Roller Paintbrush Set comes with 6 brushes with different sizes for your chalk paint project.
Pour some of your chosen paint into the paint dry and use a regular brush to fill in some of the more detailed areas on the surface. This could be panels on a door or corners and trim. Once you have the smaller details covered, you can load your roller with the chalk paint from the tray.
Take the time to off load some of the paint from the roller so you don't apply too much paint at one time. Roll the paint onto all of the flat surfaces on your project. You can also remove the brush strokes created from the regular brush by gently rolling over those areas with the roller.
Let the paint dry for at least thirty minutes before you try to add another coat to the surface. If you aren't happy with the coverage from two coats, you can add a third to be safe. It is completely up to your preference how many coats you add.
Do You Need to Seal Chalk Paint?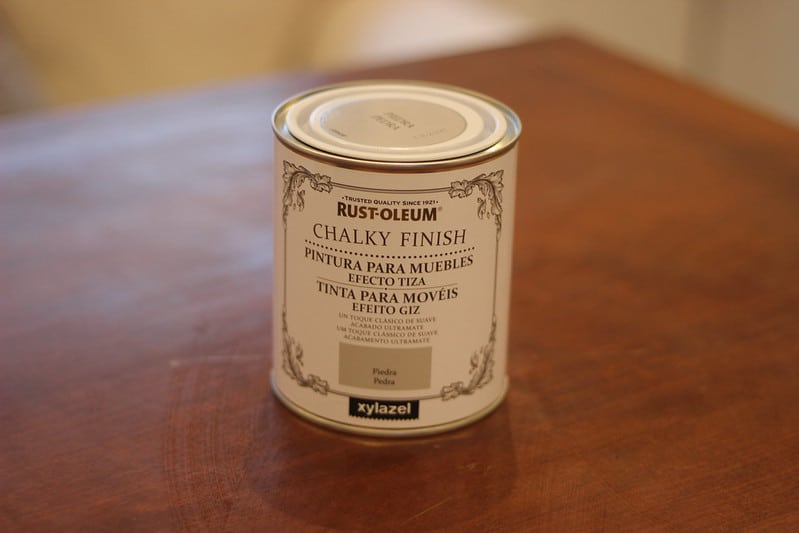 It isn't necessary to seal chalk paint, but it can be beneficial. One thing you need to be aware of before sealing your chalk paint is that the color is likely going to be altered when you apply the sealant.
There are multiple different ways that you can seal chalk paint. The most popular way of sealing chalk paint is with wax. You will love the beautiful sheen that comes from wax as it is unmatched by any other sealant you will use. It applies smooth and is very durable.
My favorite and top pick is always Rust-Oleum Chalk Paint. They have so many different colors, and the quality is amazing! I usually use Rust-Oleum Paints for all my projects.
You can also seal chalk paint with polyacrylic. You will want to use a polyacrylic that is not oil-based, as oil will have the tendency to yellow easier. There are multiple finish options ranging from shiny to matte, and it is very durable on the surface. You can spray it, roll it, or brush it on to the surface of the chalk paint.
Final Thoughts
If you enjoy painting with chalk paint, you are probably familiar with adding wax as a sealant. It is a great option because it's smooth, durable, and has an unmatchable finish. A very common question that is asked is whether you can use the same brush you would for chalk paint for the wax that you will apply after.
Chalk paint wax needs a special kind of brush. They will usually be round, stiff, and pure. Luckily, there are chalk paint brushes that are made almost exactly the same. If you have a chalk paint brush that looks similar to a chalk paint wax brush, you can use it with no issues.
It is incredibly important to make sure you clean the brush thoroughly after you use the wax with it to ensure that you can still use it for regular chalk paint in the future. If the wax dries on the brush, it can impact the quality of the brush.
Make sure to follow all my tips and recommended products to ensure your chalk painted project turns out great! Also, don't forget to check out my other articles for all your painting Q&A's. Happy painting!