After finishing an acrylic painting, you'll probably want to know what the best ways to seal it are. Adding a solid seal protects your work and makes it last a lot longer. However, it can be challenging to choose a seal that works.
So, can you use PVA glue to seal acrylic paint? Yes definitely! PVA glue works well to seal acrylic paintings. The runny texture combines well with acrylics, drying into a flexible form. Plus, PVA glue can stick to many surfaces and doesn't cost very much.
If you want to use PVA glue to make a seal on your painting, you'll want to make sure you do it right! Taking the time now to learn how to use this glue as a sealant will help you get the best possible results. Let's read on to learn about using PVA glue as your painting's topcoat!
How To Seal Acrylic Paint With PVA Glue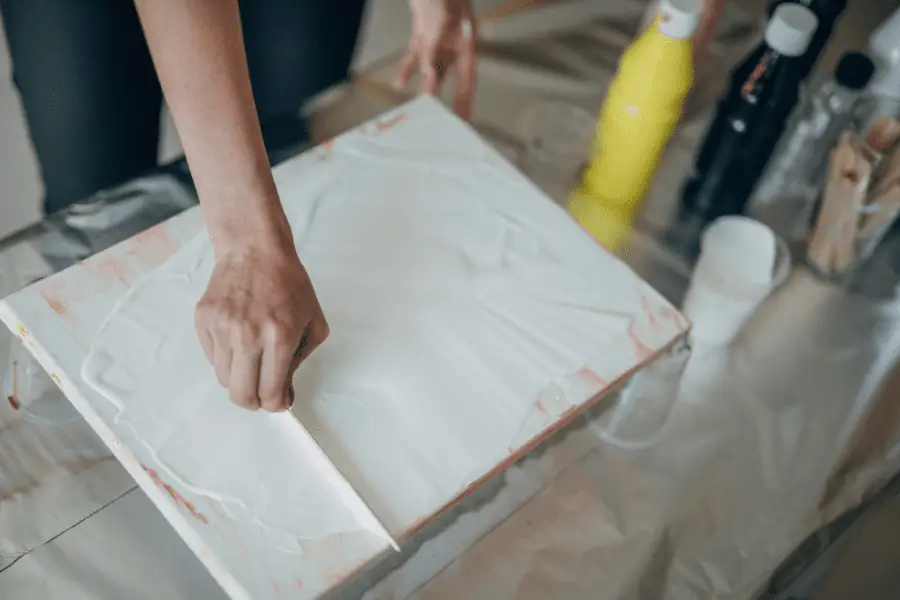 It's worth noting that PVA glue is not waterproof. So, while it will protect your work from dust and scratches, it will reconstitute if it gets wet- which would be a mess!
You'll want to keep your art as dry as possible. If that's going to be a problem, you'll want to choose a special acrylic varnish, which would be waterproof.
When sealing your painting, you'll need to use a ratio of water and glue for the best results. Take a ratio of ⅔ glue to ⅓ water. This combination makes the PVA glue runnier, which helps you brush or pour it over your artwork.
My favorite and top pick is always Arteza Acrylic Paints. They have so many different colors, and the quality is amazing! I usually use Arteza Paints for all my projects.
For special offers and discounts, with my link you can also go to the Arteza website and shop their amazing products.
Make sure that your acrylic painting is completely dry before adding the seal. Then, you can pour the mixture over the image or use a brush to apply it. You'll want to use a brush most of the time unless this is a pour-over acrylic painting.
Allow the glue ample time to dry, usually an entire day. After that, you will need to apply another coating of the glue mixture. It would help if you worked in thin layers, so the glue could dry fully transparent and evenly.
In short, it's cost-efficient and easy to use PVA glue as a final topcoat for your projects. However, it won't offer you as much protection as the artist varnishes and sealants available today.
What Can I Use To Seal Acrylic Paint?
When it comes to sealing acrylic paint, you have many options! The best ones include a varnish or enamel spray. 
These products can give your work additional shine or even make it appear more matte. Plus, they're often waterproof, providing your work the protection it needs. 
I highly recommend using Mod Podge to seal your artwork. It's one of the best sealers in my opinion, and comes in many finishes like, matte, glossy, satin, and even glitter!
Like with the PVA glue mixture, you also want to apply the acrylic varnish in thin layers. Usually, two or three coats are all you need to protect your art best.
You can either brush or spray the sealant on. When brushing it on, make sure that you don't drench the brush in varnish- it shouldn't be dripping off! Using the spray can make sure you don't hold it too close to the acrylic painting.
Finally, it's also essential that you don't seal the painting when the acrylic is damp or sticky. It needs to be dry and plastic-like so the varnish doesn't ruin it. The more time you can give the paint to dry, the better results you get. Depending on how thick the color is, it could take 24 hours to dry.
Can You Use PVA Glue Instead of Varnish?
In some cases, you can use PVA glue, but not all of them. It will protect your painting from dust well. However, it won't protect it from water damage, which acrylic paintings usually need protection from the most.
Plus, PVA glue usually isn't used as a sealant. That means that manufacturers don't create it with this purpose in mind. You'll get much better results from varnishes that specifically protect acrylic paints.
Overall, there are plenty of instances where you can use PVA glue. It's a decent sealant when you're in a pinch and is very cheap to buy in large amounts, which is excellent when you have many large paintings that you need to seal.
Can You Seal Painted Rocks With PVA Glue?
You can also seal any rocks that you paint with PVA glue. However, you will need to apply more to stick to the rock's surface properly. 
After painting the rock, give it more time to dry than you think it needs. Then, apply a coat of PVA glue. Again, you want it to be very thin to dry evenly.
Give that first coat ample time to dry, then add another. You'll want to add at least three coats, although one or two more could be helpful.
PVA glue works excellent on some types of rocks. Although, ones that have a lot of texture can be more challenging to seal everywhere. You may be better off using a spray-on sealant with bumpy or sharp rocks.
Another great brand is Krylon Sealers. You can choose from a matte or glossy finish, and this spray even protects against UV rays!
Can You Use Glue as a Top Coat?
You can use PVA glue as a top coat on several different surfaces. It's essential that you consider what you're painting and if you need to thin the glue with water for the best results.
In short, you can use PVA glue as a top coat on various projects. When it comes to painting with acrylics, this type of glue works very well since they're both water-based products. Unless you know your art will need additional waterproofing protection, you can always use it.
Mod Podge vs PVA Glue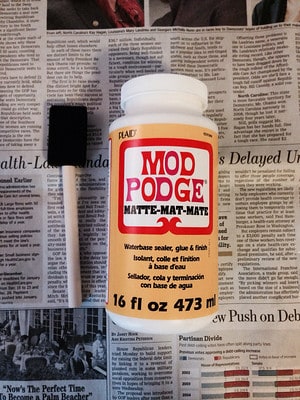 While the two are very similar, Mod Podge is better for sealing your work. It dries clear and shouldn't form the white crust that PVA sometimes does. 
Plus, Mod Podge is the go-to sealant for crafters. It also comes in varnish forms that you can't get with your regular PVA glue. PVA glue doesn't offer flaking or chipping protection like Mod Podge and other sealer do, and it will sometimes yellow over time.
Final Thoughts
To summarize, you can use PVA glue to seal in your acrylic paintings. It provides more protection than nothing but isn't as suitable as an acrylic varnish or Mod Podge.
It's straightforward to use, as long as you make sure to give your work plenty of drying time between coats of glue. Lastly, it works fine on various surfaces, like canvas and even rocks.
Make sure to follow all my tips and recommended products to ensure your acrylic painted project turns out great! Also, don't forget to check out my other articles for all your painting Q&A's. Happy painting! 
To view my personal artwork collection click here.  All of my artwork is one of a kind and comes ready to hang. You can also find my work at The Gallery SOHO, in the Pomona Valley Art Association.