When you are traveling, you never know when inspiration may hit. Because of this, you might want to bring your paints with you. Whether by plane or a long road trip, how exactly do you travel with paints? Well, watercolor paints are known to be extremely convenient for people who are traveling with their art supplies.
So, can you take watercolors on a plane? Yes! You can definitely travel and take your watercolors with you on a plane. Dry watercolor paints will be the easiest to bring along on your trip, but you can also take liquid watercolors.
If you want to take your watercolors in your carry-on luggage, liquid paints must be 3.4 oz or less. For paints over 3.4 oz, the TSA recommends storing them in your checked luggage.
There are some TSA regulations that need to be followed, but as long as you adhere to their requirements, you won't have any issues with taking your watercolors on a plane. You can keep your watercolor paints in your carry-on or your checked luggage.
If you are going to carry them in your carry-on, each liquid tube needs to 3.4 oz or less. Anything over 3.4 oz should be placed in your checked baggage. In this article we go over everything you need to now to safely travel with your watercolors. let's get to it!
How to Store Watercolors on a Plane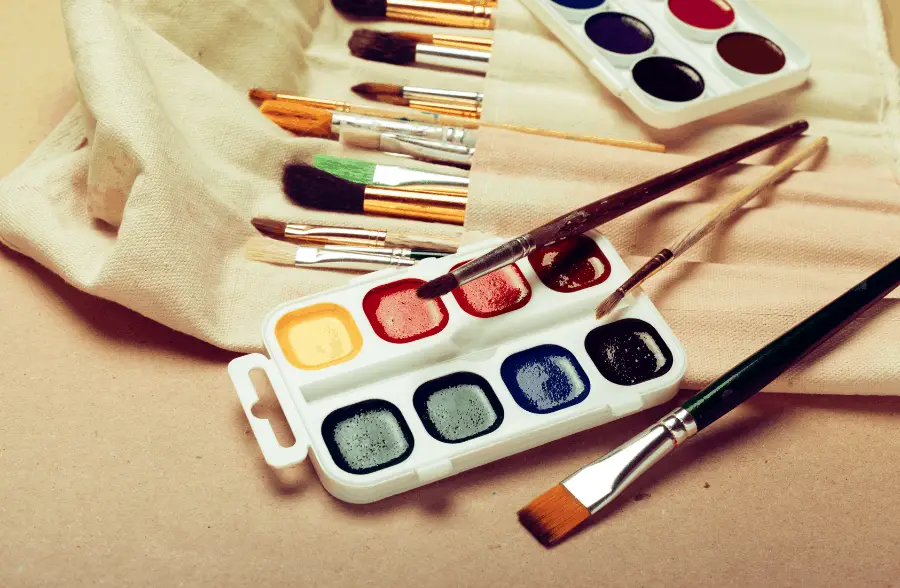 To prevent any inconvenience through security, it is highly recommended to keep your watercolor paints in your checked luggage instead of your carry-on. If you are taking paint tubes, you should store each color in a separate plastic bag. This will protect the colors from mixing in case one or more of them burst under pressure.
My favorite and top pick is always Arteza Watercolor Paints. They have so many different colors, and the quality is amazing! I usually use Arteza Paints for all my projects.
For special offers and discounts, with my link you can also go to the Arteza website and shop their amazing products.
If you are going to pack your paints in the same bag as your clothes, make sure you pack them last. This will put them on top of everything else, making them easily accessible if they raise alarm for an inspection. You can also keep your art supplies in a separate bag entirely to prevent inspection of all your clothes.
I like to carry my paints in their own separate carry bag like this one, but a plastic bag will also do. Just make sure it's fully sealed and airtight
How Do You Travel with Watercolors?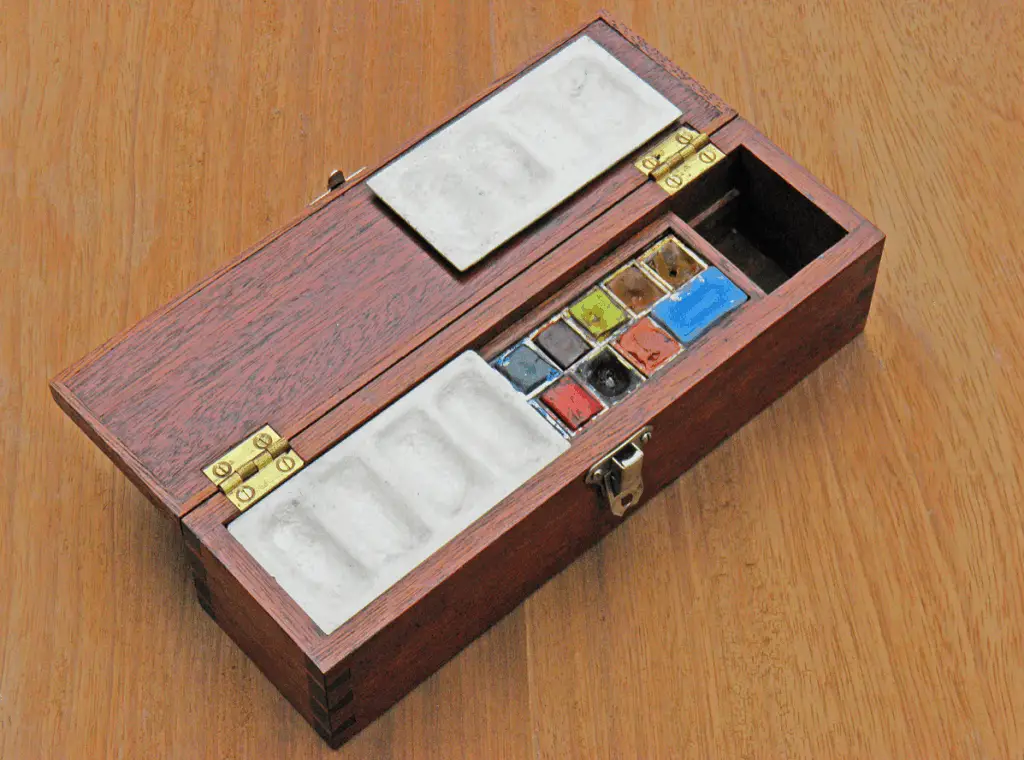 When you travel with any art supplies, it is best to pack them as light as possible. There are several advantages to this. First, traveling can be overwhelming and can impact your ability to focus. If you have your entire art supply with you, it can be even more overwhelming to try and determine which you want to use.
You should practice traveling with your watercolor paints before your actual trip. Take them with you to the park or to meet a friend, even to your own backyard. This will give you an idea of how your travel watercolor set up will work. This will also tell you if you have too much or too little, so you can adjust before travelling.
If you need to take more than just a few supplies with you, I recommend this Creative Options Paint Travel Case. It opens up and has more than enough room to take tons of supplies with you.
A small and portable watercolor palette will be the easiest thing to take with you when you travel. This is because they are usually lightweight and don't take up much space. You can easily carry a small palette in your purse or a backpack.
Check out this Lightweight Watercolor Portable Palette. It's a small as your smartphone, but opens up and even comes with 12 empty paint pans.
For paintbrushes, try to take watercolor brushes that have caps. These types of brushes will usually be shorter and more compact, but the cap will extend the handle during use. This will save you room while also being functional.
What Art Supplies are Allowed on a Plane?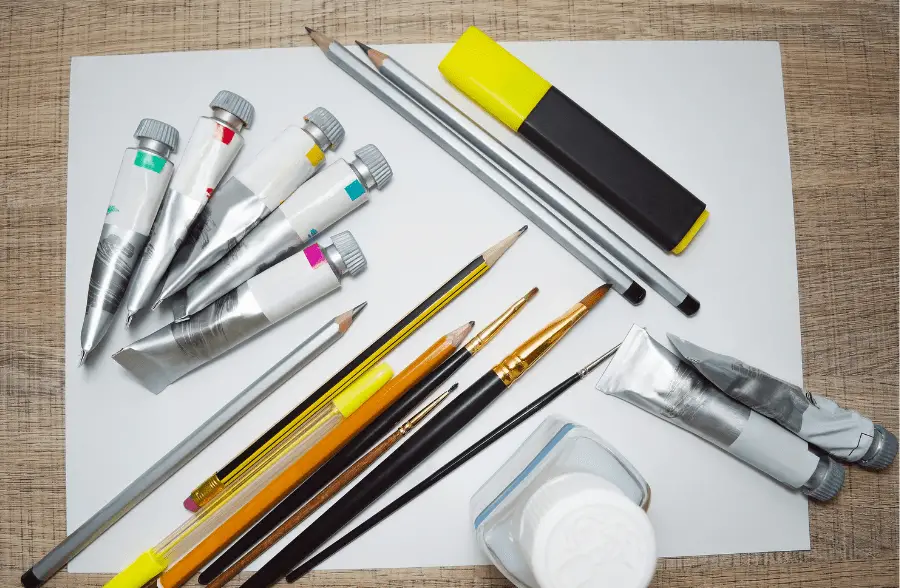 Traveling with art supplies is not as easy as it used to be. There are TSA regulations that need to be followed, which can restrict what you can or can't take with you on your trip. Knowing what you are allowed to have on an airplane can save time and frustration during the security process.
You can't take any art supplies that might be flammable. This includes spray paint, oil paints with solvents, and individual cans of solvent paint thinner. This also includes spray varnish. These items are dangerous to everyone on the plane, and it is best to keep them at home.
You are allowed to travel with pens, markers, pencils, and pencil sharpeners. All of these supplies are welcomed in your carry-on or in your checked luggage, whichever you prefer. You are also able to travel with scissors if you need them. In a carry-on, they need to be less than 4 inches. In your checked luggage, they need to be properly wrapped.
If you have oil paints that you want to travel with, you can as long as they are made with a natural oil. They need to have vegetable oil-based pigments, making them non-flammable. The paint needs to be clearly marked and secured and should never be put in your carry-on.
Any kind of water-based paint is fine to take on an airplane. This includes acrylic, gouache, and watercolor paints. Securely them in separate plastic bags to prevent paint from spilling everywhere in the incident one bursts open under pressure. Paint brushes are also allowed but can be easily damaged.
How Do You Protect Your Brushes When Traveling?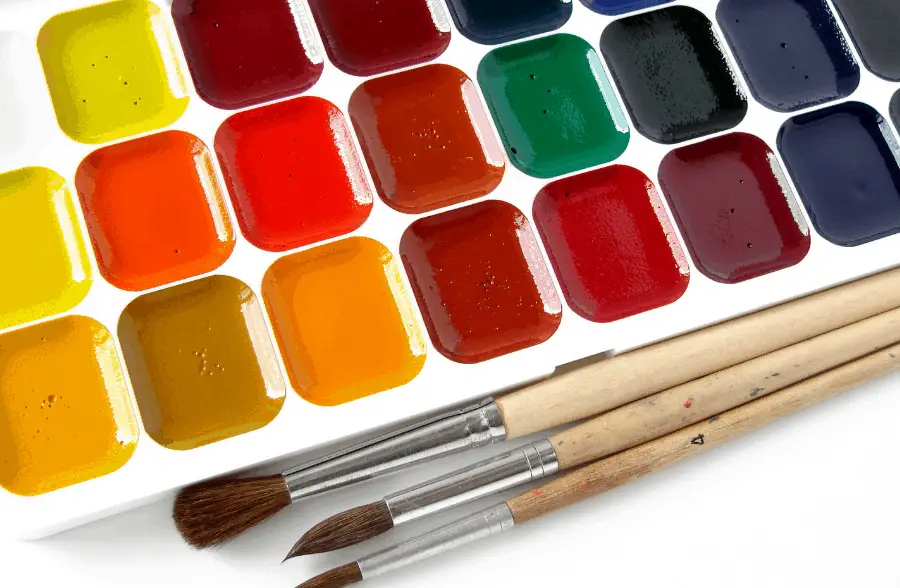 Paintbrushes are fragile and can be damaged during travel. The should be safely packed, in order to protect them from getting bent and to protect the bristles from getting frayed. First, you will want to get a piece of cardboard. The cardboard should fit all of your brushes on the surface when you lay them out.
I usually place my paintbrushes in a carry case like this one here, which makes them extremely protected from any tumbling they might ensure in the luggage. I still recommend you have them in your carry on luggage, to ensure they don't get damaged.
If you have a brush holder, it will be beneficial to use with the cardboard. If not, you can still protect your paintbrushes without one. Just lay each brush side by side on the cardboard. Next, you will need plastic wrap. Take the plastic wrap and start to wrap it around the brushes and cardboard.
For the best protection, wrap the plastic wrap a few times. This will protect the bristles from getting tangled or caught on anything. If you want, you can get a second piece of cardboard and tape the two pieces together. This is not necessary but can give you peace of mind if you are worried.
When you place the cardboard in your suitcase, be sure to keep it as flat as possible. You will also want to avoid placing anything too heavy on top. Pack them close to the top of your suitcase to keep them as safe as possible.
How Do You Store Watercolor Brushes for Travel?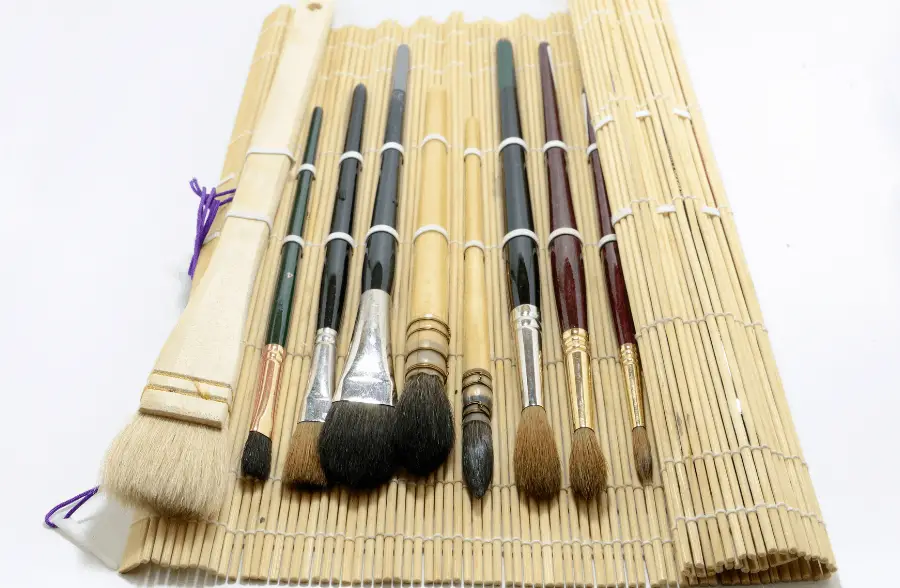 Watercolor paintbrushes can be fragile, so you will need to store them properly during travel. You can use the method above, but it won't add enough protection to the actual bristles. Most people throw out the protective tubes that come with paintbrushes, but you can easily create your own with a plastic drinking straw and tape.
Cut the straw into small portions and place them over the bristles of the brush. Make sure you leave about half of an inch between the top of the straw and the bristles. Tape the straw to the brush with tape, then place a piece of tape on top to prevent debris from getting in.
Final Thoughts
Travelling with watercolor paints might seem hard, but it doesn't have to be. TSA has restrictions against what you can have in your carry-on bag, so it is best to travel with them in your checked luggage. Watercolor paints are allowed on planes and should not create any problems.
Protecting your paints and paintbrushes during travel is also extremely important. You can keep your paints safe by keeping them in separate plastic bags in case one accidentally bursts under pressure. You can protect your paintbrushes carry cases and wraps.
Make sure to follow all my tips and recommended products, to ensure your paints travel safely on an airplane. Also, don't forget to check out my other articles for all your painting Q&A's. Happy painting! 
To view my personal artwork collection click on the link below.  All of my artwork is one of a kind and comes ready to hang. BlendedCanvasShop.